The Australian debt market is maturing as a flurry of new lenders look to make their mark in a growing market, writes Florence Chong
Australian real estate debt has become a 'must have' asset class for an ever-increasing number of global investors.
The upshot is a flurry of activity as new funds are launched and more capital targets the market.
The latest high-profile entrant is Canada Pension Plan Investment Board (CPPIB). After shopping around for a couple of years, in July CPPIB settled on the Sydney-based Challenger Financial Group to manage a AUD500m (€310m) mandate.
GIC is also thought to be in the market and has awarded a large mandate to a local non-bank lender.
Industry superannuation funds, led by AustralianSuper, are also pushing into the sector. AustralianSuper entered the debt market years ago, giving at least AUD1.1bn to Challenger to lend on its behalf.
AustralianSuper, the country's largest super fund, has also given a blank cheque to other specialist non-bank commercial real estate lenders, such as MaxCap Group, to finance selective residential developments.
Other first movers include Hesta Super and Commonwealth Superannuation Corporation, which looks after Federal government and military employees. Both have AUD200m for real estate loans with Challenger.
Significantly, AustralianSuper and the AUD91bn First State Super have set up in-house teams to invest directly in the wider debt market, demonstrating their conviction that the asset class is becoming mainstream.
Well-managed real estate debt has proved that it can provide performance protection through diversified, stable income streams, says Martin Priestley, TH Real Estate's head of debt, Asia-Pacific.
But is there now a surfeit of capital for debt in Australia? That is not the case, according to the key players. They say Australia's alternative funding market is opening rapidly and is capable of absorbing available capital, which runs into billions of dollars.
Tightening yields over the past six months and heightened competition have not deterred market aspirants. To many of them, Australia is a promising, untapped market.
They recognise that the country's banking sector is changing and they expect this to result in tighter liquidity, creating new lending opportunities.
Several industry observers have told IPE Real Assets that almost every week they hear of a new group planning to enter the Australian debt market, either as an investor or an originator.
Proceed cautiously
However, others are more circumspect. Over the past six months, they say, the market has attracted retail funds, offshore hedge funds and multi-asset managers.
MaxCap's managing director, Wayne Lasky, says: "A number of these GPs [general partners] have been experiencing difficulties executing their strategies."
He traces their problems to a lack of "all-important relationships", experience and local expertise required to enter the market and balance their pricing ambitions with the risk.
"The more experienced institutional LPs [limited partners] understand this key point," he says. MaxCap is discussing various product strategies with global investors who are keen to gain exposure to the underlying debt market through MaxCap's institutional-grade investment platform.
Martin Scott, Partners Group's head of Australia, shares this view. "A lot of money has been raised locally and some funds possibly are carrying real estate debt well above the levels communicated to their clients," he says. "With this in mind, I believe [debt] is an area best done opportunistically, not to set amounts you need to invest locally."
Partners Group has invested AUD75m into two senior debt transactions over the past 18 months.
The Seoul-based Samsung SRA Asset Management is one group looking to Australia after establishing debt funds in the UK and US.
Also, Korea's National Pension Service is thought to be looking for opportunistic investment, while Goldman Sachs, Invesco Real Estate and PGIM Real Estate have already started lending to the Australian market.
And global groups with deep pockets are buying shares in Australia's debt market. KKR bought an Australian non-bank lender, Pepper Group, for AUD650m last August, while Blackstone acquired 80% of LaTrobe Financial, a Melbourne-based non-bank lender, in December. Blackstone has indicated that it intends to provide enough capital to double LaTrobe's AUD4.6bn lending book within three years.
Others, including Oaktree Capital and Värde Partners, have set up shop in Australia looking for opportunities. Lasky says: "But while there has been a much-needed acceleration of capital inflow into the Australian commercial real estate debt space over the last six months, this has been more than offset by the retraction of the major banks due to regulatory intervention."
"We see increasing levels of activity for well-capitalised, specialist, alternative-finance providers, with local debt professionals who understand the local markets. Few players have a committed, long-term programmatic approach to the Australian marketplace"

Martin Priestley
Bob Sahota, who established the boutique firm Revolution Asset Management in February, describes the attitude of Australian banks to real estate as "a bit schizophrenic".
"They love real estate when they want to increase balance sheet growth," he says. "It is quite a lucrative way for them to increase market share. But they can turn off the tap just as quickly when market conditions change or in response to new capital adequacy rules."
Australian banks are concerned by the rapidly cooling housing market and by escalating prices for commercial real estate.
Australia's Royal Commission into banking has unearthed bad practices, which could result is more official scrutiny and regulation of the big four banks – leading to tighter borrowing rules.
The emerging funding gap for alternate lenders as a result of this, says Lasky, "is in the order of AUD50bn".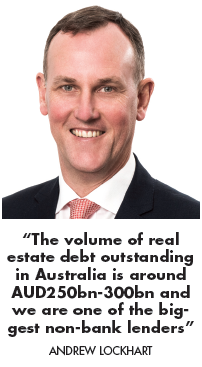 "This is a seminal and enduring opportunity for non-bank lenders to participate in the Australian market, and I expect it to be the new norm moving forward, as has been the case in the UK, continental Europe and the US markets," he says.
Andrew Lockhart, founder and managing director of Metrics Credit Partners (MCP), believes there is an even bigger lending opportunity. "The volume of real estate debt outstanding in Australia is around AUD250bn-300bn and we are one of the biggest non-bank lenders," he says.
Australia's commercial real estate debt market is estimated to be AUD270bn. Extrapolating the numbers from official data, Andrew Schwarz, Qualitas' group managing director and CIO, says banks control 85% of the market.
"Our view is that the banks will form a lesser share [of the market] over the next decade, and that groups such as Qualitas will form a very important funding source for development and debt capital generally in Australia," he says.
Despite new entrants into the market, Schwartz believes there is enough business to go around. "The gap [left by the banks[ is wider than the current supply of debt capital."
And according to Priestley, "the phones are ringing". Only a few months into establishing an Asia-Pacific office in Australia, TH Real Estate is already evaluating some AUD2bn of opportunities and is poised to close its first transactions.
Priestley says: "There is now a permanent, attractive and executable investment opportunity for non-bank lenders and debt funds to provide a meaningful share of future commercial real estate debt finance in Australia."
TH Real Estate is offering target maturities of seven to 10 years or more, with little overlap with the commercial banks, which generally provide short-term debt of three to five years.
"We see increasing levels of activity for well-capitalised, specialist, alternative-finance providers, with local debt professionals who understand the local markets," Priestley says.
The market is responding fast
Since its launch in 2013, MCP has created several wholesale debt funds and an ASX-listed fund which have collectively raised over AUD3.2bn.
About one third of MCP's capital is invested in real estate-related debt, Lockhart says. "Some of our institutional investors are very interested in the real estate section of the market," he says.
Last October, MCP launched its first dedicated real estate debt fund, and this will grow to between AUD1.5bn and AUD2bn in the short term, Lockhart says.
And Revolution Asset Management is now raising AUD500m for the firm's maiden debt fund. Sahota expects to have the final close in September and has indicated to investors that the fund will deliver a return of 4-5% over cash.
Qualitas runs a series of specialised debt trusts. Schwartz says the firm plans to launch a listed investment trust dedicated to real estate commercial credit.
Active players such as MaxCap, which has placed AUD1.25bn into the market in the past year, have seen yields tightening over the past six months. However, over the medium to long term, the short-term pressure on yields is expected to ease as the big four banks withdraw further and the funding gap expands.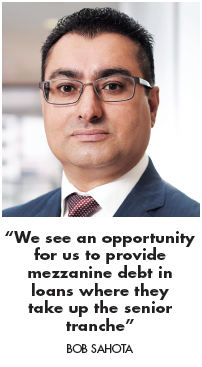 With a gradual maturing of the market, investors have a wider range of choices, including various forms of securitised and private debt.
Non-bank lenders have the option of packaging their debt to suit their risk appetite.
Sahota says Revolution goes into partnership with the likes of Blackstone and LaTrobe and, indeed, with the big four banks. "We see an opportunity for us to provide mezzanine debt in loans where they take up the senior tranche."
He deliberately pursues a flexible strategy to capture returns without being wedded to any one particular model. However, he says, "a model [debt] portfolio" is one that invests 40% on leveraged buyout, 40% on asset-backed security and 20% on real estate.
Lockhart says one of Metrics Credit's funds is rated by S&P, which allows it to participate in senior transactions alongside banks.
Jason Huljich, head of real estate and funds management at Centuria Capital Group, says there are two distinct markets in Australia – one backed by large well-capitalised global groups for large projects and the other catering to small institutions with smaller loans.
Centuria has raised AUD100m for investment in mid-market debt, including buying up residual apartment stock.
Many believe Australia is at the beginning of the commercial real estate debt cycle and that the few invested that have invested early in the cycle have enjoyed large returns.
But from here on, returns will likely moderate. Returns range from 5-6% for core investment to double-digit for higher-risk lending.
Schwartz, who has been in the market longer than most, is sanguine about the prospects. "In the past decade, we have seen a lot of parties come into Australia's debt market. Most are satisfied by writing a few deals," he says.
"Few players have a committed, long-term programmatic approach to the Australian marketplace." Perhaps this time, the mix will be different. The Australian debt market is quickly coming of age.