US multifamily specialist Greystar has ambitions to become a global residential platform. Its latest expansion has taken it to Asia-Pacific. Florence Chong reports
The US-based Greystar – fast becoming a global residential platform – is poised to roll out its Asia-Pacific investment and development strategy, initially focusing on core cities in China and Australia. Greystar and its partner, Macquarie Capital (MacCap), set up an Asia-Pacific institutional rental housing platform late last year. They have now put local teams in place in China and Australia.
Greystar, headquartered in Charleston, South Carolina, is the largest operator of apartments in the US. It was founded by Bob Faith in 1993 after co-founding Starwood Capital with Barry Sternlicht.
Today, Greystar operates in 150 markets, manages 420,000 units globally and has about US$16bn (€18.8bn) in assets under ownership, including more than US$7bn in new developments that have been sold or are under way.
The group first ventured offshore into Mexico in 2012, then, a year later, it entered the UK market by investing in a series of large portfolio acquisitions of student housing. It has also established its residential rental business there. Greystar went across the English Channel to Europe last year, securing a foothold in the Netherlands, from which to push deeper into the wider euro-zone.
Greystar will use its entry into the UK, Europe and Latin America as a template for its new venture in Asia-Pacific.
The partners have appointed industry veterans to start their operations in China and Australia. In February, Charles Ma, a former executive with the Chinese development group, China Vanke, was named to initiate Greystar's development and investment strategy in China. In April, Chris Key, former head of corporate finance, Asia-Pacific with JLL, was appointed to run the Australian platform.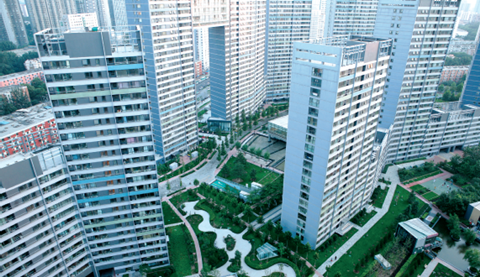 Wes Fuller, executive managing director, who manages Greystar's international businesses, says: "We will build our operating platform in [Asia-Pacific]. This will allow us to invest and develop different types of rental housing – from student housing to multifamily, to corporate, to senior housing.
"Our focus within the spectrum of rental housing will be market-dependent on a multitude of factors, including supply, demand, the regulatory environment and, of course, risk-adjusted returns."
Greystar is focusing on multifamily and corporate housing in gateway Chinese cities, where demand is greatest for rental accommodation.
"We are encouraged that the Chinese government is now requiring certain development sites to have purpose-built residential rental accommodation," says Fuller, adding that local governments are supportive of rental housing to help provide a solution to housing problems, particularly in major cities like Beijing and Shanghai.
Greystar expects to offer multifamily, student and corporate housing in Australia because, unlike Shanghai or Beijing, student housing is a rapidly-growing sector. Fuller notes that Australia is the largest education exporter in the region.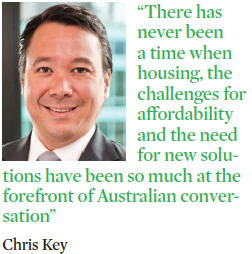 In Australia, however, Greystar may start off as a "service provider" until its own purpose-built stock comes online. Negotiations with some property owners are believed to be reasonably advanced, but the first crop of designated multifamily products in Australia could still be a couple of years away.
"There will certainly be challenges, such as land procurement and finding projects that are economically feasible, but we believe consumer demand is there for quality rental housing."
Greystar will work closely with Macquarie, for whom Fuller has high respect for its depth of knowledge, experience and networks in Asia, in sourcing opportunities.
"We have done a lot of business with Macquarie. They know the region well and have done similar growth strategies with other companies in sectors outside residential," he says.
Macquarie advised Greystar when it expanded into the UK in 2013. Globally, the Australian group has advised on the raising of some AUD5bn (€3.5bn) of equity for the US multifamily sector – of which AUD2.5bn went into Greystar multifamily and student accommodation ventures.
"The timing is opportune to be creating an institutional rental housing platform in Australia," says Key, the newly appointed managing director for the country. "There has never been a time when housing, the challenges for affordability and the need for new solutions have been so much at the forefront of Australian conversation."
It has become one of the big issues facing the federal and state governments in Australia today.
The affordability situation is equally daunting in China. Some market observers say it is a major issue in large Chinese cities, such as Shanghai and Beijing, where the housing problem has reached a "crisis proportion".
But the pain is heightened in a country like Australia that has been accustomed to a high level of home ownership. Now, runaway prices are pushing a generation of Australians into the rental market.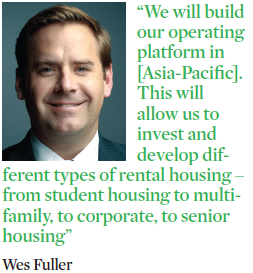 As Key sees it, there is an increasing need for viable and attractive alternatives in the rental market. "This will further enhance the already strong case for the growth of this asset class in Australia," he says.
According to the Australian Bureau of Statistics (ABS), the lack of affordable housing has substantially reduced home ownership across all age groups, with the greatest reduction occurring among 25-to-34-year-olds. Over the next 30 years, this cohort will rise 32% to about 4.8m, compared with 3.6m today.
ABS figures shows 2.3m of the 9.2m residential dwellings in Australia are rented. A quarter of rental housing is owned by private landlords and managed by a myriad of real-estate agents. It is a highly fragmented market with the industry's largest player, LJ Hooker, a real-estate agency chain, accounting for only 5.9% of the residential rental market in 2015-16.
Industry groups have projected strong growth in the rental market over the next five years, with revenue forecast to grow at an annualised 2.4% to reach AUD4.3bn by 2022.
Macquarie Capital's research shows that rental accommodation has delivered strong total returns of 11.7% since 1998. Yields have remained stable at 3-4% in that period.
According to the Real Estate Institute of Australia, for the past two decades returns have been predominantly driven by strong rental growth of 5.3% per year across the five major Australian cities.
As at March 2016, the industry body said the average vacancy rate in Sydney, Melbourne and Brisbane was 2.6%.
Key says: "Historically, the rental profile of this sector is very stable. In fact, in times of softening pricing in the for-sale residential market, rents tend to move the other way as more people enter the rental market, further underscoring the defensive nature of the asset class."
In markets where Greystar operates, Fuller has found that investors are attracted to rental housing because it provides a stable income stream with minimal ongoing capital expenditure over the long term.
Institutional residential rental is not fully developed globally, he explains, and this is why investors look to student housing, which has now become an available investment asset class in the UK and Australia, as two examples.
"But where multifamily is an option [as is the case in the US], you can see the big difference," he says. "On an annual basis, the US transaction volume is some US$80bn in multifamily, versus US$5bn in student housing."
Despite a good business case for investing in residential rental, institutional investors have stayed away in Australia and, with the exception of Japan, elsewhere in Asia.
Institutionalised residential rental is an untested concept and investment class in Asia-Pacific. Further, there has been a lack of right investment platforms. But, the fundamentals are such that it has already piqued the interest of domestic and international institutional investors.
Macquarie Capital has been fielding inquiries from domestic and offshore institutional investors since the Greystar platform was unveiled.
The CIO of a large Australian superannuation fund tells IPE Real Estate that his property team has begun discussions with Greystar on the possibility of investing in its Asia-Pacific platform.
Asia-Pacific: APAC finds its core values
1

2

Currently reading

Asia-Pacific: Homes from home