Asian REITs are some of the most innovative and diverse investments on the market
Ascott
• Singapore Exchange
• Mkt cap: S$2.8bn (€1.83bn)
• Portfolio: S$5.5bn
Singapore-based Ascott Residence Trust is poised to join the world's leading hospitality trusts when it completes a proposed merger with the smaller Ascendas Hospitality Trust this year.
The enlarged vehicle will have an estimated market cap of S$4bn (€2.6bn), and a S$7.6bn portfolio spanning 39 cities in 15 countries, making it Asia-Pacific's largest hospitality trust.
Ascott REIT CEO Beh Siew Kim says size and scale matter in the hospitality industry, and a larger free float will help its inclusion in the FSTE EPRA NARIET Developed index, which could bring about a re-rating of its share price. Of the 42 S-REITs on the Singapore Exchange, 13 are on the index, while three hospitality trusts in Asia-Pacific are on the index.
Stocks listed on the index enjoy a higher trading volume and better liquidity. "This index is recognised by international investors as the go-to benchmark index when they invest in REITs," Beh says.
Ascott REIT will be able to access lower cost capital to pave the way for further growth and Beh wants it to become something of a proxy stock for the growth in tourism, especially in Asia. With strong economic growth and rising living standards, an ever-increasing number of Asians are travelling for leisure and work.
Ascott REIT's properties also cater to corporate travellers who prefer security and consistency in service standards. She says: "It is important in this industry to really 'own' the customers. Having our own corporate distribution network enables Ascott to command the bookings and revenue, so that Ascott is not solely dependent on online bookings."
Beh says more than 50% of Ascott's guests are corporate travellers. The number rises to 90% at some properties.
Ascott REIT is backed by Ascott, a wholly-owned subsidiary of CapitaLand, one of Asia's largest diversified real estate groups. CapitaLand owns 45% of the listed vehicle and Ascott manages the properties owned by Ascott REIT.
"There is a strong alignment of interest between Ascott REIT and our sponsor," says Beh. "As our sponsor expands and grows, ultimately our properties benefit from cost savings and dedicated investment to improve technology and branding."
Dexus
• The Australian Securities Exchange
• Mkt cap: A$14bn (€8.7bn)
• Portfolio: A$31.8bn
This year Sydney-based Dexus spent more than A$2.3bn (€1.44bn) on just two deals to reinforce its standing as the world's fourth-largest listed office REIT and Australia's largest office landlord.
In one transaction, Dexus and its flagship fund paid A$800m for a 50% stake in the iconic MLC Centre in Sydney. Two years earlier, they had paid A$722m for half of the complex.
The other major acquisition was 80 Collins Street, Melbourne, for A$1.5bn from QIC Global Real Estate. This large-scale development site is a crucial asset that allows Dexus to complete what is the rare holding of a large strategic precinct at the highly coveted 'Paris end' of Collins Street.
CEO Darren Steinberg says Dexus and DWPF are spending A$170m to renovate the retail and dining components of MLC Centre, while also refurbishing the Royal Theatre, part of the complex, which has been leased to the New South Wales government for 45 years.
Asked about transacting in a market where office yields have reached historic lows, Steinberg points to subsequent transactions by other parties at yields that vindicate his own decision to pay the prices he did for MLC Centre and 80 Collins Street.
Dexus acquired 80 Collins Street at an initial yield of 5.3%. Steinberg says a neighbouring asset has since sold at a 4.5% yield. Another example is the 4.5% capitalisation rate for Blackstone's purchase of three Sydney office towers from Scentre Group, Australia's leading retail REIT. Steinberg is a firm believer in the ongoing strength of the office market, particularly in Sydney and Melbourne.
"Cap rates will continue to compress," he says, pointing to solid fundamentals holding up the sector, with demand for office space strong and rents continuing to rise.
While office is its main focus, Dexus is a diversified group, with interests in industrial, retail and healthcare. The latter is a recent addition and Dexus identifies it as an area of growth because of Australia's demographics.
In an uncertain world, with macroeconomic indicators pointing to weaker economic growth, Dexus is well-insulated against a sudden downturn, says Steinberg, who believes he has future-proofed the business against either a local or a global financial meltdown.
"We have a strong balance sheet, with a low gearing level (about 25%). Our office portfolio has high occupancy (97.5%) and an average lease expiry of 4.4 years," says Steinberg. "The property sector's debt-to-equity ratio has improved. A-REITs have replaced their shorter term debt with long-term debt. And there is a large pool of private-equity dollars seeking to buy into Australian real estate."
Goodman
• The Australian Securities Exchange
• Mkt cap: A$26bn (€15.9bn)
• Portfolio: A$42.9bn
Goodman Group vaulted onto the S&P/ASX Top 20 index in June, becoming the second A-REIT to make this coveted list of Australia's largest public companies. Those on the index account for almost 50% of Australia's total share market capitalisation. They are blue-chips and enjoy a high-liquid market for their shares.
At the time of writing, Goodman had a market cap of A$27.7bn (€17.2bn). As of 31 March, the group had AUM totalling A$43.9bn.
Goodman's share price has risen by a massive 55% in the past year, leapfrogging other REITs as it benefitted from structural changes in retailing. Competitors and investors alike credit the achievement of the group to founder and group CIO Greg Goodman, noting his drive, stamina and vision.
Goodman identified a trend to online retailing over a decade ago, charting the leasing pattern of the group's logistics facilities in Australia and overseas.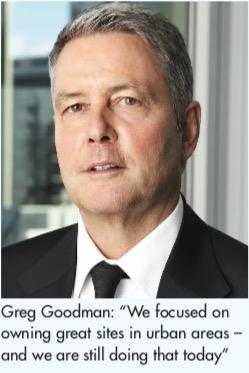 He also foresaw a shift in demand for distribution facilities away from the periphery of cities to city centres, concentrating on gateway cities. He believed that business would embrace new technology to facilitate delivery on demand.
Asked if he had ever imagined that the company would one day be the biggest REIT in Australia, the second-largest in Asia-Pacific and the second-largest listed global logistics group in the world, Goodman says: "We've always had the long term in mind. We just concentrated on building the business brick-by-brick, shed-by-shed.
"It was never about growth for growth's sake. Back then we focused on owning great sites in urban areas – and we are still doing that today. We've have always had that urban theme."
The central philosophy of the Goodman approach is "all about adding long-term value".
Few large public companies in Australia are still run by their founders. Goodman makes monthly long-haul trips to operations in the US, Europe, South America, Japan, China, and New Zealand.
"We see the continuing evolution of technology, which is all about making space more efficient for our customers and providing more convenience for consumers," he says. "We'd like to play our part in this global evolution."
Goodman credits his success to having a good team. "The key is having people in the business with a long-term focus and a long-term vested interest in outcomes. People need to have a sense of ownership, which they do at Goodman. They share a clear, well-defined strategy which is enduring."
Mirvac
• The Australian Securities Exchange
• Mkt cap: A$12.5bn (€7.79bn)
• Portfolio: A$22bn
Mirvac Group, Australia's largest listed residential developer, is set to champion the creation of a build-to-rent (BTR) market in Australia.
"Our view is that BTR is a logical adjacency to our built-to-sell business," says CIO Brett Draffen. "We are using our expertise and development capability, combined with our specific research on rental customer needs, to create BTR apartments."
The group has looked into BTR over the past decade, but until recently did not see it as a viable option. "We are seeing a convergence of factors," Draffen says.
"Yields in traditional property asset classes – office, industrial, retail, storage and pretty much every other asset class – have compressed significantly.
"Today, the true yield and return profile from BTR product compares favourably with that of traditional investment-grade asset classes. The differential between institutional-grade residential assets held for rental and other assets is no longer there."
Over time, Draffen expects total returns from BTR to be "as or more compelling" than some traditional asset classes. "BTR projects will be brand-new buildings and, as a result, capital expenditure will be low," he says. "This, combined with strong demand, low vacancy and sound rental growth profiles, will produce compelling total returns.
"Our view is that, just like office, retail and industrial, BTR in Australia will develop into an acceptable institutional asset class. You can't buy a BTR portfolio in Australia. So we are leveraging our development skills to create them with custom-designed buildings based on detailed customer research in locations with great amenity and transport connections."
The first Mirvac BTR project is under way at Homebush, in Sydney's inner west. Mirvac has also acquired a site for its first BTR project in central Melbourne.
Draffen says Mirvac is using its balance sheet to establish BTR as an asset class. "We want to get to a position where we can demonstrate our value offer and investors can see a working model," he says.
"We are making incremental steps, but further work needs to be done to achieve balanced concessions for investors in this nascent sector."
Mirvac is working with industry groups such as the Property Council of Australia to kickstart a BTR sector in Australia. "Our expectation is that we will bring in a long-term capital partner," he says. "It does not have to be tomorrow. We are patient, and want to ensure strong alignment, so we get the right partner."
Outside of BTR, Mirvac delivers more than 2,500 apartments and houses across Australia each year. At any one time it deploys up to A$2bn of its own capital in its residential business.
Although Mirvac was established as a residential developer, over time it became an A-REIT, with a passive portfolio of diversified commercial assets.
"We are a diversified group," says Draffen. "One of our benefits is that we can play across multiple sectors and use our development skills to create core assets rather than buying these assets on market."