Asia-Pacific's REIT markets are small compared with the region's underlying property market. Florence Chong explores what could be done to bridge the gap
With newly emerging markets joining the world of listed REITs, global investors will soon have more choice of where to invest. More Asian countries are planning to roll out their versions of REITs in coming months, after taking more than a decade to finally embrace the concept of securitising real estate.
However, the newcomers are starting gingerly, with just a handful of listings so far. India is an example. There, investors are awaiting a second public offering, having seen Blackstone first off the block, listing Embassy REIT, its portfolio of Indian offices, on the Bombay Stock Exchange in March.
In the Philippines, the country's largest developer, Ayala Land, is working through official documentation after announcing in April its intention to raise US$500m through a listing on the Manila Stock Exchange.
South Korea in February saw an aborted attempt to list its first public vehicle, Homeplus REIT, aimed at attracting up to US$1.5bn from foreign investors. In March, sponsor MBK Partners withdrew the offering, citing lack of interest.
Sigrid Zialcita, CEO of the Asia-Pacific Real Estate Association (APREA), says there are more REITs listed in Asia-Pacific than what is generally known. Some are in small economies, like Malaysia, Thailand and Taiwan, but fall under the radar because of their small size. Zialcita says these REITs are not considered "institutional grade" and, therefore, have no analyst coverage.
Of all emerging markets, however, it is the potentially huge China market that has raised most expectations, despite the world being unclear as to what Chinese authorities have in mind or, indeed, when the first Chinese REIT will debut.
"In terms of the size of the overall property market, we expect China to overtake Japan by 2020 as the largest in the region," says Zialcita. "Of course, not every property stock is REIT-able, and not all assets are of institutional grade in China."
James Maydew, AMP Capital's global property securities manager, says that, when looking at new markets in Asia, he thinks of Germany. "Eight years ago, listed real estate was a nascent sector in Germany," he says.
"Today, Germany is a significant part of global investment opportunity. You have got to look at newer countries and less-established sectors and be entrepreneurial in thinking about your options."
Today, the choice for global REIT investors is limited to Australia, Japan, Singapore and Hong Kong. And that is ironic, given Asia-Pacific represents such a sizeable chunk of the global real estate market. "There is a disconnect between what is happening in the property market and listed space," Zialcita says. "The performance of the property market in Asia over the past several years has been spectacular. We have seen tremendous economic growth in our region, relative to the rest of the world. But there isn't the trading volume in REITs."
Maydew, who manages A$5.8bn in property securities, describes the listed real estate market as a proxy for direct real estate. "It's the same bricks and mortar, driving long-term returns," he says. "Globally, we are seeing a significant appetite for real estate because it plays a diversification role in balanced portfolios. In a low-growth and low-rate environment, underlying demand for real estate becomes more prevalent."
Investors are hungry for yields, particularly since many central banks are cutting interest rates, he says. "We have seen a precipitous fall in global risk-free rates."
The upshot is that demand for listed real estate has turned property securities into increasingly expensive assets, raising the question of how long property's good times might last.
Early this year, UBS surveyed 239 respondents overseeing US$1trn (€888bn) in assets under management, to gauge their view of listed real estate. The key findings were that total return expectations were low but positive, and that investors were "neutral-to-positive" on Asia, compared with largely overweight on continental Europe. UBS also found that respondents had stronger sector views than regional views.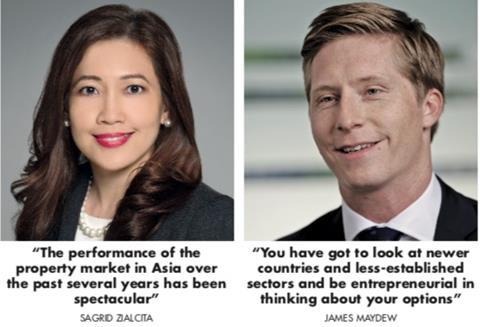 Grant McCasker, head of Asia-Pacific real estate equities with UBS, says Asia-Pacific REITs have been a key beneficiary of a combination of global events. These include global trade tensions, Brexit, risk aversion and a decline in bond rates.
In a report, McCasker and his team wrote: "While the current environment will continue to see REITs well-supported, we have a preference for developers across the region on valuation grounds and long-term urbanisation trends."
William Leung, head of Asia-Pacific Real Estate at Cohen & Steers, says developers have historically dominated listed markets in Asia, particularly in Japan and Hong Kong. "Asia used to have two different types of property companies," he says. "One was the developer, the other the property investment company. Although not structured like a REIT, the latter's earnings came solely from rental income."
But Asia is changing. Leung says REITs are getting bigger in terms of market cap, while developers are getting smaller. It is important to note, he says, that the Asia-Pacific REIT universe has expanded over the past decade, since Singapore, Japan and Hong Kong began rolling out regulations.
Cohen & Steers is one of the largest property securities investors in the world, with some US$37bn of its total AUM in REITs, of which approximately US$3.8bn is invested in non-US holdings.
Leung says REITs in Asia are not governed by a uniform set of regulations. Each jurisdiction has its own regulations, so payout dividends, treatment of gearing and so on differs.
Japan has the largest REIT market in Asia-Pacific, with a total market cap of ¥14.9trn (€130bn) and has 58 J-REITs listed on the S&P ASX 300 REITs index. Leung says that, individually, Japanese trusts are small, but their total market capitalisation ensures that J-REITs have the largest weighting in Asian REITs indices.
It follows that Cohen & Steers has its biggest exposure in Asia-Pacific to Japan.
Depending on the strategies employed, AMP Capital allocates 10% of its global portfolio to Japan. J-REITs make up a key component of AMP Capital's allocation of 25% to Asia-Pacific. Australian REITs account for 5% of its Asia-Pacific allocation.
Maydew says the Japanese REIT market is "fascinating". He explains: "Compared to other REIT markets, Japan really operates in a silo to the rest of the world because of the construct of the Japanese market. J-REITs are a very domestic-dominated asset class."
Andrew Parsons, CEO of Resolution Capital, says J-REITs ride on the tailwinds of buying by Bank of Japan and other yield-hungry investors. The Japanese central bank now owns more than 5% of 12 J-REITs, according to its filing to the Financial Services Agency. It buys ¥90bn worth of REITs annually as part of its stimulus programme.
"BOJ is among the biggest buyers of equities and real estate ETFs," says Parsons. "It makes logical sense, because it can get a secure income yield of around 4% from the J-REIT market."
Parsons invests in J-REITs selectively in his A$8.5bn global property securities portfolio for "a mix of consistent yield, capital appreciation, and diversification". Aside from institutional investors, including pension funds and insurance companies, J-REITs are also well-supported by retail investors. They all have same the objective – yield.
Leung says J-REITs enjoy strong market fundamentals, especially in the office sector, where there is robust demand. J-REITs enjoy stable incomes compared with zero-to-negative returns from Japanese government bonds.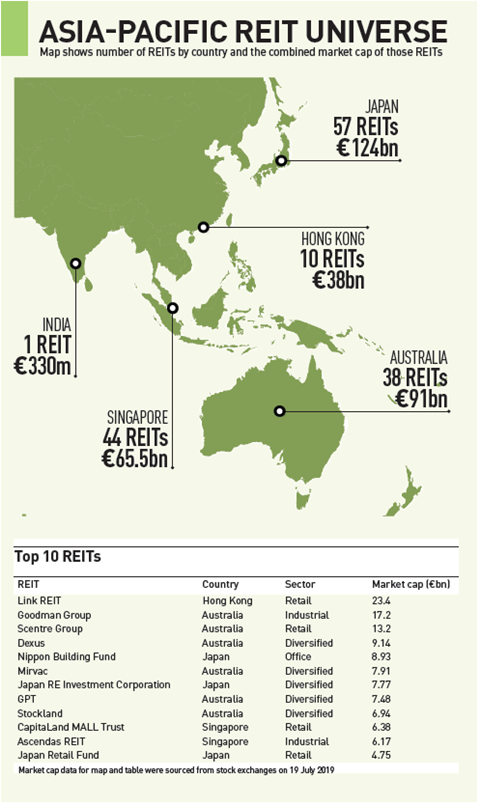 The benefit of J-REITs is summed up by CLSA's Japan property team in a recent note on Japan. "J-REITs offer income, long-term capital growth and capital protection, but some are better fortified than others," it says. The CLSA team singles out logistics, hotel and small office REITs as the better performers.
Although Australia has the most established and the second-largest market in the region, Leung says the number of A-REITs is shrinking because of ongoing mergers and acquisitions.
Global and domestic investors face the problem of concentration in Australia (see separate story) with eight stocks making up almost 80% of the entire A-REIT market.
Singapore ranks as the third-largest REIT market in Asia-Pacific. While it, too, has lost S-REITs to takeovers, new vehicles are being launched in Singapore. Interestingly, the republic also offers cross-border trusts.
Australia's Cromwell Property Group launched its Cromwell European REIT in 2017, and another Australian group, Lendlease, is said to be contemplating the listing of an A$1bn Lendlease Global Commercial REIT on the Singapore exchange to hold shopping centres in Singapore, Australia and, possibly, Lendlease assets in Milan.
The Singapore exchange boasts several REITs that own assets in China, India and the US, and are quoted on both local and foreign currencies.
CLSA Research says first-quarter 2019 results of S-REITs suggest that a broad-based recovery of fundamentals remains on track, with office leading in terms of rental growth.
Maydew agrees. "We have seen some rental growth over the past 18 months in this cycle, and now, longer-term, you have opportunity for further demand to come from the international tenant base," he says, alluding to the potential impact of destabilising recent political protests in Hong Kong.
If that was to happen, Hong Kong's property securities market could be further eclipsed by its regional peers. But even without its still-dominant publicly-listed property development groups, Hong Kong's REITs market is propped up by Link REIT, the region's largest listed trust.
The bottom line is that the choice of listed property securities in Asia Pacific remains limited, and that the mooted roll outs of IPOs this year will, at best, cause a ripple in the global REITs ocean.