With the launch of LeadCrest and a large transaction by Income Realty, the European sale-and-leaseback market suddenly got busier. Rachel Fixsen reports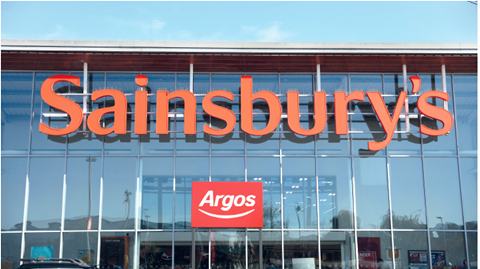 LeadCrest Capital Partners, set up in April by former Colony Capital managing director Georges Asmar, is the latest company to target the European sale-and-leaseback market. At the launch, Asmar said LeadCrest was the first fund manager to specialise in the sale and leasebacks "on a dedicated basis".
Others are already active in the market. Arvi Luoma, head of European investments at WP Carey – a US specialist that has been investing in Europe for 20 years – says there has been a spate of new entrants. Another example is US company Realty Income, which acquired a large portfolio of Sainsbury's supermarkets in the UK.
Luoma says there are specific reasons why the sector is particularly active now. The concept that WP Carey pioneered in the US in the 1970s is now a standardised product. He says: "The majority of commercial property is now institution-owned in the US, whereas in Europe the vast majority remains owner-occupied, so that gives scope for new sale-and-leaseback business in Europe. However, whereas in the US investors can easily acquire assets right across the country, in Europe it is much more difficult to move across geographies."
For occupiers, sale-and-leasebacks have become an established financing tool, especially in Germany. Luoma says: "It fits somewhere between a senior loan and mezzanine financing in the capital stack. They realise they have substantial capital tied up in the form of real estate, and that they can release and reinvest that capital into their company – generating a nice cash sum from the sale, and with the company being able to maintain long-term occupation and secure low rent. There has been extraordinary growth recently, but we've seen a steady increase over time."
He cites Goldman Sachs' £1.16bn (€1.30bn) deal last August with Korea's National Pension Service over its Plumtree Court premises, which is to be the banking group's new European headquarters from mid-2019.
"But there are also smaller companies in this space as well as multinational corporates, such as established family-owned businesses with, say, €500m in revenue," says Luoma. "In the last couple of years this has been increasing, with occupiers locking in low yields, which one could argue allows them to ensure high prices but with reasonable rents. There's also increasing awareness of [sale and leaseback] as a tool, with more and more advisers telling them about it."
Among recent European deals signed by WP Carey is its DKK1.2bn (€161m) acquisition in July 2018 of a portfolio of 14 Danish logistics assets and one corporate headquarters, which are triple-net leased – under which tenants are solely responsible for all the costs relating to the asset – to Danish freight carrier Danske Fragtmænd.
Later that month, the firm bought a 36-property do-it-yourself (DIY) retail portfolio in the Netherlands from CRH for €153m, which is triple-net leased to the Dutch DIY group Intergamma for a weighted-average lease term of 15 years.
Georges Asmar, president and managing director of LeadCrest, says it was the 2008 crisis that triggered the current rise in corporate divestitures. "Operationally-sound European corporations no longer had access to capital, whether through equity capital markets or debt capital markets, and found themselves unable to refinance their existing liabilities or to fund growth," he says.
Sale and leasebacks provide a hedge against inflation and protection against a downturn, while providing exposure to real estate. "Interestingly a number of research papers show that LPs are underweight in real estate exposure and those same surveys show that LPs are expected to increase their allocation to real estate," Asmar says. "However, LPs are also concerned that we are at the peak of the cycle and valuations are at an all-time high. Sale-and-leaseback investment is a way to reconcile these two macro trends." In a well-structured sale-and-leaseback transaction, 80-90% of the return should be driven by the annuity – the cash flows from rent payments – and only 10-20% from capital appreciation, he says.
Tim Perry, research analyst at Aviva Investors, expects demand from defined benefit (DB) pension schemes for assets providing long-term, secure, inflation-linked income, to remain high, as insurance companies do not have the capacity to buy out a material share of DB pension schemes' liabilities. "Many will need to pursue cash flow-driven investment strategies," he says.
Paul Richards, head of the European real estate boutique at Mercer, says there has been noticeable growth in the offer of sale-and-leasback-based real estate investments in the past 18 months. "We're interested in this from a pension fund point of view, with these vehicles holding long leases which fits the bond box, and can be attractive in an era of low bond yields," he says.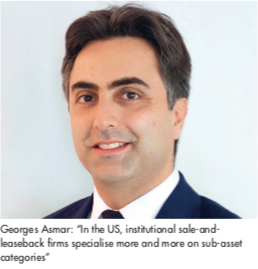 Richards says the vehicles are becoming more important for pension investors in the UK and Europe partly because they represent an extension to the palette of real estate investments on offer – at a time when real estate is seeing huge investment inflows. "It's one of the things they can do. A lot of money is going into real estate which would previously have gone into bonds, and investors are looking for similar instruments," he says.
Paul Jayasingha, global head of real assets manager research at Willis Towers Watson, says the growth in sale-and-leaseback financing providers in Europe is dominated by managers running triple-net leases on mission-critical assets. These providers are bringing their leveraged model over to Germany in particular, from the US.
"These tend to be 15-year-plus leases, to which the managers then add 50-60% leverage, and you are able to get 10% plus yields on that," he says. "This model worked pretty well in the US when borrowing rates were low, but it's becoming harder in the US so they are replicating the strategy in Europe."
Jayasingha's firm has not backed many of the leveraged vehicles for its investor clients, though. "While the manager creates some value up front, once it's in place, you are largely just collecting the income, and managers collect quite a high fee for this," he explains. He describes the method as quite a fragile way of getting that return. "If there's a bump in the road, with the level of leverage, there is left-tail risk," says Jayasingha. In other words, the risk of loss is quite high if things do go wrong.
Conversely, Willis Towers Watson favours the non-leveraged version of sale-and-leaseback funds.
"The return on a non-leveraged basis of buying property with long leases is quite attractive, both from a risk/return perspective, but also in comparison with corporate bonds," he says.
Jayasingha says the higher-return model being pursued by some US managers is not necessarily suitable for pension fund investors. Non-leveraged models might give a 5% return to investors, including a 2% illiquidity premium, and Willis Towers Watson has helped pension fund clients invest some £5bn into these strategies.
"The leveraged strategy is a different model. Pension funds, in our view, don't necessarily need to get that level of return," he says.
However, the expanding sale-and-leaseback market is encountering a regulatory obstacle. Jayasingha says: "There is a big hurdle which is stopping some potential occupiers, which is the new IFRS 16 lease accounting rules. Under these, if you own a company and conduct a sale-and-leaseback, the lease becomes a liability on your balance sheet. So this may not be as attractive as it was for an occupier. We haven't seen a direct impact yet in terms of volumes, but it may have a delayed impact."
Matthias Huebner, fund manager of Aviva Investors' Long Income Continental Europe, says the continental European long-income market is probably seven to eight years behind the UK. "There are few funds targeting the sector, while growth in the UK came about from increased demand and competition over the past 10 years," he says. "The potential for Europe is great but it requires investor demand to stimulate owner-occupiers to divest real estate."

While interest from the demand side has started to grow through new dedicated long-lease investors either coming to the market or planning to do so with different risk appetite, Huebner says it is too early to say whether this has spurred the supply side.
Looking ahead, Asmar says the European sale-and-leaseback market could develop as it becomes more sophistication. "In the US, institutional sale-and-leaseback firms specialise more and more on sub-asset categories [such as car dealerships, gas stations or casinos]. We could see a similar trend evolving in Europe," he says.