It is back on the agenda, but what would it mean for real assets? Jennifer Bollen reports
"I can't think of an occasion in the last two months where it hasn't been on the agenda." Simon Martin, a senior partner at real estate fund manager Tristan Capital Partners, was not talking about coronavirus. The prospect of rising inflation is causing growing concern among investors globally.
A low base of consumer spending combined with the reopening of some major economies as lockdown measures ease has sparked nervousness about what higher inflation could mean for portfolios. It spells bad news for bond yields but is expected to further fuel demand for inflation-hedging real assets.
The euro area's Harmonised Index of Consumer Prices shows that, in the first quarter, this year's expected inflation rate stood at 0.9%, rising to 1.3% next year and 1.7% in five years. The figures are higher for the US, which has implemented a more substantial fiscal response to the pandemic. In March, the US Federal Reserve forecast personal consumption expenditures inflation of 2.4% this year, up from its forecast of 1.8% in December. It predicted the rate would fall to 2% next year and rise slightly to 2.1% in 2023.
The numbers are hardly surprising, say market participants, with consumer price indices plummeting last spring as a result of lockdowns. "COVID headwinds in March last year pushed the CPIs down," said Martin. "As that base effect goes, you'll get high CPI numbers in the second quarter."
Cynthia Parpa, a member of the real assets research team at asset manager BlackRock, said that in the US, "we're expecting the economic restart to accelerate from this quarter and second half of the year". She adds: "In Europe, we could see the economic restart delayed, but we don't expect it to be derailed."
According to the latest IPE Real Assets survey of real estate investors (see page 46) the possibility of future inflation, rising interest rates and bond yields were identified as major risks to the asset class. Investors are right to evaluate allocations and reassess their inflation hedges, potentially with a view to expanding real assets exposure, say advisers. But a substantial rise in inflation in the short term is not as likely as they might fear.
"I don't think 1970s inflation risk is visible right now. We don't see any demonstrable sign of it," said Martin. "The reality is, we have some pretty strong demographic headwinds and demography is a key part of the inflation equation. I'm not completely convinced that this reflation cycle is going to radically alter allocations in the short term; allocation shifts will require a bigger move."
First, there is sufficient "slack" in economies, said Frédéric Blanc-Brude, director of EDHECinfra, a venture of EDHEC Business School that provides indices and research on global infrastructure. "There is plenty of unused productive capacity and unused labour," he said. "Unemployment is higher, short-term interest rates remain very low. There's little reason why the cost of labour or cost of capital should go up materially."
Second, the velocity of money – the rate at which money is exchanged – sank during lockdown to its lowest level in the Federal Reserve Bank of St Louis's 61-year data set. It fell to 1.103 in the second quarter of last year before rising slightly to 1.134 by the end of the year. The figures compare with 1.497 at the end of 2015 and a high of 2.192 in the third quarter of 1997.
"Velocity has been decreasing steadily in advanced economies since quantitative easing started a decade ago," said Blanc-Brude. "With lower rates, households save more… in an economy where 70% of GDP is made of consumption, low rates tend to slow down economic growth and inflation."
Instead, it is over the next 10 years when we are more likely to see higher inflation – exceeding the European Central Bank's 2% target for lengthy periods, according to Friedrich Heinemann, head of the research department at the ZEW Centre for European Economic Research.
He said in a statement in March that there were two main reasons for his outlook. Effects that have previously dampened inflation – such as low-cost labour in Asia – are due to expire. Meanwhile, significantly high debt levels post-pandemic in countries including Italy would be "unsustainable without long-term financial aid from the ECB".
Michelle Butler, real assets portfolio specialist at real assets fund manager Cohen & Steers, said: "The longer, more sustained case is what we should focus on…. $30trn of global fiscal and monetary stimulus. That can't be understated. That combined with more inflation-tolerant central bank policies.… as well as lower interest rates, can be very inflationary."
Time to hedge?
Real assets managers have long boasted the inflation-hedging characteristics of the sector – namely, inflation-linked leases and product prices, and the higher capital values of assets that come with rising rates. "Strategically, having exposure to real assets will always provide you with that protection," said Butler. "Tactically, you can decide if you're overweight or underweight. It's difficult to predict when to have it and that's why we believe it's so necessary to have inflation beta embedded in an asset allocation."
Appetite for real assets is growing. BlackRock's 2020 Global Institutional Rebalancing survey found that 55% of clients intended to increase their allocations to real assets, with 49% planning to increase allocations to real estate.
"I wouldn't be surprised to see investors who haven't been invested in real assets considering it," said Parpa. "The inflation-protection benefits the asset class could offer as well as capturing yield and income growth can be appealing to investors today."
Investors often think about using real assets as an inflation hedge too late, according to Butler, since inflation sensitivity in a portfolio is designed to protect against unexpected inflation. Where are we in the cycle now?
"I wouldn't say it's too late," she said. "We're seeing a tick up in inflation in the near term but that's driven by base effects, as a year-on-year spike is not surprising, given the global lockdowns faced a year ago versus the recovery progress today."
Predicting the best time to buy in is difficult, but for real estate investment trusts (REITs) the next couple of years are expected to be "the most favourable" compared with global equities, according to a report published by Cohen & Steers in February. It said a rapid rise from a weak base and low interest rates typically characterised the initial stages of a new cycle.
"If you're worried about the long-term risks of inflation, you should hedge the risk now," said Martin. "The minute the market decides it's a real risk, the market will price it – then it will be too late."
Real estate is one of the most popular inflation hedges, with particular benefits for liability-driven investors with inflation-linked outgoings. In March, research provider MSCI published hypothetical returns for asset classes including US real estate. It predicted US property would return 8.35% in a rising-inflation environment over an unspecified period, compared with -0.27% for US investment-grade bonds and -1.53% for US Treasuries. Further figures from MSCI show that, by total returns, its MSCI UK Annual Property ndex has consistently outperformed inflation since the 1980s (figure 1).
However, it is worth considering that the historical real total return might be of limited use, said Bryan Reid, executive director of MSCI Research. "Some people look at the strong income return offered by real estate and assume that it must therefore be bond-like in nature," he said. "However, this is not the case and there are a number of important distinctions between real estate and fixed income."
One is that the cash flows from real estate are not fixed; they can be sensitive to growth and inflation. Since inflation (figure 2) can affect rental income as well as operating costs, comparing net operating income with historical inflation may offer a better lens through which to evaluate real estate's response to inflation in the past.
"A simple correlation suggests a relationship, but we do have to be careful," said Reid. "Both series have been trending down over time and that can result in spurious correlation…. Nevertheless, there are solid theoretical reasons to believe that the real estate cash flows should be sensitive to inflation and should therefore offer some degree of inflation hedging."
For investors looking to reap benefits in the near term, there are some standout choices. "If you believe inflation is going to be quite strong in the coming years, you probably want to be in those property types that are seeing shorter leases turning over," said Indraneel Karlekar, a senior managing director at manager Principal Global Investors. "You're coming into an environment where you can raise rents in certain property types."
Private residential leases offer the potential for rental growth amid higher inflation, while leases for many offices – which typically run from three to five years – are due to expire in the next 12 to 18 months. Meanwhile, higher capital values can offset the increased costs of construction, with developers able to pass the increased costs of labour and materials on to buyers.
Publicly traded REITs are designed to offer investors the same inflation-hedging characteristics as unlisted real estate. They come with greater liquidity than direct property, albeit with less control for the investor and higher volatility.
"REITs have rallied significantly in the last few months based on the idea the economy is going to reopen," said Karlekar. "And implicit in that is higher growth and higher inflation."
For instance, US trade body NAREIT said the FTSE NAREIT All REITs delivered a total return of -5.86% last year, down from 28.07% in 2019, but rebounded to 8.48% this year as of March 31.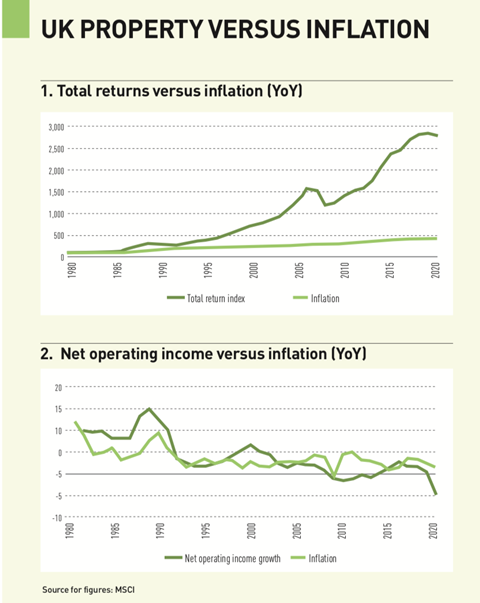 Furthermore, the reassurance of the stability of the underlying assets gives investors the balance to target higher-growth investments, said Ben Fry, head of housing investment at UK alternatives manager Gresham House, which runs a UK residential REIT. "Because we're in a very good position of having assets with uncapped inflation exposure, the value of our assets should increase more than others' in this type of environment. There's huge demand for assets that increase with inflation."
REITs have performed strongly through higher-interest-rate environments, which typically follow inflation. S&P Dow Jones Indices said that in the 25 years to May 2017, REITs outperformed other major asset classes, delivering an annualised total return of 10.8%, compared with 9.5% from stocks, 5.7% by bonds and -0.5% by commodities.
It said that, since the early 1970s, there had been six periods when yields on 10-year US Treasury bonds rose significantly. In four of those periods, US REITs generated positive total returns. In half of those periods, US REITs outperformed the S&P 500.
S&P Dow Jones Indices added that the income component of returns from REIT had surpassed inflation in 14 out of the past 15 years up to 2017.
"History has shown the direction of the economy and job growth tend to have a greater impact on REIT returns than higher interest rates," said Butler. "When you have an expanding economy, which is our belief, it typically drives stronger demand, supporting the potential for increased property cash flows and that helps offset higher capital costs."
Investors will be eyeing infrastructure, following expectations of government-backed projects in the coming years. It is also another corner of the market frequently pitched as an inflation hedge.
Revenues are generally linked to inflation through regulation, licences and concession agreements. Asset owners can also pass the cost of inflation onto customers through price increases, thanks to infrastructure's essential nature.
Research from S&P Dow Jones Indices illustrates the relationship between infrastructure indices and inflation. It found that in the 17 years to the end of 2019, in months of high inflation, the Dow Jones Brookfield Global Infrastructure Index outperformed the S&P Global BMI by a monthly average of 40bps, while the S&P Global Infrastructure index beat it by a monthly average of 18bps.
However, it is not a perfect inflation hedge, said Parpa, with protection varying across sub-sectors and jurisdictions. Some infrastructure assets' revenue models are more directly linked with inflation than others. Some, such as utilities, are often considered more regulated, while others, like airports and toll roads, are more concession-based; local government agreements allow for the increase in service rates based on fixed amounts above inflation.
But investors should be wary of relying on hedges outside of their home countries, warns Blanc-Brude, who highlights that many investors must target deals internationally to access the asset class. "Even if there's a link with inflation wherever they're investing, it's not the inflation they have at home, which is the one of their liabilities that they are trying to hedge," he said.
Inflation is important for infrastructure investors for a different reason – interest-rate risk, he adds. The long-term nature of infrastructure investments mean that, like bonds, they are vulnerable to significant changes to their discounted cash flows in line with interest-rate movements.
"And the lower interest rates are, the more sensitive this relation becomes," Blanc-Brude said.