Is CPPIB's green bond the start of a trend?
Canada Pension Plan Investment Board became the first pension fund to issue a green bond. Elisabeth Jeffries assesses the significance 
Canada Pension Plan Investment Board (CPPIB) has become the first pension fund in the world to issue a green bond. The 10-year bond was launched this summer to facilitate investment in cleaner technologies, and was thus designated as 'green'. Given the pension fund's leading role, are similar national pension funds likely to follow with further comparable measures, or was this a one-off initiative from Canada?
Certainly, CPPIB's interests in cleaner technology are already established and influential as a top-10 fund with CAD356bn (€232bn) in assets. It does not actually need to issue bonds to invest in greener technologies. The CAD1.5bn bond will finance green buildings, renewable energy, sustainable water and wastewater management assets, some of which may constitute a new or developing interest for the fund.  
However, it already owns renewable assets, including Cordelio Power, a Canadian independent power producer with a wind and solar-energy portfolio, and a 50/50 joint venture with Brazilian renewables company VTRM Energia. In May, CPPIB purchased 49% of energy company Enbridge's interests in North American onshore renewable power assets, as well as interests in two German offshore wind projects. 
Meanwhile, the fund created a power and renewables investment team in 2017 to take advantage of growing market opportunities especially in low-carbon energy alternatives. It is very likely that further investments will follow.
"Power and renewables are one of the asset classes we invest in," says  James Logush, head of the financing, cash and liquidity group at CPPIB. "Renewable energy investments are beginning to become more attractive, because the cost of producing this energy is beginning to fall. As a result, the competition to buy these assets is increasing. Issuing a green bond helps to finance some of our current and future renewable investments in this field."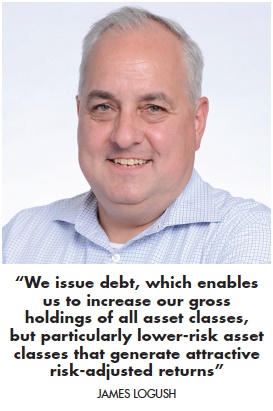 Logush adds: "We issue debt, which enables us to increase our gross holdings of all asset classes, but particularly lower-risk asset classes that generate attractive risk-adjusted returns."
Liquidity could be one motivation for using the bond. "These [infrastructure assets] are very illiquid assets, providing stable cash flow but [are] hard to buy because you need a big upfront cash outlay," says Sebastien Betermier, associate professor of finance at McGill University's Desautels Faculty of Management in Montreal. "That means the asset is cheaper than a stock. The pension fund can buy and hold the asset and can afford to wait, earning higher return and higher margins while controlling for risk."
Thus, the bond's use-of-proceeds notes suggest it will expand the fund's existing cash base rather than replace a cash outflow. "To have some debt on the side to provide more liquidity is a good thing; hence they issued a bond," says Betermier.
Secondly, debt issuance generating further infrastructure investment diversifies the fund's portfolio. Finally, as a third function, the bond provides a safety buffer against interest rates.
"It's hard for a pension fund to invest in assets with the same horizon as its liability," says Betermier. "No bond has a 50-year horizon, they are 10-20 years or less. One technique is to borrow through short-term bonds and invest proceeds in a long-term bond." Issuing short-term bonds and buying long-term bonds immunises the fund against interest rate fluctuations and increases the horizon of the portfolio. 
Clearly, CPPIB is not alone in this position among pension funds, nor is this bond its first. The pension fund began to issue mainstream bonds in 2015 and has already issued a conventional bond in February 2018. However, there is as yet no indication that other pension funds will follow suit by issuing green bonds. 
But further bonds are likely from CPPIB, some of them green, for a couple of reasons. The green bond develops the fund's prominent position in SRI investment as cleantech markets grow globally. Described by CPPIB as an inaugural bond, and therefore probably one of a series, the issuance supports the board's plans to invest more than CAD3bn in the renewable energy sector in light of an expected global transition to a lower-carbon economy. 
Secondly, the Canadian market, 95% of which consists of defined benefit (DB) pensions, has individual characteristics that could encourage experimentation or innovation, such as a 10-year compound annual growth rate of 3.9% – relatively high compared with most developed economies. 
"The DB system is actually working in Canada and the Canadian market has more liquidity that could lead to additional buy-side demand for infrastructure assets," says Betermier. 
For this and perhaps other local reasons related to the political establishment, other Canadian state organisations have also been active in the green bond market. One example is the Province of Ontario, which issued its first green bond in 2014.
"Regional governments and cities have been pushing green finance along," observes Andrew Whiley of the Climate Bonds Initiative. 
The outcome of the most recent bond issuance by such a large player as CPPIB, therefore, could stimulate the market further to invest in cleantech assets in Canada and beyond, while growing the local green finance ecosystem.
"We see this as a boost to the Canadian market," says Whiley. "It also provides a positive effect in a young green bond market overall which has a limited amount of state-based issuance."