M7 plans to list two office buildings on IPSX. Does this mark the start of a new global market? Richard Lowe reports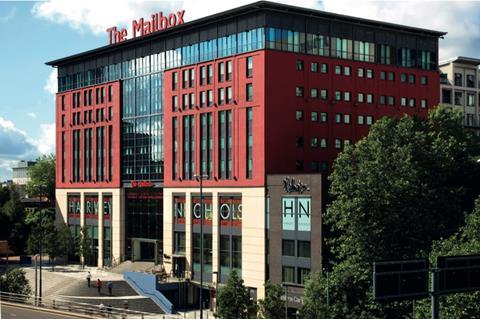 If there is one market institutional investors have sewn up, it is commercial property. Most individual investors – in the UK, at least – are forced to look at open-ended property funds and listed real estate investment trusts (REITs) if they want to join in.
But what if individual buildings were listed on a stock exchange? Could this lead to a 'democratisation' of the commercial real estate market, enabling investors of all types to rub shoulders with the world's largest pension funds and sovereign wealth capital?
This is precisely what the founders of International Property Securities Exchange (IPSX) have been seeking to do. Having got the necessary regulatory approval, and despite the COVID-19 upheaval of this year, IPSX hopes to have two large office assets listed on its exchange soon.
Both are being listed by institutional fund manager M7 Real Estate. If actions speak louder than words, it is clear that Richard Croft, executive chairman of M7 and non-executive director of IPSX, believes in the concept.
But his enthusiasm also speaks volumes. "First and foremost, the world needs this market. I truly believe this," he says.
It has attracted the likes of entrepreneur James Caan – made famous through television show Dragon's Den – who has already sought to appeal to the UK's population of small-scale property investors, saying the "return is virtually the same as what buy-to-let property investors receive, but without having to do all that running around".
But is IPSX of any relevance to institutional investors? "Yes, they can do more with their allocations to real estate, take part in more assets on a liquid basis," says Croft. "You are opening up a brand-new capital market."
There are two ways of looking at the potential application of IPSX: in the short term, it offers an alternative means of exiting – or partially exiting – investments without directly selling assets; in the longer term, it could set the blueprint for the creation of a new liquid, diversified, global marketplace.
The former could be of interest to managers of open-ended property funds, most of which have had to suspend trading this year because of COVID-19 uncertainty.
These funds need to sell assets when faced with significant levels of redemptions. The UK Financial Conduct Authority has been consulting the industry on proposals to introduce redemption notice periods – possibly of 90 or 180 days, reflecting the length of time it takes to sell commercial property – to help resolve the inherent liquidity mismatch.
But what if they could list assets and sell down a portion of their ownership, retaining investment management of the building, but diluting their exposure and generating liquidity?
As Roger Clarke, managing director and head of capital markets at IPSX, says, fund managers could in theory "top slice" assets they have listed on the exchange to manage liquidity, rather than the "binary alternative" of "sell it or keep it".
But it is not only fund managers with liquidity management needs that could benefit.
Companies could use IPSX as a way of retaining investment management – and the associated fees – of a core building, while not owning the assets outright. This could be of particular interest to value-add funds, which invariably depend on shorter-term performance fees. They could crystallise value-add returns through the IPO but then maintain a steady flow of core fund management fees.
This approach has parallels with BioMed Realty Trust, a portfolio of logistics assets that Blackstone acquired for US$8bn (€8.9bn) in 2015, before improving and selling in October of this year for US$14.6bn.
In the past, Blackstone would have sold BioMed and moved on, but this year it created a vehicle for existing and new investors to own the portfolio in perpetuity, and enabling Blackstone to be retained as manager.
It was not an IPO, but it was driven by the commercial appeal of being retained as long-term investment manager.
M7 is, in effect, trailling the concept with its first IPSX IPO – of an office complex in Birmingham called Mailbox, which was originally bought by M7 using its own balance sheet. For the second asset, Bridgewater Place office tower in Leeds, M7 is raising capital for the £84.5m acquisition ahead of the IPO.
IPSX "allows businesses like us to do more with our balance sheet", says Croft. "So rather than owning one building of £180m, we could own 10 [assets] where we own 10% as the manager and we have opened up a whole load of capital markets."
For the moment, IPSX remains a new, untested feature of the UK property market. But if it gains traction, it could quite easily become a bigger, more global offering. There is nothing stopping the exchange from listing non-UK real estate assets, potentially one day offering investors access to global real estate markets.
"This has the capacity to be Britain's next unicorn and to create a really exciting liquid market," says Croft. "When people understand this, institutional allocations to real estate will go up."
If IPSX becomes deep and diversified enough, investors would be able to allocate to markets and sectors, and reweight portfolios, much more quickly.
This could be an interesting concept for DC pension schemes that tend to require greater liquidity.
Stephen Ryan, former INREV research manager and Mercer investment consultant, has experience in the ongoing challenge of enabling DC pension funds to invest in real estate.
He says IPSX-listed assets could help "increase member engagement, which is a perennial challenge in DC" – especially if they have "good sustainability credentials".
He says: "Local buildings are highly 'relatable' – much more so than a fund or REIT, and that attracts members.
"DC-plan members are increasingly keen on all ESG-related matters and that includes social-impact investing. A liquid real estate asset that ticks the ESG boxes, contributes to making the '15-minute city' a reality or is part of a local regeneration plan could be a winner for DC plan members.
To get to a point where IPSX can offer investors the necessary depth and diversity obviously requires many more IPOs in the future.
Clarke jokes that he has a "list of 700 people who do the second [IPO] but not the first".
Fortunately, M7 Real Estate is helping to start the ball rolling by taking the first and the second – although the listing of the Mailbox was originally slated for October, but has been delayed to December.
"When we break through and prove the concept once and for all, I think there is a really receptive world out there – both from the sell and the buy side," Clarke says.