One of Allianz's latest recruits has the task of doubling its real estate investments in Asia-Pacific
Bio
• Graduated from St Xavier's College in Kolkata in 2001, before completing an MBA from Narsee Monjee Institute of Management Studies in Mumbai
• Senior finance manager of GE in 2003; managing director of GE Capital Real Estate from 2009 to 2015, based in Tokyo
• Joined Lone Star Funds for nine months in 2015
• Moved to Singapore to join Allianz in September 2016
As Germany's Allianz looks to broaden its presence in Asia's growing insurance market, it will increase real estate investments to reflect its commitment to the region.
An Allianz report, Insurance Markets: Outlook 2027, published in July 2017, forecasts that Asia will account for about €3trn – or just over 44% – of global premiums in life and P&C (property and casualty) insurance by 2027, three times the size of these markets in 2016.
Asia will continue to be the fastest-growing region in the world, with many Asian markets experiencing double-digit growth, the report says. China will be the driving force of that growth, with its market expected to more than quadruple over the next decade, logging annual growth of almost 14%.
"Asia-Pacific is strategic to Allianz," says Rushabh Desai, CEO for the region at Allianz Real Estate. "Allianz is looking to be a long-term player in this market. When you look at GDP growth and population demographics, Asian countries have the best secular growth rates, and many have the youngest populations. So it follows that Allianz will have investments coming through for real estate in Asia-Pacific. Our investments follow our insurance business."
Speaking to IPE Real Assets from his Singapore office, Desai says: "It is a natural for any insurance firm to first invest in its local market before going to other markets. The trend is that Asia-Pacific will continue to become increasingly relevant for both our insurance business as well as our investments."
Desai says the pace of Allianz investment in Asia-Pacific is linked to the growth of its insurance business – globally and regionally – and how positive its initial investment experience is.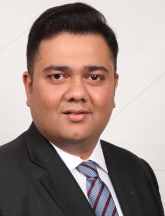 "Once we are fully comfortable with the local nuances and local challenges, we can ramp up our investments a little bit faster than what we have been doing so far," he says. "Currently, Allianz is funding investments in Asia-Pacific from Europe, but, as our local insurance business grows, we will have the opportunity to invest local capital in local markets."
About €1.8bn of Allianz's global real estate exposure is in Asia-Pacific. The bulk of its €55bn of total real estate investments is in Europe, followed by the US.
Desai says that, apart from potentially matching Allianz liabilities in the region, Asia-Pacific provides an "excellent" diversification option for the group's investments.
The ambition is to double Asian exposure to €3.7bn – or 5% – by the end of 2020.
When Desai joined Allianz in September 2016, the firm had €500m invested in the region, compared with €14bn-15bn in the US. His brief was to build up its real estate presence in Asia.
In Asia-Pacific, Allianz started with discretionary commingled fund investments, before moving to a non-discretionary approach via co-investments and clubs. It is now closer to pursuing direct investments.
Initial investments have been placed via regional fund managers, including Australia's
Charter Hall Group, Singapore's Keppel Capital, Hong Kong's Gaw Capital, and regional logistics specialist ESR. Allianz has also been investing through TH Real Estate, Blackstone and The Carlyle Group.
"We are not looking to time the market, rather we aim at creating annuity for perpetuity," says Desai. "We would like to create a portfolio across vintages, of quality assets and with quality and scalable partners/operators, which can outperform the market cycle."
China and India loom large as his two key target markets. In August 2017, Allianz finalised a co-investment with Keppel Group to acquire Shanghai's Hongkou Soho for US$525m. Allianz also participated as an investor in Keppel's latest offering, Alpha Asia Macro Trends Fund III. And Allianz has also become a cornerstone investor, with US$225m in equity, in a China fund sponsored by TH Real Estate. The entity, ERES APAC II–China Outlets, is a core-plus, closed-ended fund with two seed assets.
"We would like to create a portfolio across vintages, of quality assets and with quality and scalable partners/operators, which can outperform the market cycle"

Rushabh Desai
Desai says the outlet mall fund will have equity commitments totalling US$750m and, with gearing, a total capacity greater than US$1.5bn to invest in luxury outlet malls in China.
The fund's initial acquisitions are Florentia Village Jinglin (located between Beijing and Tianjin) and Florentia Village Shanghai, both previously owned by the Silk Road Holdings consortium, which includes Gaw Capital Gateway Fund III.
The Florentia Village Malls in China house 200 big international luxury brands, and will continue to be managed by RDM Asia, part of Italy's Fingen Group.
"We are highly selective when it comes to retail in Asia," Desai says. "But, in this instance, there is an alpha opportunity for growth driven by the aspirational middle-class buyers and the affluent buyers looking for luxury goods closer to home."
Allianz is no stranger to China. One of its first investments was with the US manager Carlyle, which is developing a core logistics portfolio with the domestic operator Brilliant. "So far, Brilliant has secured three attractive sites," Desai says. "Allianz's commitment is US$130m."
India has a different, but equally compelling, appeal. With its young population and potential growth, it is seen by many, including Allianz, as a relatively untapped new investment frontier.
Desai is well-acquainted with the Indian market, and has closely followed reforms undertaken by the Modi Government to encourage foreign investment.
"India is poised to be the world's third-largest economy," he says. Factors such as demographics, urbanisation, an English-speaking workforce, the internet, and mobile-handset ownership make a good case for investment.
India has updated its antiquated corporate and tax laws, and introduced a goods and services tax, which is expected to have a revolutionary impact on its logistics sector.
The Indian government also has a new real estate regulatory act which, Desai says, is an important change. "There is now a
regulator overseeing the real estate sector. This provides governance for the industry," he says, and "a lot of comfort" for foreign institutional investors.
Allianz made its entry through a 50% stake in a US$500m platform with Indian developer and operator Shapoorji Pallonji to develop offices and mixed-use projects in large Indian cities.
Desai likes the fact that Shapoorji Pallonji provides integrated services, including design, construction, development management and fund management. Shapoorji already manages a fund for Canada Pension Plan Investment Board, and it has a pipeline of assets for investment.
"Once the assets are stabilised you can either exit or, if you are an investor like Allianz, we like the option to hold assets," he says. "In countries like India and [across] Southeast Asia it is difficult to get your hands on stabilised assets. The markets are very competitive and lack depth. So we have to try to access assets, and it is necessary to participate in the development phase.
"Typically, we don't take development risks, but we do so in certain markets because we are trying to access stabilised assets. In Europe and other parts of the world we do [development] by forward-funding projects. When a project is completed and stabilised, we buy it."
Allianz is scouting for further investments in India. Desai says the logistics sector is the most promising. Introduction of a goods and services tax has removed the multiplicity of state taxes, he says, which previously made it difficult for India to have national logistics operations. The old taxation system, he says, had encouraged what he calls "popcorn stands" of small operations inside the borders of each state.
In future, he expects development of hub-and-spoke distribution for parcels. This will lend itself to demand for modern logistics facilities.
Logistics more generally is at the top of Desai's shopping list. "Logistics is a big theme in Asia-Pacific," he says. Allianz has invested about US$100m in logistics in Japan through the regional operator, ESR.
The group has invested about US$450m in Asian logistics. "We hope to scale this up closer to US$1bn in the next couple of years. More in China, as well as entry into India, South Korea, and Indonesia are under evaluation," Desai says.
Allianz has also increased its investment in the Charter Hall Prime Industrial Fund. So far, its investment in the fund has crept up to about US$200m.
Real estate debt will be the next area of interest for Allianz in Asia-Pacific. "The group is lending in the US and Europe. Of our total investment book of €55bn, €15bn is now in debt," says Desai.
He suggests that Australia could be the first debt market for Allianz in this region. "Our niche is in the long-term lending segment," he says. "We see a gap in this segment in Australia, and we are evaluating the market. But typically, when Allianz comes in, the cheque size tends to be larger, so we have to careful."
His optimism in Australia is couched in caution. "Australian asset prices have been rising," he says. "It is always a high-yield market, so now the question is: will investors stay as arbitrage goes out of the market? The answer may be 'yes', but capital flows may slow a little."
Desai says half of all deal flows in Australia are coming from foreigners today, compared with just 20% in the past. The good news, he says, is that, despite yield compression, the capital is still there. "But we don't know how long it is going to stay like this."
Over time, he expects between 50% and 60% of Allianz Asia-Pacific investment to be in China, India and Southeast Asia, with the balance invested in Asia's larger cities – Sydney, Tokyo, Singapore, Hong Kong, and Seoul.