---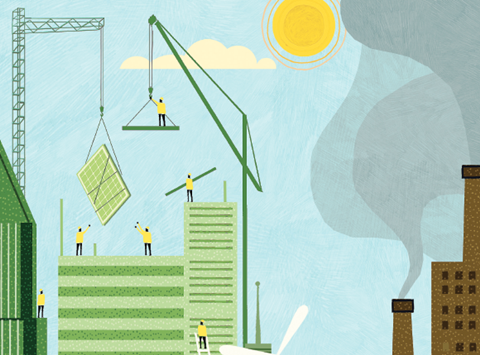 The financial industry often bemoans the meddling of regulators. New rules and protections nearly always start with good intentions but invariably invoke the law of unintended consequences. The best piece of advice for those averse to regulatory creep is to look to prevention rather than cure – in other words, avoid giving regulators a reason to get involved.
Self-regulation, where an industry organises itself internally to encourage sustainable (in its widest sense) practices, will always to be preferable to lobbying once rules have been imposed from the outside.
Responsible for 40% of carbon emissions, real estate is an obvious, immovable target. The most forward-thinking investors know this and have recognised that it is better to get ahead of the regulators – and, by extension, some of their peers.
In the years since the 2015 Paris climate agreement, UK-listed real estate investment trust (REIT) Landsec has been upping its own targets. Its 2018 target for energy reduction had already been met by 2016.
"We needed a new target and we wanted to be far more ambitious in terms of the level of reduction in energy usage we wanted to see in the portfolio," Caroline Hill, head of sustainability and public affairs, tells IPE Real Assets in Climate Change: Weather Report.
Landsec's target is a 40% reduction by 2030. "We're working with bespoke energy plans for every single asset to achieve 2-3% reductions in the portfolio annually to be able to hit that goal," says Hill. "If we take on a building with poor energy performance, we want to know what investment we need to make to stay on track to reach our target."
Fortunately, the institutional real estate industry already has a useful lens through which to focus its green vision. GRESB, a real estate sustainability performance benchmark, was launched in 2011. Its progress has been down to the fact that it is led by major investors – the initiative was started in 2009 with two Dutch pension fund investors – PGGM and APG – and the UK's Universities Superannuation Scheme.
Today, its 200 members include more than 70 institutional investors with more than $17trn (€14trn) in capital between them. GRESB continues to evolve. For example, in the wake of a series of natural disasters affecting major real estate markets, GRESB is introducing a resilience module.
But as well as widening its coverage (it now also encompasses infrastructure), GRESB is raising the bar for investors and managers. As Dirk Welling, senior responsible investment and governance specialist at APG, says, the effort and creativity needed to achieve annual improvements has increased now that much of the low-hanging fruit has been harvested. "A relative score means that we want to challenge the top performers, because when the top performers do not improve, the whole benchmark will not improve," he says.
APG, the largest Dutch pension fund investor, is also the second-largest capital-owner real estate investor, according to IPE Real Asset's latest top 100 ranking. The exercise has captured more than $1.23trn in real estate assets held by pension funds, sovereign wealth funds and other institutional capital owners.
Our survey of investors shows that, on average, they are below their target allocations – but by only 130bps. Most have either increased (33%) or maintained (51%) their allocations in the past 18 months. Most investors (59%) expect to invest the same amount of capital in real estate over the next 12 months as it did in the past 12-month period. Only 15% expected to decrease their activity.
According to the survey, value-add strategies are in poll position with core investments as the most attractive in today's market. In Value-add: Is it actually less risky than core?, we explore the ongoing appeal of value-add funds and mandates at a time where the market is widely considered to be 'late in the cycle'. Are investors over-reaching for returns and climbing up the risk curve at the wrong time, or are value-add strategies a better fit for a world where interest rates are expected to rise in the future?
Some would argue, the smart money is in real estate debt, which can offer some downside protection. As we highlight, this is what South Korean institutional investors believe. "At this point of the cycle, they want to be conservative," says JB Park, head of client capital in South Korea at LaSalle Investment Management. "They look for stable income."