Brexit: Back to the drawing board
Investors had to tear up their forecasts following the UK referendum. Richard Lowe explores the attempts to reach a post-Brexit consensus 
The UK real estate market was due a correction before the British public went to the polling booths to vote in the EU referendum. Transactions had started to slow, ostensibly because investors were waiting for the outcome of the vote. But many began to wonder before 23 June if this slowdown would have happened naturally, without the advent of the referendum.
The Investment Property Forum (IPF), whose regular Consensus Forecast is a market bellwether, admitted in May that it was near impossible to determine how much the slowdown in UK commercial property was due to the uncertainty surrounding 'Brexit' or the market going through a cyclical correction. Its September report might "provide a better view", it offered.
And it was right. The numbers in the May Consensus Forecast were predicated on the public voting remain, so are no longer relevant. The divergence between the two reports is stark: total return expectations for 2016 have been downgraded from 7.1% to -0.4%. Expectations for capital value growth have also gone from positive (2.2%) to negative (-5.3%), while rental growth forecasts have dropped from 1.3% to 3.1%.
The conclusion that can be drawn is that the Brexit vote has acted as a catalyst and brought forward the inevitable market correction. However, the longer-term ramifications are impossible to predict without knowing what happens next – not least the triggering of Article 50. 
The September Consensus Forecast predicts total returns go back into positive territory next year, buoyed by income returns, while positive capital value growth is expected to return in 2018. Yet a lot can happen before the next report is out in November.
In an unnerving echo of late-2007, market commentators are talking of 'soft landings' (the 2007 IPD/IPF annual conference comes to mind). This September, during one of the first major conferences since the referendum, Sabina Kalyan, chief economist at CBRE Global Investors, said: "The UK will not fall off a cliff. Brexit just accelerates the downfall we were already expecting, bringing it forward from 2018."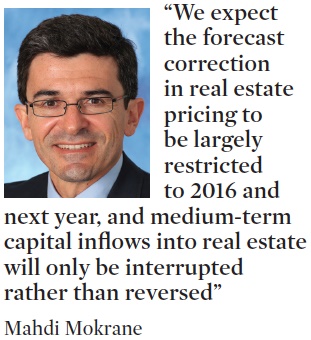 Kalyan's prognosis, given at the annual EPRA conference in Paris, assumes that the UK will avoid a full recession. This is consistent with the expectations of most investment houses.
Capital Economics has been consistently sanguine about the prospects for the UK economy and property markets since the referendum. Writing soon after the vote, Eduardo Gorab, property economist at Capital Economics, said: "We suspect that fears of a repeat of 2009 are overdone". The company predicted a "slowdown rather than a correction", but admitted its case depended on its macroeconomic forecast not being "hopelessly wide of the mark".
Responding to the September IPF report, Capital Economics said it drew attention to the "prevailing pessimism". In a note, it said: "If we are right in believing that the economy will avoid a recession, we think the post-referendum falls in gilt yields and sterling, as well as rising equity prices, should make UK property look attractive, limiting the scope for yield rises."
But Brexit could have a structural impact on the UK market, especially London. There has been much talk of London losing its status as one of the world's leading financial centres and a gateway to Europe. Offices in the City of London have already felt pressure. Capital values in this market fell the most in July –  by 3.6% according to MSCI.
But Green Street Advisors, writing in August, offered an optimistic long-term outlook for the market, predicting a "slow yet manageable bleed of jobs" rather than "a demand shock". In a note to investors, it said: "Ultimately, the wound will heal and London will prosper as it always has."
But there are risks: the completion of new office developments are expected to peak just when demand is likely to be at its lowest, and Green Street expects central London vacancy to double by 2019, albeit from a low base (just above 3%).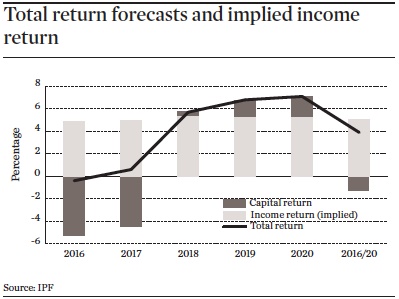 In a report published in July, UBS Asset Management, said: "Brexit is a threat for London. Financial services companies may not rush through the door to relocate; however, should uncertainties with the UK's future relationships with the EU continue for too long, companies may reassess their options and execute in the interest of their stakeholders."
The report analyses the five likely beneficiaries of a financial services exodus from London: Frankfurt, Paris, Dublin, Amsterdam and Luxembourg. But, interestingly, it suggests a more nuanced scenario whereby only regulated functions are relocated to these cities. "In particular, back-to-middle office functions might be cut altogether or moved to cost-efficient locations," such as Poland, Hungary and Romania.
But major investors continue to back London and the UK's ability to see off these challenges. In a bullish report, LaSalle Investment Management said the Brexit fallout was likely to be shorter-lived and less severe than many feared. Mahdi Mokrane, head of research and strategy for Europe, said the UK, and a "dynamic London, home to one of the world's most liquid, transparent, and investor-friendly real estate markets", is likely to reinvent itself outside of the EU. "We expect the forecast correction in real estate pricing to be largely restricted to 2016 and next year, and medium-term capital inflows into real estate will only be interrupted rather than reversed," he said.
The California State Teachers' Retirement System, one of the biggest US pension funds in the midst of increasing its real estate allocation, told IPE Real Estate that it would not moderate its exposure to the UK market as a result of Brexit vote.
Even Norway's sovereign wealth fund, which decided to write down its UK property holdings by 5% to reflect market uncertainty, said it was still interested in the sector. It was one of the first investors to take advantage of assets coming onto the market from open-ended funds looking to pay redemptions to retail investors. It bought a West End retail and office building from Aberdeen Asset Management's open-ended fund in July for £124m (€145m).
Canada Pension Plan Investment Board also remains committed. "For our strategy, the UK is –  and continues to be – our core market in Europe," Andrea Orlandi, head of real estate investments for Europe at the fund told IPE Real Estate.