Nearly US$16bn (€13.3bn) of life sciences real estate changed hands last week. In a world where medical research companies around the world are racing to develop COVID-19 vaccines and treatments, it looks to be a sign of the times. Life sciences real estate – think laboratories and specialised office space – was a growing sub-sector before this year, but the coronavirus pandemic has further boosted the trend.
Recent research by Savills showed that venture capital funding into vaccine research companies across the world reached US$2.3bn from the beginning of the year to the end of August, outstripping previous full-calendar years in just seven months. But Savills also shows that level of funding between 2015 and 2019 was much higher than the preceding five years.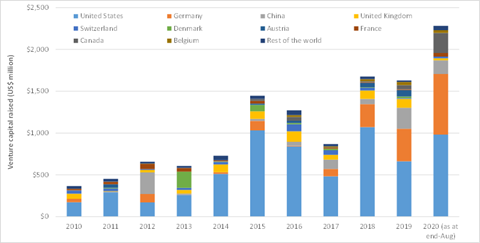 Blackstone, it seems, rarely misses emerging trends in real estate and the opportunities to exploit them by using scale. It is notable, then, the private equity giant acquired US medical REIT BioMed Realty Trust for US$8bn at the beginning of that growth period, in 2015. Last week it sold BioMed – and its 11.3m sqft portfolio – for US$14.6bn, generating US$6.5bn of "cumulative profits".
Those cumulative profits go to investors in its 2015-vintage global opportunity fund, the US$15.8bn Blackstone Real Estate Partners (BREP) VIII, and a number of large investors who provided additional co-investment capital.
But Blackstone is also active on the other side of the trade. BioMed will now be owned a new "long-term, perpetual capital, core-plus-return strategy managed by Blackstone", with existing investors given the opportunity to "exit for cash or reinvest their proceeds".
Tennessee Consolidated Retirement System is known to be investing $150m in a fund called Blackstone BioMed Life Science Real Estate, but Blackstone would not confirm whether this was the same vehicle. It also unknown how many of the investors in BREP VIII and co-investors will be in the new core-plus fund.
Those that do retain their investment in BioMed will be doing so for different risk-return objectives: the 2015 acquisition was a higher-return opportunistic/value-add investment with a finite investment period; in investing in BioMed today will be to generate secure income returns indefinitely.
"Life science is one of Blackstone's highest conviction themes, and we have made a number of important investments in this space across the firm," said Kathleen McCarthy, global co-head of Blackstone Real Estate. "In real estate, many of our investors are eager to maintain or increase their exposure to life science office, and this recapitalisation enables them to do that."
The US$14.6bn 'flip' of BioMed is a classic Blackstone real estate play – using its scale to acquire a large platform, improving or reconfiguring it and selling it on into an institutional market where there is huge appetite for stable, income-producing assets. But Blackstone has realised it can combine its trademark higher-return activities with the longer-term management of more core-like, stabilised assets. It is a move that started in 2014 when it began raising capital for its first-ever core-plus fund, Blackstone Property Partners.
The other big life sciences transaction last week also involved a perpetual-life vehicle. A US$1.02bn portfolio located in San Franisco was sold by Bain Capital Real Estate and Phase 3 Real Estate Partners to the core/core-plus Ventas Life Science and Healthcare Real Estate Fund.
"Strong and growing capital flows into the life science sector are accelerating innovation and discovery," said Debra Cafaro, Ventas chairman and CEO. "The Ventas Life Science and Healthcare Real Estate Fund has raised more than US$1bn of equity, with continued capacity to grow, and more than doubled its assets under management to US$1.8bn."
Expect more institutional capital to flow into life sciences real estate. As Raymond Fang and Benjamin Tschann at law firm Goodwin wrote in recent blog on "Global trends and opportunities in life sciences real estate", the "continued white-hot growth of the life sciences industry" is driving demand for appropriate real estate facilities – and "with that demand comes the real estate capital allocators, investors and developers looking to capitalise on these opportunities".
Goodwin has dubbed life sciences real estate "Propsci" and says it is as an asset class "distinguished from office or industrial space and that warrants a separate allocation consideration for diversification and growth opportunities".
For many investors, the immediate challenge will be how to gain exposure to Propsci in a meaningful way. Blackstone claims that BioMed is the largest private owner of life science office buildings in the US. It is certainly one of the few opportunities to gain such exposure through the private markets. But that could change.
A growth in this area would mirror similar developments in logistics real estate and student housing – two property sectors that were once relatively niche but have become bigger components of institutional portfolios. Over recent years, in the face of huge demand from institutional investors, large global logistics specialists like Prologis and GLP have responded by creating income-focused funds holding core logistics assets. Last month, GLP raised €1.1bn for such a fund in Europe.
And if anything the demand from institutional investors for core, income-producing real estate is likely to get stronger. As Seaforth Land founder and CEO Tyler Goodwin argues in the latest edition of IPE Real Assets, a prolonged lower-for-longer interest-rate environment and growing allocations from institutions will combine with "shrinking supply of core", as investors review what actually constitutes core real estate.
"The shrinking of the core universe will create even further downward pressure on yields as more investors compete for less stock," he writes.