The body, set up to increase engagement between investors and government and regulators, comes at a time when the asset class is attracting unprecedented attention from investors around the world.
In this special issue of IP Real Estate dedicated to infrastructure investments, we take a snapshot of the institutional investor market. The list of top 100 investors shows just how international the investor base is now.
Canadian and Australian institutions have been in the game for some time. The question is how their European, US and Asian counterparts will take to the field over the coming years .
Lessons have been learned. Investors have largely moved away from highly leveraged, private-equity-type investments with short horizons to longer-term, income-focused strategies.
Assets like bridges and toll roads are invariably described as inherently low-risk, stable investments. But, as highlighted by IFM Investors' recent acquisition of the Indiana Toll Road in the US, things can go wrong – the operator of the road was bought out of bankruptcy by the Australian fund manager.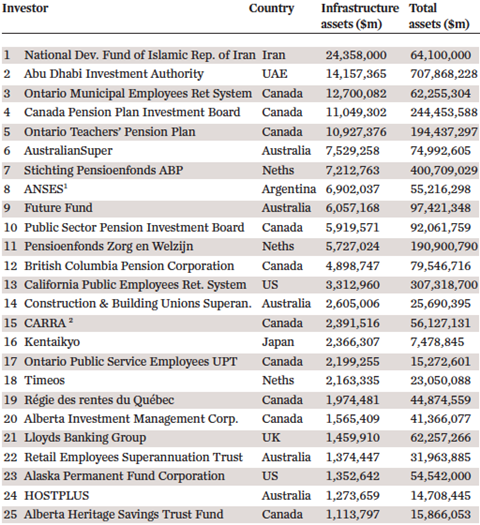 In our report, we outline how global infrastructure funds are adapting to new market conditions and investor demands .
It is also interesting to note how the secondary market for infrastructure funds has become more liquid in recent months. As shown on this piece, infrastructure 'secondaries' have caught up with their real estate counterparts, increasing by 177% in 2014 to $1.9bn.
Like property, infrastructure is a 'real asset', but it comes with some very different risks and drivers of return. Political and regulatory risks are the chief ones and it makes perfect sense that the GIIA is focusing on influencing the relevant authorities in its field.
Emerging markets continue to be a step too far for most institutional investors for these very reasons.
But even developed markets like the US come with risks. It is an interesting paradox that US institutional investors are oftenmajor shareholders in infrastructure projects around the world, but invariably eschew domestic investment opportunities .
But as Frederic Blanc-Brune of EDHEC-Risk Institute argues, it might be misleading to "bundle" infrastructure with the wider universe of real assets. While real estate and infrastructure assets might be tangible, one has intrinsic value in the land, while the other is dependent on contracts. "Infrastructure is not a store of value," he says. "If it cannot be used, it is not worth anything."