The UK is due to head to the voting booths once again on 12 December. What this means for real estate investors is as unclear as ever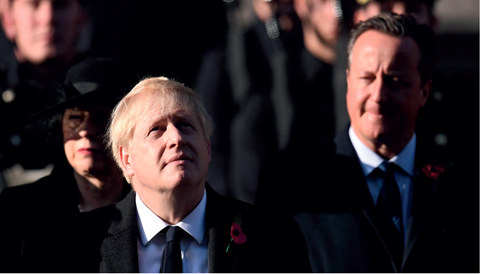 The amount of global capital flowing into UK real estate has dropped markedly in 2019 as Brexit uncertainty, deadline extensions and fears of a no-deal departure have weighed heavily on the market.
As Real Capital Analytics (RCA) showed in its latest global report, based on the first nine months of the year, real estate sales volumes in London fell by 32% year on year. This means Paris became the most highly traded European city for the first time since it RCA began tracking the markets.
Overall, European investment volumes in the third quarter were down 5% year on year to €64.8bn. But if the UK is excluded from the equation, then Europe has actually had an increase in transactions this year, both in Q3 and year to date.
"The European Central Bank's ongoing quantitative easing policies are underpinning the attractiveness of real estate in the eyes of investors, particularly when many government and corporate bonds are offering negative yields," said Tom Leahy, RCA's senior director of EMEA analytics.
Investment in Paris is up 23% on the year, driven by an increase in cross-border activity, particularly from South Korean investors (see Koreans continue march into Europe, page 44).
Brexit uncertainty is having the greatest impact on office transactions in London, with deals in the sector now representing the lowest-ever proportion of the overall investment market, RCA said.
Average office yields in central London are above those in comparable European markets. The gap between 10-year UK government bond yields and those in this property sub-market are also the highest recorded, while liquidity is at its lowest level since 2009.
The situation is being portrayed as a buying opportunity by some (see Betting on the Big Smoke, page 30), although a dearth of assets on the market is somewhat hampering even the most aggressive investors.
The Brexit deadline has been extended to 31 January 2020 and the UK will vote for a new government on 12 December 2019. What this means for real estate investors is difficult to gauge, considering that many outcomes are possible, from further Brexit delays, a revised deal with the EU, a no-deal departure, to the election of a Labour government under Jeremy Corbyn.
There is a feeling of optimism that should the latest chapter in UK politics result in a Brexit deal, the UK real estate market could witness an uptick in investor sentiment and activity. "Given the relative value the UK offers versus some other global markets, any eventual agreement will likely have a positive effect on property investment," RCA concluded.
"A resolution to Brexit will have a positive impact on the UK real estate market, in addressing the prevailing uncertainty and enabling skilful managers and investors to focus on medium/long-term fundamentals," said Melville Rodrigues, partner at law firm Charles Russell Speechlys. "However, we should consider what 'resolution to Brexit' means – and when the resolution will take place.
"In the meantime, Brexit challenges our real estate funds sector to adopt a scenario-thinking approach. Brexit is not a single event but a continuing process, in which different scenarios may unfold – and Brexit challenges may continue well past 31 January. By focusing on the implications of different Brexit scenarios – for example, in terms of the prospects of GDP and rental growth, effect on supply and demand for the underlying real estate, investor appetite for capital deployment and regulatory compliance – we can more easily risk-manage and price in the disruptions."
Capital Economics has updated the probabilities it attaches to the various outcomes of the general election and subsequent Brexit developments. "With Brexit delayed and a general election ahead, all our Brexit scenarios remain on the table," it said in a recent report.
The most likely scenario – further delay – is given a 45% chance, followed by a Brexit deal (35%). The most unlikely outcome (5%) is that the UK remains in the EU, and a no-deal departure is given a not-immaterial probability of 15%.
Under each scenario, real estate capital values on the whole are expected to fall by less than previously forecast, Capital Economics said, "but most notably if Brexit is repeatedly delayed".
However, owing to weakening global and domestic economic data, Capital Economics has revised down its GDP forecast for the next three years under all Brexit scenarios. "The softer outlook will weigh on all property rental values, particularly next year, although the bleak prospects for the retail sector will continue to be the main driver."
The company has changed its expectations about how interest rates and bond yields will develop under each scenario. The largest change is under a repeated delay situation, in which case the UK bank rate is expected to be cut next year and, given the link between bond yields, property yields should also rise by less than previously forecast.
"However, we still expect them to rise," the report said. "Over the rest of the year, this is likely to be a response by investors to uncertainty from the latest Brexit delay. Further ahead, we expect they will continue to rise as further increases in retail yields are required to entice investors to the market. But how quickly they rise will depend on the outcome of Brexit.
"If a deal is secured, we expect rising bond yields to put gradual upward pressure on property yields from early next year. If a deal is not secured, we expect property yields to rise more quickly in the near term, particularly if there is a no deal, as investors respond to the continued uncertainty and the weaker outlook for economic growth. However, in this case, lower interest rates and bond yields are likely to prevent property yields rising much further over the following year or so."