---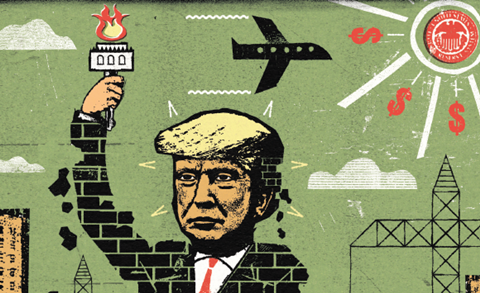 Investors are poised to rebuild America after President Donald Trump revealed a $1trn infrastructure plan. But progress has been slow, writes Christopher O'Dea
Blackstone's announcement in May that it was launching a new business to invest up to $100bn (€84bn) in US infrastructure brought into sharp focus a major question for institutional investors: how to deploy more capital into the massive US infrastructure sector.
President Donald Trump has called for private investors to inject $1trn in capital to refurbish, rebuild and replace all manner of infrastructure. But aside from the initial proposal to use $200bn in federal funds as seed money to attract the rest, details about the plan have been sketchy. The infrastructure initiative remains stuck, a distant third behind the stalled efforts at healthcare and tax reform, and increasingly hamstrung by the administration's own missteps.
In mid-August, the president moved to speed up construction of roads, bridges, water systems and pipelines, signing an executive order to reduce the time required to obtain federal permits from an average of seven years to two years by streamlining federal environmental reviews. While environmental activists criticised the order, it was widely seen as an effort that could stimulate infrastructure projects. But in the same week, the White House scrapped plans to form an infrastructure advisory council. The move came after two similar presidential panels were shut down amid the scramble by American corporate leaders to distance themselves from Trump's controversial remarks about demonstrations in Charlottesville, Virginia. The council had been expected to highlight the need for infrastructure investment and build consensus for action at the state and local level.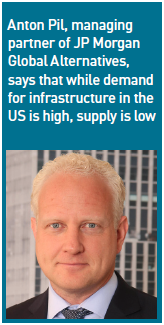 Despite the obstacles, infrastructure investors speaking to IPE Real Assets are broadly optimistic that private capital will play a significantly greater role in funding critical assets in the next few years. The need for capital at the state and local level is great, as is institutional demand for income-generating and inflation-resistant assets. As a result, market participants say, there is plenty of equity capital available. The best thing the federal government can do is streamline the array of federal rules that affect infrastructure approvals, and utilise federal funding mechanisms to encourage more private investment.
America's infrastructure is what any do-it-yourself enthusiast would call a fixer-upper. The American Society of Civil Engineers assigns US infrastructure a grade of D-plus, and calculates that the deterioration of roads, bridges and other critical assets cost each American family $3,400 per year in repair bills, wasted time, extra outlays for fuel and other resources.
According to the G20's Global Infrastructure Hub, the US will have the largest gap between infrastructure spending and investment need – a full $3.8trn – between now and 2040, in large part due to the ageing of essential assets such as water supply and treatment systems and power grids.
That financing gap is attracting global interest, and it could get competitive. Global Infrastructure Partners set the record for the largest-ever infrastructure fund last may, when it closed its third fund at $15.8bn in commitments. But Blackstone appears determined to redefine the scale of the investment landscape when it announced a single $20bn commitment from the Public Investment Fund of Saudi Arabia for its first fund.
Blackstone's maiden infrastructure initiative is an ambitious undertaking – a large down payment on the country's massive infrastructure bill. The private-equity giant is building its own team in a field already well served by managers with operating talent and track records.
Adebayo Ogunlesi, founder of Global Infrastructure Partners and Stephan Schwarzman, the founder of Blackstone, had been members of Trump's now-defunct Strategic and Policy Forum. Ogunlesi and Blackstone declined requests for an interview.
Preqin reports that a record amount – $33bn – was raised for North America-focused infrastructure strategies in 2016, and that an aggregate $178bn has been raised for investment in the region over the past 10 years.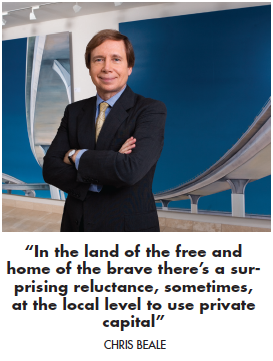 But capital commitments alone will not solve the problem. They need to be deployed through structures that provide investors with the risk profiles they are seeking, while enabling governmental entities to ensure that delivery and safety standards will be met within budgets – and beyond the wind-up date of a private-equity fund. It is a fine balance, and in the US there is a political and cultural bias against private ownership of infrastructure which money alone will not overcome.
The US government does not own many assets. Infrastructure in the US can be separated into two broad groups. The first – social assets such as water supply and treatment systems, roads and bridges, port facilities, and airports – is primarily owned and controlled by state and local governments. State and local governments are financially strapped, and private ownership of social assets engenders heated opposition from those who cast private involvement as turning over critical government functions to Wall Street.
A second group includes electrical generation and power distribution, energy production and distribution assets, and telecommunications assets – towers, fibre networks, and data centres – that are the backbone of the digital economy. They have potential for investors looking to gain exposure to GDP-based infrastructure growth traditionally sought from social assets such as toll roads or ports. While heavily regulated at the federal and state levels, these energy and telco assets are already privately financed through listed securities markets.
In general, investment managers are taking a pragmatic approach. They continue to invest in sectors that are already open to private capital while monitoring the potential for the Trump administration to open up new ones.
"The administration has a great chance to make a difference," says Chris Beale, founder of Alinda Capital Partners, which manages approximately $10bn of infrastructure investments for institutional investors. He says most infrastructure assets are owned at the state and local level, and although "some of it is in excellent shape, some of it is badly in need of repair and upgrade". He adds: "Given budget constraints, a lot of the states and localities have tended to defer infrastructure spending and wait for federal funds to be allocated, and so there's been a pattern of the federal government making grants to the states for infrastructure repair and new infrastructure."
As a result, the incentive to privatise in the US has lagged behind other developed countries. "In the land of the free and home of the brave there's a surprising reluctance, sometimes, at the local level to use private capital," Beale says.
In contrast, the UK has accessed private capital inside and outside the country while maintaining control and regulation of essential assets, Beale says. "They're getting the best of both worlds – the efficiency from the private sector, easing the burden on the taxpayers, while maintaining control of the water quality or whatever the social purpose is."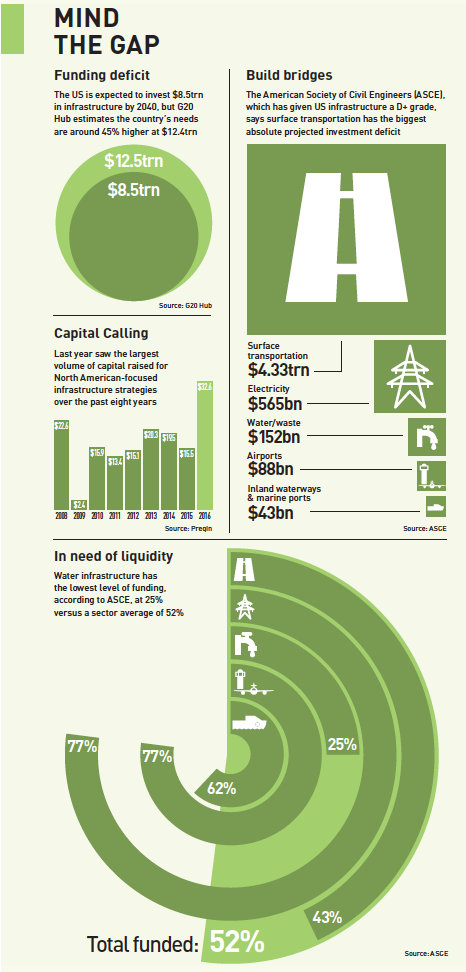 Recycle like Australia?
The administration is also looking to countries that have successful records with infrastructure privatisation for examples of how to unlock the value of assets sitting on the balance sheets of cash-strapped state and local treasuries. "Over the last couple of months, perhaps the biggest move has been a transition from discussion around spending on infrastructure, to one that involves more private-sector capital, but also potentially privatisation of infrastructure," says Benjamin Morton, senior vice-president and portfolio manager at Cohen & Steers.
Notably, he adds, "we've heard a lot more discussion from officials within the administration of the Australia model of asset recycling". Australian states that sell infrastructure concessions to private investors and use the proceeds to fund new infrastructure projects can receive an incentive payment from the Australian national government. Morton says increased discussion of recycling highlights recognition of the potential benefits of private-sector ownership, operation and finance of such assets, and also demonstrates that the administration recognises how difficult it may be for many state or municipal governments to find the money needed for infrastructure investments.
Another key privatisation lesson from other markets is to make sure projects benefit voters. "Infrastructure is highly political," says Danny Latham, a partner in infrastructure at Australia's First State Investments, who was on a recent trip to the US to research opportunities. "When it comes to infrastructure," he explains, "whoever uses the road, whoever uses the airport, whoever turns the tap on, everyone's an expert – and they also happen to be voters."
In the Australian state of Queensland, politicians privatised electricity assets, but used the proceeds to repay debt rather than improve other services; the move was a major factor in the government being voted out of office. New South Wales, in contrast, leased its high-voltage electricity transmission network Ausgrid for AUD10.2bn to a private consortium for 99 years, allowing the state to invest about AUD7bn of proceeds after debt and AUD1bn from the federal government into new projects. In short, says Latham, "you need to be offering the community a benefit, and generally they don't see debt reduction as a benefit".
The Australian government made incentive payments worth 15% of the value of the sold asset, paid for with uncommitted funds from two federal programmes, but the recycling initiative was closed after anticipated permanent funding from the sale of national infrastructure assets did not materialise.
The trillion-dollar infra plan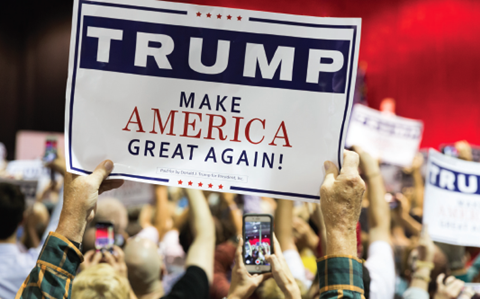 The core of President Donald Trump's initiative to spur new investment in infrastructure is to use $200bn in federal funds as seed money to attract an additional $800bn in private capital. Drafted by former financier and commerce secretary Wilbur Ross and economist and White House policy staffer Peter Navarro, the plan would give private investors a federal tax credit equal to 82% of the equity invested in a project.
The administration has issued executive orders to speed permission and privatise air traffic control, and several proposals in its 2018 budget flesh out the plan. One is to expand eligibility for the Transportation Infrastructure Finance and Innovation Act (TIFIA), which uses direct loans, loan guarantees and lines of credit to leverage each dollar of budget capacity. The expansion could attract private capital and generate more than $400m in new investment.
The budget request highlights asset recycling, in which public assets are sold or leased and the proceeds reinvested in new infrastructure. But the federal government owns little infrastructure, and the plan would require a potentially costly tax incentive to entice state and local governments to participate. The budget also calls for lifting the cap on private activity bonds that the transportation department uses to finance public-private partnerships.
While Democratic support is scant, the party's leaders have indicated that they might back some infrastructure measures – if corporate cash repatriated under a proposed tax holiday on funds held overseas were directed to projects.
The Trump plan envisions the federal government's $200bn ante would incentivise state and local governments to raise infrastructure money by selling existing assets to pay for new ones. Funding infrastructure with a repatriation holiday on the $2trn that US corporations hold outside the country gained renewed popularity over the summer despite the difficulty of linking two major legislative efforts. One senator told the American Road and Transportation Builders Association that the proposal "has a pulse again". But some believe new tax credits or incentives are not needed. While the repatriation concept is "imaginative", says Beale, "in my opinion, you have no need for any special incentives or new packages".
The US pension fund system, supplemented by financing from other countries, provides "all the equity capital needed to transform and upgrade US infrastructure", Beale says. Pension funds are already tax-exempt, because they invest on behalf of their beneficiaries. "The capital is there, at very low cost, for all the financing that is required," he adds. More important, he says, is the establishment of a credit framework to attract debt investors, including some form of availability payment to support social assets that don't generate consistent user fees.
Incentivising local governments could unlock investment opportunities, attract pension capital and help pension funds improve their return profiles, says Tom Osborne, an executive director responsible for global infrastructure investments at IFM Investors, which led the consortium in the Ausgrid transaction. "Existing infrastructure is effectively latent capital sitting on government balance sheets," he says. "Asset recycling is the opportunity to use a very small amount of federal capital to help states help themselves. We have been engaged in a programme of dialogue with selected decision makers in Washington and a number of states, and we found the receptivity to be quite favourable."
IFM's CEO Brett Himbury has travelled from Australia to the US four times this year, speaking to US officials at all levels to pitch the benefits of the Australian approach (see IFM and the pension-public partnership).
Recycling could also help pension funds close their funding gaps by investing in infrastructure. "Bringing these two problems together in a way that helps solve both is a very attractive prospect," says Osborne. "Mobilising pension capital to invest in infrastructure, to promote growth and to generate a fair return that helps fund the retirement savings of US workers is a virtuous circle."
Opportunities despite deadlock?
With Washington stalled, infrastructure owners are seeking solutions. While demand for infrastructure continues unabated, "the supply of infrastructure continues to be low, particularly in the US", says Anton Pil, managing partner of JP Morgan Global Alternatives. "Roads and airports are not for sale."
The team at JP Morgan Asset Management suggests one way to solve the puzzle: renewable energy. "The significant growth of renewables in the US, between solar and wind, makes it a very fertile fishing ground for opportunities," Pil says. While a traditional power plant requires large capital outlays, "renewables can be smaller projects that are more dispersed, and you can put smaller sums to work over longer periods of time, and more consistently".
Demonstrating consistency over time could be a critical factor in stimulating the supply of assets in the US market, Pil contends. "Ideally you want to remain invested over long periods of time without an artificial deadline," Pil explains. "It can be hard to buy an asset if you don't have an evergreen outlook to holding the asset," he adds. "A state or local municipality is going to want to know what happens in eight years' time, and if the investor has an artificial deadline that calls for an asset disposition, that makes it a lot harder to convince them that you're going to supply water and sewer service to a town for the next 40 years."
Energy represents a major sector of the US infrastructure market and Argo Infrastructure Partners was set up by former JP Morgan Chase infrastructure CIO Jason Zibarras to focus on it. Its investment platform AIA Energy North America was formed in 2105 with $500m in capital from Dutch pension fund investor APG and the California State Teachers' Retirement System (CalSTRS).
In 2015, AIA acquired the Cross-Sound Cable transmission system, a 24-mile submarine cable spanning Long Island Sounds that serves as a vital link between the New England and Long Island power grids. Of interest to pension investors: the entire transmission capacity of the cable is contracted with Long Island Power Authority, removing market risk.
In 2016, AIA Energy acquired 49.9% of Black Hills Colorado IPP from Black Hills Corporation. Colorado IPP is the owner of a 200 megawatt, natural gas-fired power plant located in Pueblo, Colorado. Like Cross-Sound Cable, risk is mitigated: the Colorado IPP plant is contracted to provide capacity and energy through 2031 to Black Hills Corporation's electric utility in Colorado.
Beale believes the Trump Administration can move quickly to improve airport infrastructure. "The FAA controls the privatisation of airports," he says. "The administration could quickly implement the upgrading and 'debottlenecking' of airports by allowing certain airports or terminals to be privately financed."
Some airports have forged their own paths. Despite objections from some council members, airlines, and UPS, the Denver City Council in August approved a $1.8bn PPP to redesign the iconic main terminal of Denver International Airport to increase capacity and streamline security screening. The contract with Great Hall Partners, the consortium, includes 30-year operation and maintenance agreements between DIA and the private-sector team led by Madrid-based Ferrovial Airports.
Some of the urgency to find new ways to tap private capital is mitigated by America's tax-exempt bond market. "There's an existing financial infrastructure in place all the way from the local treasurer up to Wall Street that has served borrowers well for many years," says Latham. But budget pressure – combined with the high cost of replacing ageing assets – is already prompting municipalities to tap private capital to preserve strained credit ratings and undertake big projects.
Latham says: "We're most interested in airports and water, which resonate with our own DNA and experience over the last 20 years," says Latham. "We like water as a thematic investment. [Institutional investors] want exposure to water, and if there are fewer options in the unlisted space, they're looking for proxies," he says, such as "extending across the value stream or the capital structure, from debt down through equity."
The opportunity stream in US water markets comprises two branches: some parts of the country face supply shortages, while older cities face steep bills to replace ageing delivery and treatment systems. "The issue with water the world over is that things have only just started to move towards economic pricing and tradable water rights," says Latham.
S&P Ratings Direct analysts see "an increasing appetite to raise water rates and consider new approaches to funding" drinking water and sanitary sewer water systems that the Environmental Protection Agency estimates could cost $655bn over the next 20 years.
Water infrastructure in the US has historically been funded with traditional revenue bonds issued by a local water agency or joint power/water authority. Major districts enjoy revenue bases, staff expertise and capital markets access not available to smaller systems. The S&P team expects US governmental entities to increasingly tap private capital through arrangements that allow investors to earn a return for sharing the risks in building and operating public infrastructure.
Techniques will include public-private partnerships (PPPs) and asset recycling, S&P says, as well as bundling, in which smaller assets are grouped as either a set of similar assets across multiple sites or an assortment of different assets at a single site, enabling small projects to attract private capital and operating expertise on better terms, such as improving credit strength by retaining larger contractors. Municipalities will face challenges obtaining support to collaborate with other entities, but S&P believes water sector financing "is primed for a shake-up".
The individuals with influence
Wilbur Ross, secretary, US Department of Commerce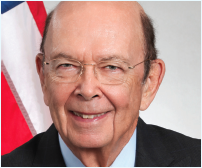 In a mogul-laden administration, Ross is the house-deal wizard, a seasoned – and successful – veteran of steel industry restructuring, hard bargaining with labour unions, and bankruptcy turnarounds financed by junk bonds and the cancellation of health and pension benefits. With economist Peter Navarro, Ross penned Trump's private-equity style infrastructure proposal. Ross understands leverage: he pioneered the practice of buying distressed bonds at deep discounts then organising a creditors' committee of bondholders that could influence reorganisation plans and boost the value of the bonds. And he knows Trump – an early deal was the bankruptcy of Trump's Taj Mahal casino. Whether $200bn in federal money can spur private investors to pony up another $800m will be the ultimate test of Ross's wizardry.
Stephen Schwarzman, chairman, CEO and co-founder of Blackstone
Stephen Schwarzman always goes big and his deal with Saudi Arabia promised to make Blackstone one of the biggest infrastructure investors in the world, aiming to bring as much at $100bn in capital to the market. Head of President Trump's CEO council until the group disbanded, Schwarzman is pushing the firm into a hotly competitive business. Managers are having trouble finding good deals, and with Blackstone in the hunt, there is bound to be more. Look for early forays in the energy patch – the firm has a big stake in the sector, and transactions are easier to accomplish for a fund that has to put points on the board quickly. Longer-term prospects might involve more drilling – the talk is that Blackstone wants a lead role in building a new tunnel under the Hudson River. Latest price tag: $12.9bn. Who else can write a cheque for a deal like that?
Adebayo Ogunlesi, chairman and managing partner, Global Infrastructure Partners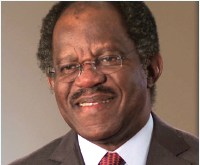 Ogunlesi co-founded GIP in 2006 and built it into a $40bn independent investment business the old-fashioned way. GIP's operations aces apply industrial techniques to manage infrastructure assets with an eye on serving customers rather than treating them as mere ratepayers, creating unrealised value of $7bn in its first two funds as of June 2015. A member of President Trump's recently-dissolved CEO council, Ogunlesi wears another hat as lead director of Goldman Sachs. At the day job, the Nigerian-born Ogunlesi will need to outwit a growing array of savvy competitors. He is well suited to the task – he holds degrees from Oxford and Harvard, and clerked for US Supreme Court Justice Thurgood Marshall. Airports in the US need refreshing, but Americans need to be convinced that privatisation is the way to go. Ogunlesi may be the one to persuade them.
Julio Garcia, head of infrastructure for North America, IFM Investors
Garcia brings a unique perspective on marshalling capital for infrastructure investment. As IFM's point man for infrastructure in North American, the New York native represents a consortium of about 175 pension funds and other institutional investors, including more than 75 US pension funds that have invested in IFM-managed strategies as part of their own infrastructure allocations. IFM plays the long game: a prize asset in the US is the Indiana Toll Road concession, a 66-year contract to operate a critical logistics node between West Coast ports and East Coast markets. A federal incentive to prompt governments to privatise existing assets and plough the proceeds into new infrastructure projects could spark a similar pooling of US pension capital and create a virtuous circle, IFM believes: retirement capital of US workers invested in infrastructure would create US jobs and boost US productivity, while generating a fair return on those savings.
James Ray, special advisor to the secretary for infrastructure, US Department of Transportation
James Ray knows the highways and byways of Washington. Good thing, too, because as head of the department-of-transport (DOT) task force on infrastructure, he needs to ensure the rubber meets the road. Ray, who joined this year from a consulting role with KPMG, previously worked in the White House Office of Management and Budget, and served as acting administrator of the Federal Highway Administration and general counsel for DOT from 2006 to 2008. Ray understands the obstacle course of legislative, regulatory and business issues he'll be driving to boost PPPs in the US: few are getting done and major investors say the lack of projects makes it hard to commit resources to the US market.
DJ Gribbin, special assistant to the president for infrastructure policy, National Economic Council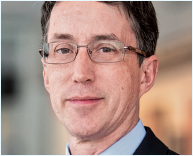 Gribbin made his White House media debut holding up the flowchart of the US federal infrastructure approval process for President Trump's April presentation on his plans to boost private investment in the sector. Now he can streamline the process he had to follow during more than six years as head of government advisory for Macquarie Capital in the US, where he led teams structuring PPP transactions for governmental clients. Gribbin was previously general counsel for the US DOT and served as chief counsel for the Federal Highway Administration, where he worked closely with local and state transportation officials.
US Infrastructure: Land of opportunity
1

Currently reading

US Infrastructure: Land of opportunity

2

3