Toronto is literally booming. Numerous 'frost quakes' have been reported in southern Ontario since 2014, a geological event that occurs when a sudden drop in temperature freezes water trapped underground.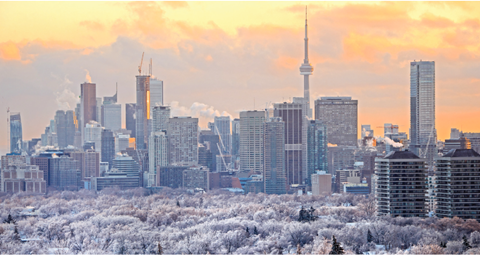 It is not just the ground itself that is booming. So is the real estate market. This boom is easier to identify than a frost quake and is built on factors likely to be more long lasting and predictable than a blast of Arctic air.
The city has established itself as one of the top-five tech talent markets in North America, based on CBRE's annual Tech Talent survey. It is the first time a Canadian market has made it into the top five. The survey ranks 50 of the largest markets as defined by number of tech professionals in the US and Canada, using 13 metrics to assess how each market fares in the critical comparison – the attractiveness of each city to companies seeking tech talent, and to tech workers seeking employment.
The most heavily weighted metrics are those that reflect the concentration of tech talent – an essential ingredient for innovation. Metrics that reflect labour costs are weighted more heavily than office rents, because companies allocate more capital to labour than property.
Toronto performed well in 2018, moving up two spots in the ranking to fourth place. The city's rise resulted from a favourable cost structure and a diverse base of jobs in the tech sector. Colin Yasukochi, director of research and analysis for CBRE in the San Francisco Bay Area, notes that Canadian markets were among the best overall value markets for tech talent, due in part to the strength of the US dollar, with Toronto, Vancouver, Montreal and Ottawa offering high-quality talent at a relatively low cost. In fact, the Canadian cities were the four most inexpensive locations based on labour and rent costs for a typical tech firm of 500 people occupying 75,000sqft of space.
The ability of a city to compete for tech talent on the basis of cost is an important factor in achieving or maintaining a top spot as a tech employment hub, Yasukochi notes, because only 37% of all tech-talent workers are employed in the high-tech industries, meaning tech companies must compete with other industries that employ the remaining 63% of tech workers. As companies across the economy expand their technology capabilities, Toronto's experience illustrates how tech talent job growth can boost a city's overall economic expansion. While Toronto accounts for 28.9% of all tech talent in Canada, it was responsible for nearly half of all job gains reported since 2012.
Within the tech realm, Toronto's employment base is anchored in some of the sectors powering the next wave of digital innovation. The city is a leader in the field of artificial intelligence, which CBRE says is attracting hundreds of millions of dollars in investment from major tech firms seeking to establish operations in the growing hub, including Uber, NVIDIA, Etsy, and Samsung. Part of the economic staying power that accrues from the clustering effects of tech employment results from collaboration between existing tech companies and research universities.
Last year, LG Electronics chose Toronto for its newest AI research lab and struck a multi-million-dollar partnership with the University of Toronto. The facility will serve as an extension of the LG Silicon Valley AI Lab, according to the South Korean company. LG is working to introduce its ThinQ smartphone, which has numerous functions powered by AI technology, as well as AI-enabled devices such as its Cloi line of hospitality robots.
Such facilities mark a long-term commitment to a city after careful consideration of alternative locations. The Globe and Mail, a Canadian newspaper, reported last summer that LG had been planning to develop an AI presence in Toronto since at least 2017. It cited the hope of Vivek Goel, the school's vice-president of research and innovation, that the collaboration with LG would help the university gain more expertise in the application and commercialisation of AI.
Toronto is also home to the MaRS Discovery District, one of the largest urban innovation hubs in the world. Originally established as a centre for medical and related sciences research, thus the name, the Ontario government provided more than C$300m (€199m) to bail out the organisation in 2014, according to local press reports.
A strategic pivot to focus on broader technology innovation appears to be working. To accommodate demand from its growing portfolio of start-up companies, according to CBRE, MaRS plans to lease 24,000sqft of space at the Waterfront Innovation Center, a 400,000sqft development on Toronto's inner harbour set to open in 2021.
All told, Toronto has established momentum for its tech sector. Between 2012 and 2017, tech employment in Toronto increased by 51.5%, constituting 8.9% of total employment, according to Statistics Canada. This concentration of tech jobs is second only to the San Francisco Bay Area among the five largest tech-employment cities in North America.
No room at the office
The impact of the tech sector's growth on commercial property has been strong. Toronto's downtown vacancy rate is 3%, and the city has not registered the lowest downtown office vacancy rate in North America for five consecutive quarters, according to CBRE. The Waterfront Innovation Center was one building in Toronto's downtown district that experienced "significant pre-leasing" during the third quarter of 2018, CBRE reports, making the period the "most stimulating" of the year.
Other significant leases were reported for Ivanhoé Cambridge's CIBC Square, where Microsoft signed on for about 132,000sqft, Allie REIT and RioCan's The Well, where e-commerce company Shopify took 434,000sqft, and Index Exchange, a technology-driven advertising marketplace, took 200,000sqft. "These massive upcoming occupancies express the immense growth in Downtown Toronto," according to CBRE. There is ample evidence that demand for office space in Toronto will remain robust, with approximately 63% of future spaces that are currently under construction being pre-leased, CBRE reports.
The lift in the Toronto commercial property market began in 2014, since when prices have marched steadily higher, according to the RCA Commercial Property Price index for Toronto, which covers commercial office, industrial, and retail for the downtown area (see figure). The price rise has pushed the cap rate for Toronto commercial property steadily lower, according to a cap rate analysis by RCA for IPE Real Assets, declining from a high of 7.9% in 2010 to just 4.8% by the end of 2018; the level where it stood in 2007.
In short, downtown Toronto has become "one of the tightest and fastest-growing markets in North America", according to Cushman & Wakefield research. Availability dipped continually to historic lows through 2018, "putting the squeeze on tenant options and driving up rental rates", Cushman & Wakefield reports, to the point where "occupiers considering renewal or relocation options experienced sticker shock". According to Cushman, rental rates in downtown Class-A buildings in Toronto "skyrocketed" by an average 16.7% during 2018 – the biggest annual increase in almost 20 years.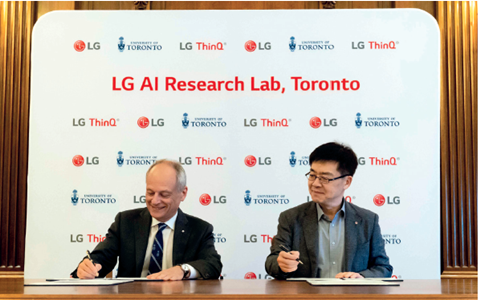 "Little relief is expected until 2021," in Cushman & Wakefield's opinion. Bolstered by lower-than-expected interest rates and "an exploding tech sector", the firm predicts that "domestic and international companies will be seeking space that is virtually non-existent through 2019". Even with three new developments set to open their doors in 2019, adding close to 500,000sqft to the downtown inventory, most of the space has been pre-leased. In such tight conditions, Cushman & Wakefield suggests, "rising rental rates will remain a stark reality for tenants on the street".
The situation is similar in the industrial sector. "Not even colder weather could cool down the industrial market" in the Greater Toronto Area in the fourth quarter of 2018, according to Cushman & Wakefield. "With non-stop demand from e-commerce and [third-party logistics] companies, new records were reached throughout 2018" in the fourth quarter, says Cushman & Wakefield, the overall availability rate for industrial property "plunged to a rock-bottom" 1.5%, pushing the rental rate up by 18% year over year to a record high.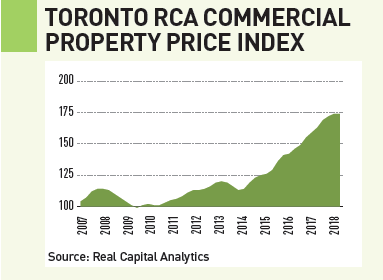 Not surprisingly, relentless demand-and-supply shortages have fuelled industrial property construction in the GTA market. At year-end 2018, 9.5m sqft of new developments were under way; as in the office sector, much of the space is spoken for with build-to-suits accounting for 5.4m sqft of the space under construction, according to Cushman & Wakefield, and of the 4.2m sqft of speculative developments, 2.2m sqft was pre-leased in the fourth quarter of 2018.
Of the three largest industrial projects under way, two are build-to-suits for technology logistics companies, a 1m sqft facility for Amazon, and an 850,000sqft project for UPS, while DSV Logistics is expecting to occupy a 1.1m sqft design-build facility by 2020.
The course of prices and cap rates in Toronto's commercial property market demonstrates that a thriving technology employment base can become a key differentiator for cities – and value driver for commercial property investors. But there are increasingly specific pre-conditions for developing and retaining tech employment as more cities seek to attract technology investment.
Canadian cities are striving to keep up with the competition. While Toronto continues to rank as Canada's top tech talent market, cities across the country, large and small, are staking their claim to tech-driven growth. In Ottawa, for example, tech talent now accounts for almost 12% of total employment, ahead of even the San Francisco Bay Area's 9.8% share. While major tech markets have a leg up in attracting capital, resources and labour, smaller neighbouring markets are beginning to benefit from proximity and affordability. The message to institutional investors is clear: tech employment is a tailwind for commercial property markets and, even if the wind blows cold, property values in tech hubs are likely to boom.