The city is at the crossroads between the physical and digital economies. Christopher O'Dea reports on San Francisco's tech-fuelled boom
Despite periodic sell-offs of high-flying tech names, technology is fundamentally changing where and how we do business. As the digital revolution increasingly affects workflow, office design and personnel location decisions, the tech industry's appetite for talent is surging to new highs. And in San Francisco, it is driving a boom in office property reminiscent of the Gold Rush that first made the City by the Bay a global destination.
In the US "the most significant increase in downtown new construction was in San Francisco, where the hi-tech industry spurred more than 2m sqft of new construction starts in Q1 2014," according to CBRE. At 7.2% in the first quarter, San Francisco's vacancy rate is bettered only by New York's Midtown South District, where a Manhattan version of Silicon Valley has grown, largely the result of excessive leasing by Google and IBM.
Manhattan and San Francisco are also the two tightest metro-area office markets in the US, with a vacancy rate just above 8%. But San Francisco's downtown office market outranks New York as the most owner-favourable office market in the US on CBRE's Market Metrics scale – tied with energy boomtown Houston. All this is translating into market power for property owners – in the first quarter of 2014, downtown San Francisco posted the highest year-over-year increase in gross average direct asking rent (11.5%) of any major US city.
One factor is prompting the property rush in the shadow of the Golden Gate – the continued growth of technology businesses. "Almost all of the work in a knowledge economy takes place in office space," says Douglas Poutasse, executive vice-president and head of investment strategy and research at Bentall Kennedy.
Nowhere is that clearer than in the mecca of hi-tech innovation. In Q1 2014, says CBRE, "the hi-tech sector was the top industry driving leasing demand in six markets, and was practically the sole source of demand in San Francisco", accounting for just under 90% of all leases.
Most of that activity is centred on the more then 4m sqft or so of office construction under way in the South of Market district, called SoMa. Technology tenants such as Salesforce.com, Trulia, Dropbox and Macys.com have grabbed large blocks of space under construction in SoMa, absorbing about two-thirds of the supply pipeline. But as the strong rent increases show, demand for office space in San Francisco continues to outpace supply.
The impact of the tech tide can be seen from the city's streets to Silicon Valley's feeder highways, as start-up offices are repositioned for a new wave of tenants – classical downtown buildings are being revived to accommodate tech firms and are now investing heavily to preserve San Francisco's distinctive architecture.
This year, Brookfield Asset Management acquired the 460,000sqft, eight-building office/R&D portfolio known as Rio Robles Technology Park. The firm worked with Mesa West Capital to obtain a $73.5m first-mortgage loan to make significant capital improvements to Rio Robles that will upgrade the buildings and outdoor areas.
Rio Robles sits in the North San Jose sub-market, close to two major highways that provide access to downtown San Francisco and surrounding areas, as well as to the San Jose International Airport. Encompassing two areas totalling 30 acres, the property features landscaped walkways, grounds, and courtyards, all connecting one and two-storey buildings ranging in size from 32,000-87,000sqft, which offer flexible and efficient floor plates. The property is 70% leased to tech-focused tenants including Hitachi and F5 Networks.
In San Francisco's CBD, the need for space has resulted in a major office tower renovation, as well as the imminent development of lots that have sat vacant for more than 30 years.
In April this year, a new office building in the financial district of San Francisco was announced – the first new build for 10 years. Dallas-based Lincoln Property has partnered with Chinese investor Gemdale USA to start construction on 350 Bush Street and 500 Pine Street, a two-building site that will add 428,000sqft of class-A office space to the city's inventory. The floor plates in 350 Bush will range from 17,000 to 20,000sqft. Amenities will include bicycle parking, showers, a rooftop terrace, and proximity to public transportation, which tech tenants take for granted. The lots have sat vacant in the city's financial district for three decades.
Founded in 1988, Gemdale began to operate its real estate business in 1993. In April 2001, it was listed on the Shanghai Stock Exchange, one of the first real estate companies to do so after the ban on listing of real estate companies in China was lifted. "We are delighted with our debut into the United States…. in developing such an important and well-located project in San Francisco, a city which is experiencing some of the strongest office market fundamentals in the United States," said Michael Krupa, president of Gemdale USA. "We are delighted to have the ability to help transform the fabric of the north financial district."
Ringing the changes at Pacific Telephone
Nearby, an icon of an earlier tech era is the subject of an ambitious revival of early 20th century office high-rise design. The Pacific Telephone & Telegraph Building at 140 New Montgomery was one of San Francisco's first high-rises and, at 26 stories, was the tallest building in the city in 1925 – when land-line telephones were cutting-edge technology. Today it has become a symbol of Gold Rush 2.0. In 2007, Pacific Telephone sold the building for a reported $117m to a group including two leading San Francisco firms – developer Wilson Meany and real estate investment firm Stockbridge Capital Group.
Originally intended to be converted into condos, the owners soon changed course and refurbished the tower as modern offices for San Francisco's tech industry – LEED-rated, of course – including amenities such as bike storage, showers and an upscale restaurant. The work also included a locally-required seismic retrofit, as well as installation of new green technology to reduce energy usage. The five-year revamp, at a cost originally reported locally as $50m, updated the tower into 280,000sqft of cutting-edge office space.
The building is anchored by online business review website Yelp! which leases approximately 150,000sqft on 12 floors. Overall, the building is 90% leased. Other tenants include enterprise management software developer Software AG, online neuroscience research company Lumosity, design firm Knoll, and three financial services firms. The lease-up enabled the project to secure new financing this year, by which time the cost of the revamp had risen to $100m. In April, Stockbridge worked with Mesa West Capital to arrange a $185m first mortgage to recapitalise 140 New Montgomery. Reflecting the healthy appetite among institutions for commercial real estate debt, the five-year finance term included a mezzanine debt tranche that was sold to an institutional investor.
At the same time, some San Francisco companies are scaling back their presence in the city's financial district. Early in 2014, Charles Schwab said it would move a significant number of employees from its downtown San Francisco locations to offices in Dallas, and an expanded 40-acre campus in Denver that will allow the discount brokerage to consolidate its Denver metro offices and add up to 500 new jobs to the 2,000 people already in the area. Schwab said the decision to move jobs out of San Francisco was based on factors including the high cost of doing business and living in the Bay Area, as well as the challenge of recruiting talent there.
Most consistent five-year outperformer
The IPD Global Intel dataset, including data for Q2 2014, shows San Francisco continues to outperform other major US office markets over the medium term.
For an investor deploying capital at the bottom of the cycle at the end of 2009, San Francisco delivered stronger returns than other large US office markets. Total return for the year to June 2014 was 13.9%, outpacing the 9.2% return from New York offices. While Dallas currently has the highest annual returns, at 19.3%, San Francisco is the more consistent performer over the past five years.
Downward pressure on yields caused by rising values in San Francisco has left pricing high relative to the 10-year average. Yields in the San Francisco office market have moved out slightly during the first two quarters of 2014 but remain close to those 10-year lows and are lower than at any point over the past decade other than 2007.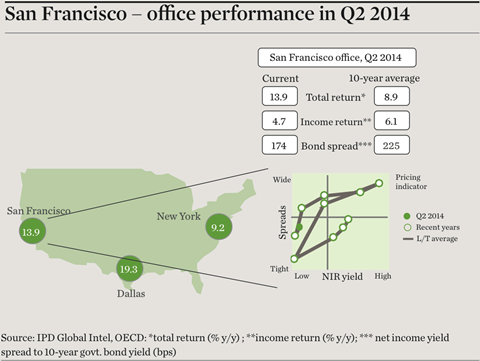 These low yields leave the margin between real estate and government bond yields below their 10-year average. Long-term government bond yields have risen since the lows of 2012, but a fall between December 2013 and June 2014 has helped spreads of San Francisco office yields over the risk-free rate to rise slightly. Spreads remain just half a percentage point below the 10-year average, so despite yield levels pointing to keen pricing, a reasonable risk premium still appears to be built into the market.
Investors in this diversified market may take comfort that a reasonably healthy US economy, a growing hi-tech sector and San Francisco's position as a gateway city from Asia can support rental growth that justifies the current aggressive pricing.
While a 20th century financial firm today might be looking for cheaper space, the 140 New Montgomery building shows San Francisco consolidating its position as the leading market for tech firms.
Encompassing the latest digital and green technologies, the 140 Montgomery building is situated in the centre of San Francisco's business and arts district, adjacent to the San Francisco Museum of Modern Art. At the signing of a lease with Software AG, Christopher Meany of Wilson Meany said "140 is attractive to tenants from a variety of industries, all of whom share an appreciation for the historic character and modern amenities of the building."
Warsaw: A victim of its own success
1

2

Currently reading

San Francisco: Gold Rush 2.0

3