Montréal's economy has lagged Ontario and the western provinces for nearly 40 years. But the city is now growing, writes Christopher O'Dea
Real estate investors would do well to take in the commanding views from a sleigh ride around Mont Royal and see Montréal's wide-ranging opportunities. They range from the rarely available – such as units in the iconic Habitat '67 complex of apartments – to the hard to finance, such as the $2bn Quad Windsor construction project under way around the Bell Centre, which includes the 37-story Tour des Canadiens development.
Big Canadian property investors, led by the country's mammoth public-sector pension funds, have lately been snapping up billions of dollars' worth of commercial buildings, industrial facilities and retail centres in the US and around the world. In fact, Canadians have become the largest investors in the US, most notably New York City, surpassing even Chinese capital sources.
But there are plenty of attractive values in Montréal. It is a major urban area like Toronto or Vancouver, but differs in important ways. Most obviously, Montréal's economy is not dependent on the country's energy sector. Over the past few years, Montréal's residential housing market has experienced one of the slowest rates of price increase in the country, in large measure avoiding the frothy condo development seen in Toronto and Vancouver. As the commodity and oil slump starts to bite Canada's natural-resources economy, Montréal's housing sector looks set to avoid a US-style residential slump that economists fear is facing the rest of Canada.
Montréal is reaping the benefits of changes resulting from an economic contraction that followed its 1999 peak; its economy is more diversified, less dependent on manufacturing, and seeing the positive impact of more robust financial services and digital technology sectors. Today Montréal enjoys a cosmopolitan, international atmosphere, with globally competitive universities, but without the speculative influx of foreign capital driving nosebleed pricing.
Canada's big property investors have big plans for the city, none more than Ivanhoé Cambridge, the property arm of the Caisse de dépôt et placement du Québec, with C$48bn in assets as of July 2015. Ivanhoé Cambridge has enjoyed a healthy average 13.3% growth rate over the five years since Daniel Fournier took the helm as CEO. In recent remarks to the Canadian Club of Montréal, Fournier said the company invests in cities, not countries; Montréal is near the top of the list. Ivanhoé Cambridge has so far invested $3bn in the city, a significant stake compared to the $7bn it has deployed in New York City.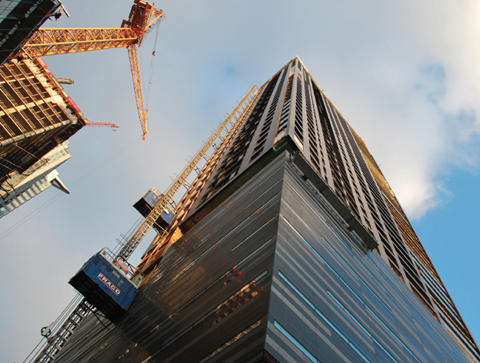 Canadian investors have ranked as the first or second source of capital for New York City property transactions in each of the past three years, according to an analysis of capital inflows to New York from non-US sources, prepared for IPE Real Estate by Real Capital Analytics. In the first nine months of 2015, RCA reports that capital from the 10 countries with the most active investors in New York City totalled US$29.7bn, with Canadian sources investing in 27 transactions totalling US$7.1bn.
But there's no place like home. Ivanhoé Cambridge is planning to redesign and link Complexe Les Ailes and the Eaton Centre, engaging in talks with all retailers about easing space, Fournier said, adding that the plan for Les Ailes may not include a traditional anchor tenant. Some of Ivanhoé Cambridge's other Montréal projects include an observation deck and year-round entertainment space set to open this month on the top floors of the Place Ville Marie, a shopping and office complex in the city centre. The project, Au Sommet Place Ville Marie, also involves Clarige, the Bronfman family investment office, and a partnership that controls Cirque du Soleil. Plans also call for connecting the Esplanade of the Place Ville Marie on René Lévesque Boulevard with McGill College Avenue.
New towers are also going up. The 27-story Maison Manuvie is expected to be completed in 2017, through a co-venture agreement between Ivanhoé Cambridge and The Manufacturers Life Insurance Company, which will occupy more than half of the 486,500sqft of LEED Gold office space. Nearby, the first tower of Quad Windsor is set to open this spring. Tour des Canadiens is a 438-unit, C$150m condo that sold out in a city record of three months in 2012, according to developer Canderel. The consortium developing the project includes Cadillac Fairview, Canderel, the Fonds immobilier de solidarité FTQ and the Club de hockey Canadien.
In 2006, Cadillac Fairview began assembling land parcels that allowed property investors to develop the area around the Bell Centre. The Molson brewing family supported efforts to develop the blighted area; one Molson family member owns the Club de hockey Canadien, and the Bell Centre was formerly known as the Molson Centre. Quad Windsor will cover 5m sqft and comprise nine new buildings, including the Deloitte Tower, which opened in 2015. Construction on Phase 2, which will include another major condo building, is slated to start in the summer of 2017.
The new towers pushed the office vacancy rate in Montréal to nearly 11% late in 2015, but most market participants believe the new supply corrects a lack of modern space in the city. The economy of Montréal and the province of Quebec lagged far behind Ontario and the energy-driven Western provinces for nearly 40 years. But the situation has turned around in the past decade, says Pierre Fortin, the former chief economic advisor to Premier René Lévesque and president of the Canadian Economics Association. In the French-language journal l'Actualite, Fortin notes that in 1960, the standard of living of Quebec lagged that of Ontario by 18%, while the gap stands at just 5% now.
Perhaps most importantly, Fortin says, Quebec and Montréal avoided some of the worst effects of the financial crisis. Since the 2008-09 recession, he says, the public debt burden in Quebec has increased four times less than in Ontario and eight times less than in the US. This caps a 20-year trend of improvement in Québec's public finances, which has reduced interest payments by 40%.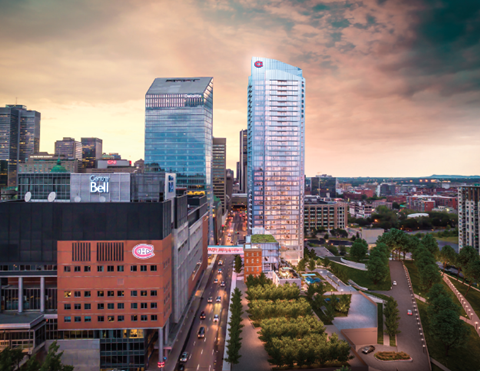 The progress is continuing. In 2016, the alignment of private and public sector investment and an improving economic outlook will help Montréal to continue on its path to renewal. As construction suggests, the city is a work in progress, but the groundwork is being laid for a bright future. The Conference Board of Canada projects positive economic growth for the Greater Montréal Area for the next four years, with a notably upbeat outlook for service sectors such as finance, insurance and real estate. Together, these sectors comprise a significant share of office-space occupiers in Montréal, and job creation as business expands is expected to lift demand for office space.
In the third quarter of 2015, Montréal recorded positive office space absorption for the second consecutive quarter, although the margin was small, at less than 100,000sqft, CBRE says. CBRE says supply and demand conditions indicate that "the market has reached its peak in terms of vacant space and a turn-around is forthcoming." While developers had 1.8m sqft of office space in construction pipelines during the quarter in Montréal, no new office supply was delivered.
Development around the Bell Centre (pictured, above) and the nearby Griffintown area indicate that Montréal "continues to rapidly densify as it plays catch up with other major Canadian cities in this regard," CBRE says, "as condo and apartment development support a growing urban population."
The office sector will have 2016 to digest the vacant space in two downtown office towers that are part of the 1.5m sqft coming on the market in this development cycle, CBRE says. Three more office buildings are slated for completion in 2017, which adds urgency to preleasing in 2016. The Despite the uptick in office vacancy as the new buildings have opened, the new stock of modern office space "is essential for Montréal to remain a competitive destination for businesses and be a world class city," CBRE says.
As for investment dynamics, CBRE predict Montréal will gain further attention as competition for core assets in Vancouver and Toronto has become intense. "Comparatively reasonable pricing and relative economic stability should attract investors to Montréal in 2016," CBRE says, and in the absence of trophy assets, "expect more class-B and class-C properties to trade hands". That will help to absorb space being vacated by occupiers moving into Montréal's new class-A offices.
Even when it is not acting directly through Ivanhoé Cambridge, Québec's Caisse de dépôt provides vital stimulus to Montréal's property market. Most large city economies today include tech entrepreneurs, and one of the principal digital companies in Montréal is Lightspeed, which produces transaction software for businesses. Lightspeed is anchoring a $250m redevelopment of Gare Viger, an 1890s building in on overlooked area near the Old City that housed a railway station and luxury hotel. Affectionately dubbed 'Chateau Viger' by locals, Lightspeed is refurbishing the structure to today's creative office standard – thanks to a C$61m capital injection from the Caisse last November.
Investors today may be impatient for results. But with a hockey team that is older than the National Hockey League itself, Montréal is the wrong place to look for quick results.
Birmingham: An investor's paradise
1

2

3

Currently reading

Montreal: The ascent of Mont Royal