In a changing landscape, ODCE fund performance has become more volatile. Managers have to innovate to stay relevant, write Stephanie Schwartz-Driver and Richard Lowe
The 24 large open-ended core property funds in the US, that make up the $262bn (€240bn) NCREIF Open-end Diversified Core Equity (ODCE) index, had a fairly benign year in 2019, posting a 5.34% annual return.
As can be seen in figure 1, quarterly returns crept down during 2018, before recovering slightly in the second half of 2019; income returns were consistent throughout.
But this underwhelming, yet stable, picture hides a widening of performance between individual funds in the index. One ODCE fund investor – who wishes to remain anonymous – says: "2019 saw a massive dispersion of returns, the likes of which we have not seen before. In the past it did not matter which fund you picked – there was a difference of 100bps between best and worst. Now with 800-900bps dispersion, it really matters who you pick."
The divergence of performance between the beleaguered retail sector and the booming market for logistics property helps to explain this phenomenon. Those funds with heavy exposure to the former and underweight positions to the latter have suffered, and investors have noticed.
The most high-profile casualty has been the $20bn-plus UBS Trumbull Property Fund, which has built up a large exit queue, reaching $7bn, according to sources close to the matter.
UBS Asset Management has sought to stem the outflows by offering management fee discounts to existing investors to cancel redemption requests and to commit to not making requests in the coming years.
According to Ohio Bureau of Workers Compensation Board, UBS is offering a 25% fee reduction. At the time of writing, the board of the investor was still to vote on whether to accept the offer.
UBS appears to have responded in other ways. In January it announced that Matt Johnson would replace Matt Lynch as head of the US real estate business, and Rod Chu would become head of US transactions, in place of Jack Connelly; both Lynch and Connelly have left the company.
But ODCE funds seem remain attractive despite the turmoil. According to NCREIF, net cash flows into the fund were positive during the last three months of 2019 at $2.5bn, a significant recovery on the negative $909bn during the previous quarter.
For 2019 overall, contributions of $18bn did not quite balance against redemptions of $19.9bn.
Anecdotally, there are queues to get into the better-performing funds. The index's role in the industry also remains prominent, as about 70% of non-fund core real estate allocations are benchmarked against the ODCE index.
And just as a normally placid investment alternative has been rocked by unprecedented volatility, a new entrant is betting on continued popularity. Investors Diversified Realty (IDR) has launched an index fund, enabling investors to gain passive, diversified exposure to the ODCE fund universe.
The IDR Core Property Index Fund raised $1.5bn by the end of 2019, according to sources familiar with the matter, including a $990m cornerstone commitment from the Teachers Retirement System of Texas.
The fund of funds brought in 12 institutional investors in total, including the Los Angeles County Employees Retirement Association, which committed $250m.
The open-ended vehicle is intended to be opened up to non-US investors this year and there are plans to raise $5bn.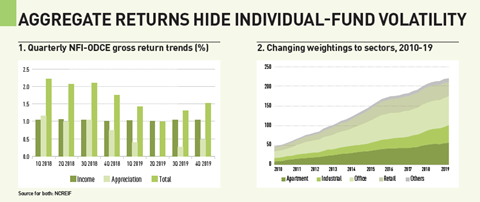 IDR, which declined to comment, seems to be betting that ODCE funds will continue to be attractive to investors who need their core allocation filled but might not be big enough to follow the direct-investment route. For risk-averse investors, it provides manager diversification at a time when performance has been more varied.
ODCE funds are not only seeking to reduce their exposure to retail and increase their weightings to industrial. There is a growing push into other sectors beyond the big four – office, retail, industrial, and multifamily apartments.
"2019 saw a massive dispersion of returns, the likes of which we have not seen before. In the past it did not matter which fund you picked – there was a difference of 100bps between best and worst. Now with 800-900bps dispersion, it really matters who you pick"
One of the sectors expected to grow is single-family housing for rent. The Arizona State Retirement System recently entered a $450m (€408m) joint venture with Tricon Capital Group to do just this. Meanwhile, JP Morgan Asset Management's ODCE fund, the Strategic Property Fund, has formed a joint venture with American Homes 4 Rent to invest in the sector, according to sources close to the matter.
JP Morgan did not comment, but in a Global Alternatives Outlook report published in January, it argues that "core allocations need to adapt" to changes in technology, demographics and other structural trends.
The report predicts "extended core sectors", which include self-storage, hotels, student housing and healthcare, "to make up an increasing share of private real estate allocations as investors come to better understand these opportunities and their risks and roles in a diversified core portfolio".
Single-family homes are included in a list of preferred extended core sectors. "Technology has given REITs and, more recently, private real estate managers a platform for buying, managing and renting a large number of single-family properties, spread over a broad geography, allowing these properties to be run at attractive margins," the report says.
"The result is a new investment opportunity for institutional investors, with attractive return and diversification potential. We anticipate more private real estate managers entering this space, partnering with REITs or other third-party businesses with the required platforms and specialised expertise."
JP Morgan argues that what determines 'core' real estate can evolve in line with the functioning of an economy. "As economies evolve, through technology, demographics and other structural trends, so too does the definition of core – and core allocations need to adapt," the report says.
And REITs, given their specialised operational expertise and platforms, have "laid the groundwork for the evolution of core".
JP Morgan points to how non-traditional property sectors now account for over 40% of the US REIT market cap, but they represent less than 5% of the market cap of ODCE funds (figure 2). That gap is likely to shrink in the future
Core real estate Europe: On the path to maturity
1

2

3

Currently reading

Core real estate US: ODCE funds grapple with disruption