A new government normally gives DC real estate a boost. Christopher O'Dea asks if it will be different this time
A change of administration is usually good news for the commercial property markets in Washington, DC. And with the new president being the first to hail from the property sector since the city's namesake, George Washington, it would be reasonable to think property markets might get a boost.
But President Donald Trump won the White House by disrupting reasonable propositions. The implications of his populist approach are still sinking in among Republicans and Democrats, raising concerns that his policies might derail the long-term growth of the federal government.
In fact, Trump's property acumen and efforts to live up to his self-styled role as the world's greatest negotiator might dampen the positive effects that the Washington property market has enjoyed from steady increases in federal jobs and government-related employment.
Despite the expansion of the US government in the past decade, Washington has been steadily declining in popularity as a destination for international investors, and they plan to continue the retreat from the US capital during 2017. Property analysts are raising questions about when – or whether – office absorption will match job growth, and major investors are starting to target smaller properties while also sharpening their pencils before committing fresh capital. Those trends are a sign that steady job growth in the Washington area, which has supported aggressive pricing in the past, might not be a factor investors can count on in future.
And despite being an economic engine that has turned some surrounding counties into the wealthiest in the nation, it turns out that Washington property markets – despite enjoying unique and significant characteristics – are not immune to the secular trends transforming the US workforce and the design, use and location of office space.
As in other cities, occupiers in Washington are moving from central business districts to hipper neighbourhoods near trasport links, where employers can attract younger employees looking for the live-work-play lifestyle.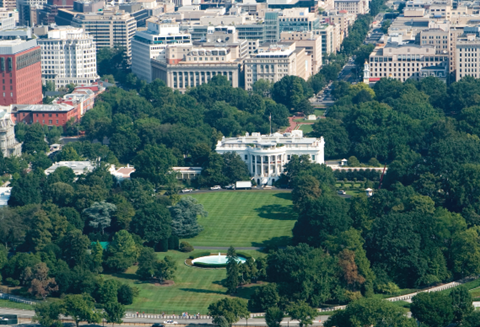 In an ordinary transition from one president to the next, the newcomers bring in their own team, which needs office space and housing – as well as dining and shopping. Typically it results in a net increase in demand. Many of the outgoing personnel do not go far, staying on to join the lobbying agencies, law firms or myriad think tanks and university policy centres.
Most in the commercial property sector are inclined to wait and see how the Trump administration's policies affect the job market underpinning property values. Although transactions and developments are still underway, Trump's win has brought a tone of caution to the market, says Duane Hale, senior director and head of the Mid-Atlantic region at TH Real Estate.
"Within Washington and some other markets as well, you're seeing a slowing of transaction activity," says Hale. "We see it as an attractive market in the future. In the past, Washington has performed better than has been predicted, but right now there is more conservative underwriting when it comes to non-core assets."
There is good reason for caution. One of Trump's first actions was to impose a hiring freeze across all federal agencies, exempting only the military and public safety roles. Administration officials and Republicans in Congress were soon talking about how efforts to roll back federal regulation could lead to deep job cuts at some departments.
By some measures, job creation in Washington has outpaced New York City, Los Angeles and San Francisco. According to Cushman & Wakefield, the DC Metro area "continued to register a staggering level of job growth through the third quarter of 2016", creating the fourth-largest total number of jobs and ranking first in terms of year-on-year percentage growth.
Office employment gains recovered to levels not seen since federal budget sequestration measures took effect in 2010, as employers created more than 35,000 new office-using jobs between September 2015 and September 2016. "Positive job growth – the likes of which the region hasn't seen since early 2011 – has been particularly evident in the federal government sector," Cushman reports.
While the story of job creation is "compelling", Cushman notes, "absorption is facing challenges". Vacancy peaked at 17.9% in the District of Columbia, Northern Virginia, and Suburban Maryland sub-markets, and ticked down slightly to 17.8% at the end of the third quarter of 2016.
But new jobs are not taking up space at the same rate as in previous expansions. "Current space requirements per each job created in the Washington, DC metro office market are much less than in previous cycles," Cushman says. Whereas from 2002 to 2008 an average 270sqft of office space was absorbed for every office job created, from 2009 to 2016 that figure declined to 60sqft.
"Washington has fallen out of favour with international investors. For the first time since the survey began in 1992, Washington was not among the top five US cities being targeted for 2017 by members of the Association of Foreign Investors in Real Estate"
At the same time, law firms have been reducing their office space and in 2016 the first law firm decamped to a cheaper neighbourhood. Law firms are traditionally one of the biggest occupiers of premium office space in the Washington market, but JLL data show that they returned 185,000sqft to the central-city market in the fourth quarter of 2016. Most of that new vacancy resulted from mergers.
Law firms will continue cutting back on space. According to JLL, eight of the 18 firms with more than 20,000sqft that are in the market for new quarters are planning to reduce their space by 25%. Those cuts could put more than 600,000sqft back on the market, with the terms of some vacancies lingering though 2024.
Office tenants are now considering emerging neighbourhoods where recent multi-family and retail property development has attracted younger workers – WeWork leased 69,000sqft, for example. But in what JLL calls "the most notable deal signed during the fourth quarter" in one of Washington's emerging neighbourhoods, one law firm became the first to relocate from the central business district when it leased 60,000sqft at The Wharf, a stretch of hotels, retail and apartments along the Potomac River.
Development along the Potomac aims to use some of the last available land within DC itself. The city is compact, based on the plans of Paris, Amsterdam and Milan that Thomas Jefferson supplied to PierreCharles L'Enfant, the French-born architect and city planner commissioned to design the new capital in 1791 by President George Washington, himself a surveyor and land investor.
The resulting classic skyline, low by modern standards, was protected by the federal Heights of Buildings Act of 1910, which caps building height at the width of the adjacent street, plus 20 feet. As a result, the floor space required by federal employees and government services in The District has run out. That encouraged property developers to head to surrounding counties to build the office, retail and residential space required.
In recent years, tenant demand has waned in the Suburban Maryland market. At the end of 2016, JLL reported that no office space was being developed in Montgomery County, and that there was just one building under development in Suburban Maryland. That has left Suburban Maryland at a disadvantage to other Metro DC sub-markets that can attract tenants with newer space that meets current requirements for creative office designs.
Reflecting the demand for better public transport, Northern Virginia is benefiting from a new rail line that opened in 2014, with 15 of 29 leases over 20,000sqft in the fourth quarter representing space in buildings along the new route.
Washington has fallen out of favour with international investors. For the first time since the survey began in 1992, Washington was not among the top five US cities being targeted for 2017 by members of the Association of Foreign Investors in Real Estate (AFIRE).
"Washington, DC is a global gateway city with good leasing activity and a growing economy bolstered by a young workforce," said Catherine Pfeiffenberger, AFIRE chairman and senior vice-president of Skanska USA Commercial Development, when the survey report was released.
"The combination of those stable fundamentals will continue to attract capital from around the world," she added, and the new administration's "focus on the defense and aerospace industries is also expected to benefit the DC area in the coming years".
If history is any guide, Northern Virginia might turn out to be the sweet spot for institutional property investors over the next few years.
The charms of Virginia were not lost on the first property tycoon to serve as US president – after serving his country, George Washington returned home to his Mount Vernon estate, which overlooks the Potomac River just downstream from the capital.
Perhaps more relevant to investors under Trump's administration is that, according to JLL, historical trends show tenant demand in Northern Virginia increases dramatically when one party controls both Congress and the White House.
City Focus Stockholm: Fully stocked
1

2

3

4

Currently reading

City Focus Washington DC: Capitol appreciation