The city has been booming with tourism, trade and finance. But rising sea levels could dampen one of the hottest markets in the US, writes Christopher O'Dea
There is nothing like achieving 'global gateway' status to boost the profile and pricing of a commercial property market. It is quite a feat for Miami, a city long known as simply the Biscayne Bay Country and described as recently as the late 19th century as promising wilderness. Travel literature at the time characterised it as one of the finest building sites in Florida.
Miami got its big break when its citrus crops were the only ones in Florida to survive the Great Freeze of 1894-95. A wealthy expatriate from Cleveland who had taken up citrus cultivation persuaded railroad tycoon Henry Flagler to extend his Florida East Coast Railway to the Biscayne Bay region. That won citrus grower Julia Tuttle the distinction of being the mother of Miami – and made Miami the only major city in the US conceived by a woman.
Miami takes its name from the historic name for nearby Lake Okeechobee, Mayaimi, but it takes its nickname, the Magic City, from its record of robust growth. Winter visitors, a significant population from the earliest days, said that the city grew so much from one year to the next it was like magic.
Today, Miami has been transformed from a Cuban-influenced stopping point on the way to the Caribbean to a global centre for finance, logistics and tourism. Miami includes the world's busiest port for cruise ships and an international airport that now services more airlines than any other in the US.
While the Miami market encompasses three counties – Miami-Dade, Broward and Palm Beach – the Miami central business district accounted for more than $2.5bn in property transactions between 2012 and 2016, according to CBRE Research, which was 50% of all office investment sales in Miami-Dade, the core of the metro region.
In fact, investment in the Miami region has risen each year since the recession, and increased significantly in the past two years, CBRE says. In 2015, investment sales reached $19bn and were expected to top that in 2016, with $10.5bn of transactions occurring by the middle of the year, according to CBRE's 2017 market outlook for Miami.
As a gateway market, CBRE notes, the area is attractive to global investors, which invested nearly $2.9bn in the Miami market in 2015. CBRE expects cap rates for all asset types to remain stable, "providing investors the opportunity to acquire core assets in this growing region".
Miami has joined the top-tier of core markets – it's one of only eight US markets where the price of institutional quality office buildings averages more than $200 per sqft, according to the NGKF Capital Markets Report for the first quarter of 2017. The average cap rate for Miami office property reached 5.5% in the first quarter, below the US average of 5.8% but still above the 4.3% cap rate for New York City.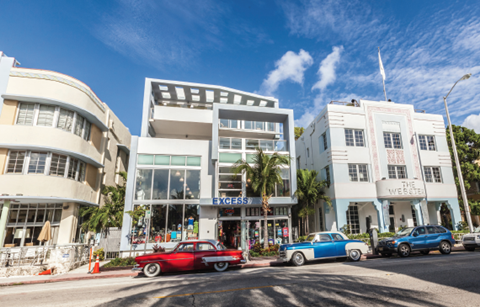 TH Real Estate this year opened a new office in Miami to manage its activities in the southeastern US and Latin American markets. The company manages $10.5bn of property investments in those areas, covering 36m sqft of office, multifamily, retail and industrial assets.
To lead the new office, TH Real Estate transferred Manuel Martin from its Madrid office, where he was head of Spain and Portugal. "Part of our decision to come to Miami is based on the long-term prospects for South Florida," Martin says. "Demographics and supply are major drivers of a market which we believe will be resilient to downturns."
That resilience stems from a broad foundation, Martin says. "Some major characteristics that keep Miami in the eye of global investors include the fact that it's an international trade hub and banking centre, a top tourist destination, and it has strong urban density. While none of these qualities are unique to Miami, it's rare to find all these characteristics in one city, and to the degree to which Miami has them."
Volume at Miami International Airport tells one part of the story. Passenger traffic registered its seventh consecutive annual increase in 2016, according to CBRE, and the airport extended its connections to the world, adding service from 10 new airlines and launching six new international non-stop routes. It's not just people coming for sand and sun. Miami International receives more than 2m tons of cargo per year, according to CBRE data, making it the number one airport in the US for international air freight and the nation's number three airport for overall air freight.
The other part of the story is the booming PortMiami, which accounts for more than 200,000 jobs and $28bn in annual economic value to the metro area. In addition to its position as the world's busiest port for cruise ships, PortMiami recently completed more than $1bn in capital improvements that make it the closest US seaport to the expanded Panama Canal that is able to berth 'post-Panamax' ships arriving from Asia. "The outlook for the Miami industrial market," CBRE says, "is extremely strong."

The inward migration that took Miami's population from barely 300 at the city's founding to more than six million today is evident in industrial, warehouse and logistics space. Warehouse/distribution space accounted for 82% of all leasing activity in the industrial sector in the first quarter, according to Cushman & Wakefield's first-quarter report on Miami industrial property. The largest lease transaction of the quarter was a new-to-market tenant, CGI Windows and Doors, which leased 320,000sqft in the Northwest Dade submarket.
According to CBRE, there is an "insatiable appetite" for Miami industrial property, which is compressing cap rates and causing prices to rise. Assets are selling well above replacement cost, which is helping to justify new construction, despite rising costs for construction labour and materials.
The Miami region's industrial sector posted "durable performance" in 2016 as vacancy shrank by 60bps year-over-year to 4.2%, in spite of 2.6m sqft of new inventory being delivered throughout the year, according to NGKF. In a two-year span, NGKF says, demand growth has accounted for more than a third of 33m sqft of total absorbed space since the recovery began. While the increased need for space mostly came from expansions of companies already in the market, "South Florida saw an emergence of demand coming from new companies entering the market over the past two years". Those tight conditions translated into an average asking rental rate just a few cents shy of the record average rate recorded in 2007.
The most significant change in the first quarter in the industrial market, says Cushman & Wakefield, was the delivery of six new warehouse buildings totalling 1.2m sqft in submarkets near the airport. The sources of capital to build Miami's industrial property network are changing as well. "The private buyers that drove investment activity a few years ago are increasingly giving way to foreign and domestic institutional buyers, who are attracted to the market's long-term stability," says CBRE.
That attraction is largely a matter of supply and demand, says Cushman & Wakefield: "Investors' sustained interest with industrial product in Miami-Dade was due to the diminishing amount of development land, which increases the value of existing assets." In the first quarter alone, transactions totalling 3.4m sqft took place across the market, with 95% of sales involving investment-grade properties.
"We like industrial in different formats," says Martin. "The fundamentals for the sector – supply, demand and related activity – are very good."
But challenges remain. And just as the oceanfront environment can bring turbulent weather with little notice, Miami's property market is subject to change. In fact, slowly but inexorably rising sea levels might pose the most significant obstacle to continued economic expansion in Miami.
While industrial property is still under development for lease at near-record prices, concerns are growing that Miami Beach's historic Art Deco district could be lost to the rising sea. In March, a historic waterfront mansion was lifted and moved to higher ground to save it from flooding, and the New York Times reported that some property buyers were prioritising flood defenses over ocean views.
Much of the recent residential construction along Miami Beach is only a metre or less above sea level, and flooding has become a fact of life. The Miami Herald described the discovery of an octopus in a flooded underground car park this winter as "climate change's canary in the coal mine".
Historically, the weather has been on Miami's side. But whereas the great freeze that left Miami's crops untouched set off an economic boom, the rising sea level could pour water on the plans of the Magic City.
City Focus Oslo: Warming to a cool market
1

2

3

Currently reading

City Focus Miami: The Magic City's next trick