A real estate boom is in progress as Mexico's government seeks to invoke the Mexican Miracle of the 1950s to 1980s. Christopher O'Dea reports
There is a commercial property boom under way in Mexico City – even before ground has been broken for the city's long-awaited new airport, a project expected to trigger a wave of development across most property and related infrastructure sectors.
Already an international destination, Mexico City is benefitting from a confluence of factors pushing Mexico to the top ranks of emerging markets – and the city's property markets tell the story. Gross office absorption in 2014 jumped by 33% in 2013 to almost 430,000sqm, as vacancy for class-A and class-A-plus space declined to the lowest level in three years, according to CBRE Research's Marketview.
The story was similar – maybe even better – for industrial property. Annual gross absorption in class-A industrial space set a record of more than 200,000sqm in the second quarter of 2014, CBRE says, fuelling a rebound in the average asking price after five quarterly declines, and lower vacancy despite a high volume of new space becoming available.
"Mexico is a bit of an exception in the emerging world," says Maarten-Jan Bakkum, senior strategist for emerging markets in the multi-asset boutique of ING Investment Management. "It's one of the countries people don't pay enough attention to."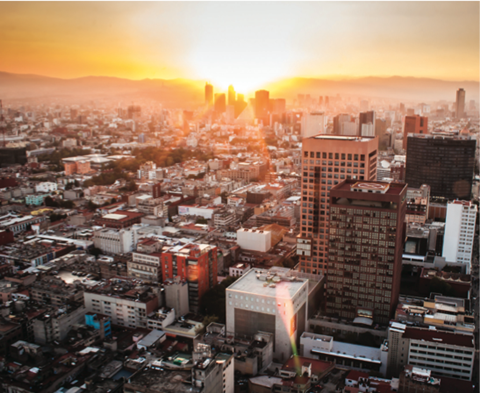 A closer look shows the country's growth has not slowed to the same extent as many other emerging economies, largely due to the proximity of the US and the development of manufacturing expertise in global sectors, such as automotive production. This reduces the exposure to China's slowdown, which is putting the brakes on in other countries.
Mexico's economic reforms – particularly in the energy sector – are also having a positive effect, Bakkum says. Although lower oil prices are likely to limit the total economic impact of the reforms to an increase of about 1-1.5% in Mexico's GDP, he adds that "few emerging countries have made meaningful reforms, and Mexico is one of them".
Mexico is also improving its position within Latin America, Bakkum says, benefitting from Brazil's economic travails and the Petrobras corruption scandal. Many international companies have long had factories in Brazil, many are clustered in and around Sao Paulo. With high interest rates and inflation in Brazil, "that's not going so well", Bakkum says. "International companies are reducing capacity in Brazil" and, increasingly, new investments are flowing to Mexico.
A significant portion of that investment is destined for the Bajío region, anchored by the city of Queretaro, about an hour north of Mexico City. Spanning several states, the region has long been central to Mexico's development. The region produced most of the silver that funded Spain's colonial domination of Mexico, and when the break with Spain came it became known as La Cuna de la Independencia – the Cradle of Independence . Today Queretaro is home to major global automotive and industrial investment, and new property investments are increasing ties with Mexico City.
"The boom in manufacturing seen in Mexico over the past two years has converted the centre of the country into not only a hub for manufacturing but also one of the most important logistics centres in all of Latin America," according to CBRE. "The industrial market in Mexico City can be seen to be in an expansion phase driven by the manufacturing boom affecting the markets in the north of the country and Bajío."
Logistics companies including UPS, FedEx and DHL have built distribution centres in the northern areas of Mexico City. The Cuautitlan industrial corridor, for example, represents 46% of the city's industrial space, "with quality space offerings and a strategic location in terms of exits out of the metropolitan zone in the direction of Bajío," according to CBRE.
Cuautitlan lies north-east of Mexico City's existing airport. The massive new six-runway airport that is about to get under way will be built on government-owned land close to Lake Texcoco, just east of the current airport and about halfway between the city and Cuautitlan's industrial and logistics parks. The area is already booming – 61% of the industrial space under contract at the end of 2014 was located in the corridor, as was 34% of industrial and logistics space under construction in Mexico City.
The development wave is pushing Mexico City's logistics frontier even further – as strong as the Cuautitlan sub-market is, nearly half the industrial space under construction lies in the Tepotzotlan corridor immediately to its east.
Market miracle
The property market illustrates that Mexico has 'emerged' as the emerging market of the moment. Amid spluttering economic performance in 2013, President Enrique Peña Nieto introduced a reform package more ambitious than anything to come out of an emerging market government in a decade. The reforms are aimed squarely at re-igniting the 'Mexican Miracle' that modernised the economy between the 1950s and the 1980s. The Mexican Miracle was aptly named, and resuming such progress will be a tall order. From the early 1950s to the 1980s, Mexican GDP rose by an average of 6.5% annually, and productivity increased 4.3% a year on average, says McKinsey, and the country "was hailed as a model for economic development around the world".
Current reform efforts are focused on boosting Mexico's energy sector by ending the 76-year monopoly held by state oil company Petróleos Mexicanos, Pemex, in a bid to reverse a decade-long slump in oil production. The reform is expected to stimulate foreign and domestic investment in oil and gas extraction and processing and to dramatically lower electricity prices. One of the recent new laws, for example, will allow electricity producers to sell power directly to customers for the first time. Previously, private generators had to sell power to a state-owned utility that controlled two-thirds of Mexico's installed capacity. This change will boost Mexico's already-strong position as a manufacturing platform; electricity for commercial customers in Mexico costs 73% more than it does for commercial users in the US, says McKinsey Global Institute.
Aztec charm
It is no wonder real estate investors have been ignoring Mexico over the past few years, says property investing boutique Hodes Weill & Associates. "Armed with the notion that Brazil has been 'the place to be' in Latin America," they say, "Mexico was considered too politically unstable, too dangerous and just not sufficiently institutional for many investors focused on emerging markets."
But this is changing fast. Hodes Weill's recent market commentary says the deregulation of key sectors of the economy could push Mexico's long-term growth to 4.5%, from 2.8%. Mexican corporate and household debt is modest – just 29% of GDP, compared with 71% in Brazil – and recent changes in banking laws provide banks with relief in recovering late payments. This is creating additional room for increased credit – a critical component for growth.
"The amount of opportunities and investor interest are both increasing across the board," Hodes Weill says.
"Coupled with local pensions' increasing involvement in private markets and the expansion of a US-style REIT market, conditions appear to be ripe for more institutional capital to flow into Mexico."
The energy reforms, which are starting to take effect this year, "are really a game changer", said Jesus Reyes Heroles, former Pemex general director and now executive president of EnergeA, an energy consultancy. Speaking in 2014 at a conference on Mexico's oil and gas sector, sponsored by the Centre for Strategic and International Studies at Johns Hopkins University, Heroles said a primary goal is "to enhance economic efficiency, especially based in electricity as an input for production".
Property investors are also targeting the housing demand that comes with greater prosperity. "Mexico's middle-class population is expected to swell in the coming years," says Santiago Gil, managing director and Mexico country head at Paladin Realty Partners, a property investment fund manager focused on Latin America.
In February, Paladin completed an equity investment in a new joint venture, Paladin-3Mil II, which will develop for-sale housing projects targeting middle-income home buyers in the central districts of Mexico City. The investment was made by affiliates of Paladin's fourth institutional fund focused on Latin America. Paladin's joint venture partner is 3Mil SA de CV, a Mexico City-based private developer with over 60 projects completed or under development consisting of more than 2,400 residential units in central Mexico City. The new joint venture will "capitalise on the burgeoning demand for modern housing in Mexico City", says Manuel Campos, CFO of 3Mil. Favourable mortgage programmes provided by large private banks are supporting middle-class home ownership.
Roads to connect logistics facilities with manufacturing plants and end users present a compelling infrastructure opportunity for institutional investors. Pension fund clients of IFM Investors in January became part owners of Concesionaria Mexiquense, SA de CV, Conmex, the company responsible for the operation of Circuito Exterior Mexiquense, or CEM. CEM is a toll road that runs along the northern and eastern peripheries of Mexico City, providing the primary exit from Mexico City's key industrial corridors towards the Bajío region.
IFM Global Infrastructure Fund acquired a 24.99% stake in Organización de Proyectos de Infraestructura, S de RL de CV (OPI), which owns Conmex. In turn, OPI is a subsidiary of OHL México, SAB de CV, the Mexican unit of OHL Concesiones of Spain, one of the largest companies in the transportation infrastructure sector in the world. OHL México leads the sector in the Mexico City metropolitan area in terms of number of concessions assigned and kilometres managed.
In its Q4 2014 results release, OHL Mexico said the sale was part of its "strategy to optimise the value of its assets and maximise value for its shareholders". Owned by 30 Australian pension funds, IFM Investors paid $600m for the stake in OPI. It says Conmex is an essential operating asset with a strategic geographical position and a concession until 2051. In 2014, the average daily traffic on the CEM increased by 4.1% and the average toll per vehicle increased 7.6%. "This is an excellent opportunity to enter the Mexican market and [we] are pleased to commence our partnership with OHL Mexico," said Julio Garcia, head of infrastructure for North America at IFM Investors.
While Mexico City's growth appears on track to generate ample tolls, perhaps the most attractive feature of the Conmex investment is the government's commitment to a revenue floor. According to OHL's Q4 2014 results, the concession contract for Conmex includes clauses that guarantee the concessionaire a right to recover, within the contract period, the capital invested plus a guaranteed real internal rate of return, net of taxes, of 10%. The contract also establishes that "in the event that the concession expires without having fully recuperated the capital invested plus the accumulated guaranteed rate of return, the awarding government entity may extend the concession title or pay the unrecovered amount". That leaves IFM investors in the driver's seat.
City Focus: Milan - All the world's a stage
1

2

3

Currently reading

City Focus: Mexico City - Repeating the miracle