Real estate in the Mile High City might not be climbing as fast as it was, but the outlook for Denver is far from precipitous. Christopher O'Dea reports
It was not long ago that Denver was feted in local and national media for having one of the hottest property markets in the US. But there may be signs that the nearly decade-long boom in the Mile High City is cooling.
For institutional investors, the question is whether the future direction of the market will resemble the Great Plains to the east, or the nearby Rocky Mountains to the west.
Office vacancies declined to the lowest level in 15 years, according to CBRE Research, to just over 12% across all Denver submarkets. While there was positive net absorption in the quarter, Denver also saw "heightened sublease availability across key submarkets, particularly Downtown," according to CBRE's first-quarter Denver Office Marketview.
Absorption was particularly heavy in the city's lower downtown, or LoDo, where refurbishments for new tenants were completed in the first part of the year, allowing them to occupy pre-leased space. CBRE notes that direct vacancy decreased 48bps quarter-over-quarter, down 76bps from one year ago to the lowest recorded vacancy in over 15 years.
There was a similar story in the industrial sector, where the average asking lease rate increased 5.8% to the highest average rate to date for Denver, CBRE reports. Construction activity reached a new high for the cycle with 4.4m sqft in development. More than half of that (2.7m sqft) was in the Airport/ Montbello submarket. The net result: vacancy fell by 11bps from 4.8% in Q4 2015 to 4.7% in Q1 2016.
Investors were active in Denver's industrial market in the first quarter, with 1.7m sqft of space changing hands. Investment sales averaged $91.84 (€81.17) per sqft and owner/user sales averaged $81.10 per sqft — both benchmarks showing increases over their respective five-year averages. "Denver continues to be a widespread sellers' market, with owner/user sales being particularly strong," CBRE Research says.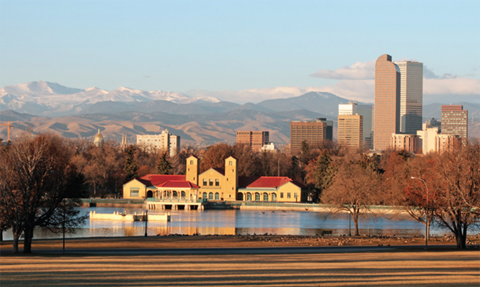 While the market remains tight overall, certain micro-markets are beginning to see a shift to a more tenant-friendly environment, CBRE says. The depressed energy industry is the primary reason for increased available sublease space Downtown, but industries such as financial services, healthcare and technology are backfilling tenant demand in the market, which will hedge available sublease space in 2016.
The canary in the coal mine of Denver's property market may well be the multifamily rental housing sector. During 2015, Metro Denver added 10,025 apartment units – the highest single-year delivery in the past 20 years, according to Colliers. But although apartment development is surging to record levels, "single-family home development is lacking and is well-below historic averages", Colliers says.
"While the Denver market has enjoyed a strong run for the past five years, rigorous assessment of the outlook suggests there is room for further growth, and much of that outside the city centre"
The interplay between the two segments is not obvious, but what is clear is that the first quarter of 2016 "marked the third consecutive quarter to experience an increase in vacancy", according to Colliers' data. That uptick "may indicate the apartment market may be reaching equilibrium considering the significant increase in apartment development over the past five years". As soon as job growth flattened in 2014, vacancy rates for residential rental property also stopped declining. And even as job growth has remained flat, Colliers expects vacancy rates to rise this year to levels last seen in 2000.
Nevertheless, while over-development of the Denver metro market has been a topic of discussion for years, Colliers remains sanguine. "With absorption numbers remaining strong, it appears we have not yet reached that point."
As investors ponder the fundamental data from each major real estate food group, real estate firms are taking on board the Denver workplace philosophy behind the city's economic boom – and thus the strong property market. At the new CBRE office in Denver, there are no assigned offices, even for the executive who oversees the company's operation in Colorado. Office space used to be designed for ego, CBRE's Colorado chief Pete Schippits said recently to local media, and today space is designed for production.
The new space does not include the clichéd ping-pong tables or massive leather couches that have become a hallmark of tech offices, but the layout showcases the sweeping views of Denver and the Front Range mountains from 32 stories above the lobby. Designed by Gensler, the heart of the space is a hotel-inspired lobby and cafe bar designed to attract employees and encourage them to move around, collaborate, and get work done wherever appropriate.
To that end, CBRE employees can choose from more than 15 micro-environments to tackle tasks, ranging from adjustable-height desks, quiet focus rooms or booths, small offices on hourly or daily booking, communal tables, or collaborative 'huddle' rooms. Laptops, wireless headsets and ample landline-to-mobile-phone connections allow work to move about as easily as the workers.
While the central business district (CBD) is maintaining its position as the top destination for offices, retail and apartment space in line with the 'live-work-play' theme, other Denver sub-markets face challenges. Suburban submarkets accounted for 93.9% of office sector investment sales volume in the first quarter of 2016, CBRE says.
While recent attention in property investing has centred on urban creative space, perhaps the toughest challenges are to be found in the Southeast Suburban market of Denver, says Newmark Grubb Knight Frank (NGKF). The firm recently conducted an analysis of suburban office property markets in the US to determine the key risk factors that make a property obsolete, and to identify key examples in major markets around the US.
Although larger in geography and inventory than the CBD, and serving as home to the well known Denver Tech Center and many financial and professional services firms, Denver's Southeast Suburban market faces an obsolescence problem, NGKF says – as much as 4.5m sqft, or 14% of the inventory, in the submarket is obsolete to some degree.
While many of the obsolete properties in the submarket are well leased as of now, and the collective vacancy rate of obsolete properties is slightly lower than the submarket average, the average asking rents for such properties is substantially lower than the submarket average, NGKF says. "This suggests that owners are aware that these properties do not meet tenants' current requirements and are targeting tenants who are focused solely on occupancy cost."
In effect, NGKF concludes, the rising tide of the Denver property boom has lifted all boats, even the obsolete assets in the Southeast Suburban district. Overall vacancy in the submarket has declined more than eight percentage points over the past six years, and while the area still has a fair amount of obsolete product, "it becomes clear that when a submarket is successful overall, it is far more forgiving of obsolescence factors".
That lifeline gave Denver's Southeast Suburban market a second chance. "With such outstanding fundamentals and many properties that are ripe for redevelopment, the SES submarket is primed for a number of mixed use and adaptive re-use developments in the near future."
The gap between properties that meet NGKF's six criteria for premium assets and those that don't is wide. In Denver's SES, 23 properties met none of the six hurdles, and those had an average asking rent of $15.56 per sqft, $4.76 below the overall market rate. The 14 properties that met the three main criteria – parking, access to public transit and amenities – commanded an asking rent $3.76 per sqft higher than the overall market.
Despite some cross-currents – and there are always variable winds in the Rockies – activity in the Denver market illustrates the adjustment process that follows strong economic and job growth.
Those properties in the suburban ring that offer transit access to Millennial staffers and parking space for Boomer bosses are positioned to attract tenants that will pay above-market rates. Properties that meet those requirements – and include key amenities – have vacancy rates 2.3 percentage points below the submarket average for the major suburban Southeast area of Denver.
While the Denver market has enjoyed a strong run for the past five years, rigorous assessment of the outlook suggests there is room for further growth, and much of that outside the city centre. In the office sector, the majority of capital placed in the first quarter went to suburban submarkets and the for-sale supply in Downtown remains limited. Smaller industrial spaces are in high demand in the airport submarket, but limited construction is not sufficient to meet market demand.
"While these spaces are leased at a premium, their rents are still below replacement costs," CBRE says. "Rates must rise in this product type to see significant construction begin," CBRE concludes, predicting that "demand for industrial real estate will continue to exceed supply in the next few quarters and therefore Denver will remain a landlord and sellers' market".
City Focus: Copenhagen - Probably the best city
1

2

Currently reading

City Focus: Denver - Mile-high market

3