North Carolina's controversial 'restroom law' has caused companies to shun Charlotte. But can the city weather the political storm? Christopher O'Dea reports
Location, location, location is the property industry's manta. But for Charlotte it strikes at the heart of a serious problem. The North Carolina city has enjoyed an economic boom over the past decade, but it is losing its attractiveness as a location for businesses, conventions, movie production and other economic activities.
Charlotte has become a casualty in America's culture wars. The crux of the problem is a state law passed in March 2016, called House Bill 2 (HB2), otherwise known as the 'restroom law'. HB2 prohibits transgender people from using restrooms that match their chosen gender identity – rather than their birth gender.
The state law reversed a Charlotte ordinance that had extended such rights, as well as other protections, to gay and transgender persons. The restroom provision generated the most controversy. But HB2 went further than just nullifying Charlotte's ordinance by including language to prospectively bar local governments in North Carolina from passing non-discrimination laws to protect the respective lesbian, gay, bisexual and transgender (LGBT) communities.
Reaction to the passage of HB2 was swift. And costly – primarily to Charlotte. It did not matter that it was Charlotte that had enacted LGBT and transgender protections; as the state's largest city and commercial capital, economic protest fell most heavily on the business community there.
Last summer, the National Basketball Association said it would move its All-Star Game from Charlotte in 2017, which is estimated to cost the city $100m (€93m) in related spending. In September, the National Collegiate Athletic Association, which supervises US college sports programmes, removed seven championships scheduled to be held in North Carolina during the 2016-17 academic year, including the first two rounds of its iconic – and lucrative – men's basketball tournament. All told, estimates of the cost of lost sporting events and conventions top $275m through early January.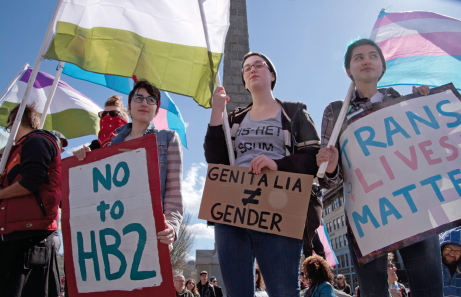 Efforts to tally up the economic damage HB2 has inflicted are ongoing. According to an analysis early this year by Truthout, a non-profit investigative news organisation, the economic loss statewide is at least $562m. The tally "is a conservative estimate", Truthout says. It does not factor in reports that some unnamed tech companies in Asheville – the centre of North Carolina's so-called tech Research Triangle – are no longer planning to expand in North Carolina, putting 1,500 new jobs at risk. Google Ventures is also reportedly stopping investments in the state.
The estimate is based on quantifiable loss of jobs resulting from companies opting out of North Carolina and locating operations elsewhere. PayPal cancelled plans to open a data centre that would have employed at least 400 people with a payroll cost of $20.4m, and Deutsche Bank halted plans to expand its North Carolina operations by 250 jobs, costing the state $27m in payroll and construction.
The biggest and most recent hit, says Truthout, was the loss of commercial real estate research business CoStar, "which bypassed Charlotte because of HB2 and instead chose Richmond, Virginia, where the company is expected to create 732 new jobs and have a total economic impact of $250m."
Beyond the controversy
For now, the prevailing winds are blowing against Charlotte's fortunes. But from a longer-term perspective, Charlotte has become a landlord's market – and ongoing activity suggests the city will weather the storm.
As the restroom controversy heated up late in 2016, so did Charlotte's office sector. Market-wide direct vacancy reached its lowest level in 16 years, dropping to 7.5% across the city's 11 sub-markets, according to CBRE's third-quarter Charlotte Marketview. That represented a decrease of 40bps from second quarter of 2016, and marked the lowest rate recorded in the Charlotte market since late 2000.
The steady decline in vacancy occurred during a sustained boom in Charlotte office construction. Since 2000, CBRE notes, more than 11m sqft of new space has been added to the Charlotte multi-tenant office inventory. Occupiers are snapping up space and staying put.
The total vacancy rate, which includes space that tenants offer for sub-lease, is only 8.4%, "indicating that there is very little 'shadow' space remaining available", CBRE says. And compared with the 9.1% total vacancy rate in the same time period one year ago, CBRE notes, "this indicates gradual but persistent improvement over a period of several years". In the central business district, Charlotte's largest sub-market, direct vacancy reached pre-recession lows, decreasing by 40bps to 6.8% in the third quarter of 2016.
In short, office space in Charlotte is not empty for long. Eight of Charlotte's 11 office sub-markets reported single-digit vacancy rates at quarter-end, according to CBRE data, while nine out of 11 sub-markets recorded positive absorption during the quarter – with the top-performing sub-markets being the two largest, the central business district (CBD) and the I-77 Corridor. The consistent absorption of space is good news for investors, says CBRE. "With such consistent declines in vacancy, owners throughout the metro area have been given the leverage needed to maximise rent potential."
"As the state's largest city and commercial capital, economic protest fell most heavily on the business community there"
The trend in rents reflects the low vacancy rate. For the 16th consecutive quarter, asking rental rates rose in the third quarter, CBRE data show. Year on year, the rental rate for the Charlotte market increased by 7.1% in the quarter, ahead of the national average increase of 6.3%. The overall rate reached a record high for the Charlotte office market, but more importantly, according to CBRE, "actual lease comps are showing an equal increase as expiring or expanding tenants and new entries to the market are faced with today's rental terms".
Those strong fundamentals reflect Charlotte's attractions. According to Charlotte-based property investment firms Lincoln Harris, they include a low cost of living, high quality of life, access to the 6th busiest airport in the world, and a diversified economy. So, recent controversy aside, Charlotte has become a strong market for investors.
Five new office buildings are under construction totalling more than 1.7m sqft, two are in the CBD, and three in Charlotte suburbs. The activity comprises both redevelopment of CBD sites or buildings, as well as new projects, including high-rise office towers and premium multifamily complexes adjacent to the city's central convention and business district.
Many of the projects are being undertaken by Charlotte-based developers and property investment firms. While the battle over social-issue legislation has garnered the lion's share of coverage about the city, Charlotte's growth over the past decade has spawned a robust pool of local property talent with the capital – and risk appetite – to undertake the kind of projects that had landed the city on the international corporate site selection short list.
In early January, Charlotte developer Northwood Ravin started construction on a high-rise apartment complex adjacent to the NASCAR Hall of Fame, which marks the current frontier of CBD density. The two-building project will face Stonewall Street, a thoroughfare being transformed by urban infill developments that are expanding the CBD. Other projects underway in the emerging Stonewall Corridor include a 450-unit apartment building and Whole Foods next to the district's light rail stop.
Closer to the heart of the business district, in the shadow of the Carolina Panthers' home turf at Bank of America Stadium, Lincoln Harris is planning a major mixed-use development on the former site of the Charlotte Observer newspaper. According to pre-construction documents filed in January with the city of Charlotte, the first phase of the project will be a 30-storey tower of about 1m sqft. Local media have reported that land purchase records indicate the land for the project was sold to GSLH Charlotte Realty Holdings, a limited liability company associated with Charlotte's Lincoln Harris, while state incorporation records show that a Goldman Sachs managing director is a manager of GSLH.
Some financial services firms are both investors and tenants in Charlotte. Barings will anchor a new 630,000sqft building when it occupies its nine-floor, 200,000sqft headquarters in 300 South Tryon in downtown Charlotte later this year. The land is owned by Barings Real Estate Advisers.
The HB2 issue was unresolved by mid-January after compromise efforts failed. The matter cost the Republican governor his office, and it is clearly weighing on Charlotte's economy. Travel bans for government employees to North Carolina are in effect in five US states and numerous cities. It is costing the state – and especially Charlotte – a good deal of money.
But the robust office property market illustrates that Charlotte is a city on the move – and as NASCAR's Hall of Fame champions like to say, "you only need to lead one lap to win".
City Focus Rotterdam: Towards a first port of call
1

2

Currently reading

City Focus Charlotte: 'Restroom law' fallout

3