A very strong jobs market has been transforming one of the flattest parts of Texas into a city of peaks and troughs. Christopher O'Dea explains
In the heart of Texas, one of the flattest parts of the US is being transformed into a city of peaks and valleys – albeit a metaphorical one. The peaks are the sky-high rental and occupancy in virtually every sector; the valleys reflect vacancy rates, which have not been as deep since the late 1990s.
Austin's peaks and valleys are being formed by powerful, long-term forces: demographics and lifestyle changes. The city has become the fastest-growing in the US since the recession, posting a total population increase of 14.8% between April 2010 and July 2015, according to the US Census Bureau. The broader Austin-Round Rock metropolitan area crossed the 2m population threshold in 2015 for the first time. It is home to several other Texas boom towns, including Georgetown.
Austin's population growth reflects a confluence of factors. The recession had only a moderate impact on the city, in large part due to the fact that Texas did not suffer a housing bust. As the capital of Texas, Austin's economy is anchored by the state government and the oil-funded University of Texas.
Although an inland city, Austin encompasses three lakes, and it borders Texas's scenic Hill Country region, affording ample opportunities for outdoor recreational activities, as well as water sports not typically found in cities far from the coast. South of the city is Formula One's Circuit of the Americas raceway.
The city is perhaps best known for its eclectic live-music scene. Its flagship music event, the iconic SXSW has mushroomed into a must-attend matchmaking pageant for digital entrepreneurs in the tech and media industries.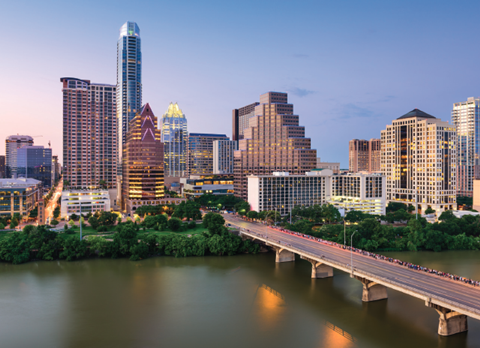 Tech giants are leading the demand for space in the office and industrial sectors, and the need for housing to accommodate incoming tech workers is boosting the residential sector. Some analysts expect the addition of high-paying tech jobs, and the absence of a state income tax, to boost shopping malls and retail strips – although tempering that positive outlook is poor transport infrastructure and the caveat that the tech sector can be a volatile industry.
"Austin has enjoyed one of the nation's fastest growing economies since the Great Recession," according to Green Street Advisors' Austin Market Snapshot for the second half of 2016. The city "has meaningfully outperformed the nation in terms of job growth and economic expansion for several years".
Unemployment near 3% "has contributed to a wave of new residents, especially millennials, who are attracted to the city's unique culture and ample opportunity for work," Green Street says. "Apple, Visa, and Amazon are among top employers who have stated their intention to expand operations within the Austin metro, seeking to take advantage of the highly educated local workforce."
Demand from office occupiers led to a new high for office rents and a new low for vacancy in the third quarter of 2016, according to CBRE Research. "Riding the influx of technology companies migrating to Texas' capital city, Austin continued to set new records for compressed vacancy and gains in asking rents," CBRE says. Occupier demand so far in 2016 topped 1.2m sqft during the quarter, pushing the vacancy rate to 9.3%.
Much of the demand for office space has been in the central business district. Dropbox is expanding its local workforce, Green Street notes, while Google has committed to leasing 200,000sqft in Trammel Crow's speculative office tower in 2017. With class-A space reaching a record of $38.3 (€35.7) per sqft during the quarter, CBRE says many start-ups are looking at, for example, co-working space.
Some office occupiers are looking to new sub-markets. Office and residential property had historically been concentrated on the west side of the city, with industrial property to far north and far south. In August, Oracle broke ground on the east side of the metro area for a 25-acre, 560,000sqft campus for its cloud computing division. "We're now starting to see growth on the east side of town for the first time in Austin's history because of some new roads and highway expansion," says, Troy MacMane, co-founder and managing principal of Brennan Investment Group.
Oracle also bought a luxury residential complex that it plans to convert to workforce housing. CBRE says the project has stimulated multi-family development in east Austin, activity that might concern incumbent multi-family investors. According to the City of Austin, the total amount of new condo and apartment units with site plans pending or under construction is near an all-time high.
"Unfortunately for current owners, developers have also taken notice of the robust economic activity," Green Street notes. "Austin is expected to experience tremendous supply growth over the next several years." However, due to Austin having the best employment growth outlook of the top 50 US markets, market revenue per available foot of apartment space – a metric that reflects changes in both occupancy and rents – is expected to outpace most major markets over the next five years.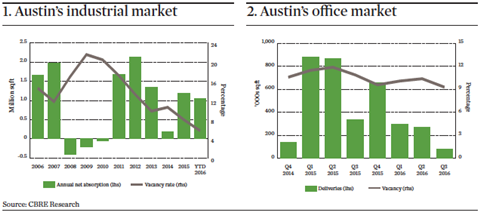 The scramble for space is even more pronounced in the industrial sector, where development activity has been proceeding at a brisk pace. Developers broke ground on 17 new warehouse and flex industrial projects totalling approximately 1.1m sqft during the third quarter of 2016, CBRE says. But supply remains short of demand, which saw citywide industrial vacancy fall to 5.7%, with three sub-markets under 3%. Although the new developments appear to be spec construction – just over 50,000sqft was pre-leased – rents continued to climb.
"Demand has remained high for any available space in the market, and historical data suggests that this demand will remain strong into the future," according to CBRE. "As the new product comes online, expect asking rents to push higher as a result of the more expensive space."
Some investors are taking a more measured approach to participating in Austin's economic growth by deploying capital into existing industrial properties. Brennan, a private property investment firm based in Chicago, specialises in mission-critical industrial property, targeting functional properties in infill locations that can be acquired at a discount to market value. The firm co-invests with institutions and private capital such as sovereign wealth funds.
In October, Brennan acquired a 28-acre, three-building industrial campus in Georgetown. The 192,060sqft of space will serve as the primary North American production operation for Manitex, which manufactures lifting and loading products. The transaction marks Brennan's second acquisition in the Austin area in 2016 and boosts Brennan's Texas region portfolio to 32 buildings.
In February, Brennan acquired a vacant 200,411sqft industrial facility in Round Rock, the northern sector of the Austin metro area, which is undergoing redevelopment into a food processing facility leased for 15 years to a company that moved to Austin from Los Angeles. With "strong absorption numbers and a declining vacancy rate", Austin's industrial market "continues to demonstrate strength", says MacMane.
Betting on continued economic growth to support property values in Austin looks like a winning wager. The city's population is expected to grow faster than any other US city of more than 1m residents by 2040, doubling to 4m, according to CBRE. While this growth presents challenges to Austin's transportation and utility systems, businesses will continue to move to Austin to tap the vibrant workforce.
The overall pace of growth in population and employment has been vital to the success of an industrial market in a city that lacks a dense interstate highway network, a seaport, and a major airport, Green Street notes. "Despite these physical and geographic shortcomings, rent and occupancy figures have surpassed prior peak levels, while a variety of firms continue to take space in the metro area." The most notable expansion in the region has been Amazon's decision to take a 850,000sqft distribution centre, which Green Street calls "a clear bet on future economic growth".
City Focus: Banking on Frankfurt
1

2

Currently reading

City Focus Austin: Moving mountains

3