Political instability has undermined Brazil's real estate industry. Should international investors stay away or take advantage? Christopher O'Dea investigates
At the time of writing, Brazil's president Dilma Rousseff is facing impeachment. It is the latest chapter in a corruption story that has undermined the country's economic progress. But it could make good reading for real estate investors looking at the market for the first time.
Investment advisers specialising in Brazil say opportunities abound right now, as weak economic growth, high interest rates and the ongoing corruption and political investigations create a perfect storm of distress. The situation is causing debt-laden Brazilian property companies to sell quality assets at deep discounts to raise cash. Developers are facing cancelled orders for multi-family units and are scrambling for short-term funding to carry them through an economic rebound expected to take hold late into 2017.
The consensus view is that the corruption crisis will lead to more stable and transparent economic, fiscal and regulatory policy-making. But the timing of any improvements remains unclear, so investors should make sure capital committed to Brazil has a long-term outlook.
"No one can exactly predict the political situation," says Dietrich Heidtmann, managing director and head of international capital markets at GTIS Partners. "This year is going to be another disappointing year from an economic growth point of view, and probably next year as well. So you shouldn't expect upside to be coming from macro factors. There's a lot of cleaning up to do and the corruption process will still take its toll on economic growth because of the many people implicated, specifically in Rio which will remain very depressed.
"That said, if you look at how the opportunities are priced, you will find this is actually a very good moment to invest." While it's hard to generalise and "every opportunity is different", Heidtmann says, the big picture is that "there's real distress in the corporate side."
Brazilian property companies have borrowed at the corporate level and during the past decade have taken on significant amounts of debt – even as the currency has weakened from an exchange rate of two reals to the US dollar to a rate of four. Individual assets do not typically carry debt, and institutional investors focus on acquiring the best quality properties from property companies in need of cash. With interest rates above 14%, Heidtmann says, "extend-and-pretend is a pretty costly strategy. The banks don't want to end up holding assets, so they're forced to do something."
In the private markets, "the opportunities that you see and analyse are starting to be priced according to the bad macro situation that we have", Heidtmann says. Office property vacancy in São Paolo is 20%, for example, with few takers for space built during the development surge based on the transition of 20% of Brazil's population into the middle class. That drove construction of office, housing and retail property that has now to be refinanced and in some cases completed. "When the music stops, developments keep getting delivered."
Earlier this year, the Canada Pension Plan Investment Board (CPPIB) increased the size of its Latin American team, having opened a São Paulo office in 2014. In Brazil, CPPIB is pursuing high-quality assets in property and infrastructure, such as gas pipelines and parking facilities. The Canadian fund's strategy is to acquire premier assets that can sustain operating performance over the long term, even if asset prices decline at certain times during a property cycle. Mark Wiseman, chief executive of CPPIB, last November told a Canadian news outlet that "very high quality assets" are available in Brazil at prices that are "attractive if you take a long-term view."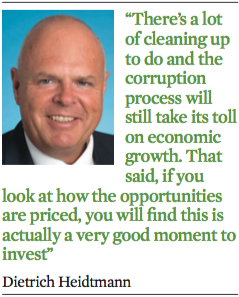 In infrastructure, the Petrobras scandal has triggered the offloading of shares in several airport concession companies, according to Modalis Infrastructure Partners, a strategic investment and professional services firm specialising in international transport infrastructure. Already, according to Modalis, sales of the stakes in five existing airport concessions held by contractors facing bankruptcy in the Petrobras scandal are under way. A third round of airport privatisation concessions is scheduled for mid-2016.
In a research update on Brazil, Paladin Realty Partners says that, "while distress opportunities abound, caution is clearly warranted given the ongoing and fluid political uncertainty, which is exacerbating what was already an acute recession". In the past year, Paladin has invested in a number of situations with distress themes, including acquiring high-quality assets at deep discounts from cost from distressed public real estate companies that need working capital, and recapitalising existing residential projects that are substantially pre-sold and built, providing exits to troubled listed homebuilders.
Paladin also acquired existing AAA-quality commercial assets on an unleveraged basis at steep discounts to replacement cost. The firm is "targeting double-digit unleveraged income returns on cost, essentially being paid to wait for a political resolution and economy recovery," according to the research update.
It could be a long wait. Paladin's "base case scenario [is] that inflationary pressures will continue to ease throughout 2016-17, giving the central bank increased flexibility to begin lowering interest rates in 2017, with the resumption of modest growth in late 2017". A February report from Moody's Investors Service confirmed that outlook. Moody's said property prices in Brazil had fallen between 5% and 20% in 2015 and that property will remain "under pressure" until at least halfway through 2017.
Despite the political crisis, day-to-day economic activity is continuing in Brazil. And the fundamental demographic trends remain in place, according to GTIS. Brazil's population is relatively young and growing – the average age is 31, with 56% under 35 and half of the population under 30. Brazil's working-age population, those from 15 to 64, is still growing, unlike Russia or China, and is projected to reach its peak of 70% of the total population in 2020. And Brazil's middle class is becoming a large consumer force – the share of the population earning a low income declined from 60% in 1990 to under 30% today.
While office values have fallen, there is pent-up demand for quality space, and occupiers are taking the opportunity to buy class-A space at bargain rates. And some features of the Brazilian property market make it more resilient, according to GTIS.
"Due to mark-to-market provisions and cancellation clauses, rents and vacancy in Brazil realign quickly and is the main path of adjustment," says Heidtmann. For property investors seeking to capitalise on the current weakness, "you need to be comfortable with Brazil in the long run".