Political and religious issues have threatened Atlanta's economic success, but its property market is still booming, writes Christopher O'Dea
Atlanta's property market is booming. American and international companies have increasingly moved business operations to the city over the past several years, taking advantage of lower living and operating costs, friendlier regulatory regimes and incentives from the city and state. This has generated jobs and fuelled a fresh round of hotel property development to accommodate robust demand from business travellers and convention attendees.
The feather in Atlanta's cap was the decision by Mercedes-Benz to relocate its US headquarters from New Jersey. The office and industrial sectors in the city display falling vacancy and rising rents and, in addition to speculative office development to meet the demand, several large build-to-suit projects have been commissioned by occupiers that do not want to wait.
The city, and the southeastern US in general, are experiencing long-term uptrends that are highly favourable for property investment. Employment growth of 3.4% annually is well above the 1.9% national pace, and it is diversified across manufacturing, services and construction. That is driving demand for industrial facilities, where the vacancy rate is the lowest since 2000.
Developers are building a lot and they are building big – CBRE Research shows that 17 properties with footprints of 500,000sqft or more account for 13m sqft of the record 18.7m sqft of industrial space under construction in Atlanta.
Reflecting robust business activity, Hartsfield International remains the busiest passenger airport in the world. Passenger traffic is increasing between 10% and 15% per quarter, and Hartsfield officials are planning to make sure the passenger experience is good enough to keep them on top. Earlier this year, Hartsfield officials sent a letter to the US Transportation Safety Administration, which provides airport security, that the agency must reduce waiting times or be replaced by private security contractors.
The city has even appointed a 'design czar' – a role unique among major US cities – to develop a vision for what Atlanta should look like decades from now and to craft growth and development principles to guide the city's progress.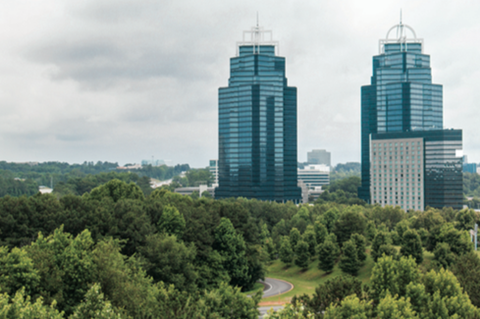 According to the Saporta Report, which tracks Atlanta business, civic and urban affairs, Atlanta's commissioner of Planning and Community Development expects the city's population could double in the next 15 years. The Atlanta City Design Project will determine how to handle increasing density by integrating the development of unused land in downtown with plans to showcase Atlanta's natural environs – the rivers, creeks, forests and ridges that give the city its landscape. In a February analysis of the Design Project by Saporta, the commissioner said "we are talking about starting with a foundation of green connections".
But a new Georgia religious-freedom law, which has embroiled the city in one of America's most divisive social issues, has cast a shadow over Atlanta's horizon. The last time Atlanta burned, it was at the hands of Union General William Tecumseh Sherman's campaign to break the Confederacy. This time the conflagration engulfing Atlanta was set by Georgia's own conservative politicians.
The Georgia General Assembly in March passed religious freedom legislation that includes a "pastor-protection" provision that would prevent pastors from being required to perform a same-sex marriage ceremony if it conflicts with their religious beliefs.
Georgia's governor vetoed the bill after intense pressure. More than 500 companies joined a coalition led by Coca-Cola and other top Georgia companies that urged the veto. The Walt Disney Company and Marvel Studios threatened to stop filming in Atlanta. The city has become a major on-location site, with nearly 250 film and television productions shot in Georgia in 2015, pumping $1.7bn into the state's economy. The National Football League also indicated Atlanta could lose its bids for the 2019 and 2020 Super Bowl.
But the battle might not be over. "We were totally, highly offended and angered to hear that the governor turned his back on faith-based organisations, the faith-based leadership in the state," said Pastor Garland Hunt, senior pastor at The Father's House in Norcross, Georgia, at a press conference he helped organise. Supporters of the law were assessing the potential to call a special session of the legislature to override the veto, but with a gubernatorial election coming up later this year further action on the controversial measure may be delayed until 2017.
There is a lot at stake. "The Atlanta office market closed out 2015 with a bang," according to CBRE Research's fourth-quarter Marketview. In 2015, office occupiers absorbed 2.6m sqft of space, just slightly below 2014's figure but well above prior years. With no new significant deliveries in 2015, the total vacancy rate dropped to 17.3%, its lowest level in 14 years, CBRE says. "The Atlanta [office] market has now experienced 13 consecutive quarters of declining vacancy, giving owners throughout the metro the leverage needed to maximise rent potential."
Property owners have not been shy about raising rents. The last quarter of 2015 marked the ninth consecutive quarter of average asking rental rate increases, CBRE says, and year over year overall Atlanta office lease rates increased 5.5% to a new high, and class-A rents rose 6%.
With rents at record highs and quality class-A space scarce, CBRE says "developers are poised to finally answer tenants' needs in 2016". There are two speculative developments under construction, totalling 850,000sqft, and three more speculative developments are anticipated to begin this year.
Some major corporate tenants have chosen the built-to-suit route rather than wait, CBRE says. Technology company NCR's new 485,000sqft headquarters recently broke ground and will begin to go vertical in the heart of Tech Square in Midtown this year. Mercedes-Benz USA will begin to construct its new 250,000sqft headquarters in the latter part of the year near the Sandy Springs MARTA station in the Central Perimeter district. And Comcast will place a 250,000sqft office tower at Suntrust Park, located in the Cumberland/Galleria submarket.
All that business activity has made Atlanta a major regional destination, according to Paul Breslin, managing partner of Panther Hospitality, a unit of Horwath HTL that specialises in hotel consulting and transaction advice. The Downtown area hosts approximately 22.5m visitors annually, across sports events, concerts, conventions and tourist attractions such as the Georgia Aquarium, which alone attracts approximately 2.2m visitors annually.
That translated into a 9.3% increase in revenue per available room (RevPAR) for Atlanta hotels in 2015, above the national average increase of 6.3%, according to the March edition of CBRE's Hotel Horizons research. Over the next four quarters, CBRE projects occupancy for Atlanta hotels will increase to 70.1%, better than the 70.0% rate in the trailing four quarters, and above the long-run average of 62.6% for the city.
Positive fundamentals attracted capital to the Atlanta hotel sector, pushing the cap rate for Atlanta hotel transactions below the national average hotel cap rate in the second quarter of 2014, according to data from Real Capital Analytics. In the 12 months through August 2015, there were 2,137 hotel property transactions in the US, with an average capitalisation rate of 8.1%, says RCA. Atlanta saw 49 transactions with an average cap rate of 7.8%, near the lower end of the 7.3% to 9.2% range for Atlanta hotel deals over the past two years.
Before the tensions over religious freedom and same-sex marriage erupted, a surge in new hotel property was under way. According to Lodging Econometrics, at the end of 2015 there were at least 57 projects with nearly 7,000 rooms either planned or under construction in the Atlanta market — up 30% over 2014. Of that, 16 were under construction and 33 were expected to start this year.
Perhaps no property uptrend would be complete without a residential project seeking to stretch design – and price – parameters. In Atlanta, that project is the Emerson, a three-tower condo planned for the fashionable Buckhead district north of the city. The 21-story buildings will contain about 44 units ranging from an ample 1,900sqft to a massive 7,000sqft. The modern design features glass-walled units with large terraces, stacked in an irregular pattern – a radical departure from the traditional architecture of most Atlanta property. More radical is the pricing, starting at $1.8m for a finished unit.
Institutional property investors continue to allocate capital to more proven sectors of Atlanta's multi-family market. Proximity to jobs, recreation and transportation are top priorities. Waterton, a Chicago-based institutional property investment manager with more than $4bn in multi-family and hospitality assets, in April acquired Savannah Midtown, a 322-unit mid-rise rental community in Atlanta's Midtown district. While lacking Emerson's flash, the one-and two-bedroom units are close to major employers, universities and medical centres, and just a few minutes' walk from parks and transportation links to Downtown and the airport.
Savannah Midtown marks Waterton's third multifamily acquisition in 2016; the firm owns and manages six other rental communities in the Atlanta area comprising nearly 1,900 units. "Midtown consistently ranks as one of Atlanta's top neighbourhoods for renters due to its walkability and robust job market," said Max Peek, executive vice-president of acquisitions at Waterton in a statement. "Companies that don't already have a presence here are opening research and development labs at Tech Square – a five-minute walk," he said.
While controversy over the pastor protection law might resume in 2017, in the meantime Atlanta continues to grow and attract businesses. This is good news for investors in areas like Midtown. "As more businesses move to the neighbourhood," said Peek, "demand for rental housing will only continue to increase."
Brussels: Capital gains
1

2

Currently reading

Atlanta: Legislating for success

3