Pension funds are beginning to pull capital out of core funds as return expectations diminish. But where, asks Christopher O'Dea, are they redeploying it?
Pension funds in the US are in the midst of a great rotation. Nearly a decade into a global property bull market, institutional investors have begun to reduce the amount of capital they give to the traditional workhorse of the asset class – the core open-ended fund.
But institutional investors are not necessarily trimming their allocations to property. In fact, pension funds are making fundamental changes to the structure of their property allocations, which is likely to result in higher allocations to a new, broader bucket of real assets, including other illiquid assets like agriculture, timber and infrastructure.
Within this new bucket, pension funds are applying the experience built up over years of real estate investment. They are demanding precise strategies from managers and using a wider range of investment structures. US pension funds have increasingly been deploying capital through separate accounts, joint ventures and co-investment accounts – structures that provide significantly more control over all aspects of the investment process.
It is a trend that IPE Real Estate identified in early-2016 as US pension funds sought more control over the timing of decisions that could affect investment performance – decisions where the interests of managers and their clients were not always fully aligned.
At the same time, in 2016 numerous large global investment managers restructured their property, real assets and infrastructure resources into unified groups focusing on delivering long-term, inflation-protected income to pension fund clients faced with rising liabilities at a time of low fixed-income yields.
Now those trends have come together, with a more sophisticated approach to property investment giving pension funds new tools in their long-running efforts to deliver performance and manage costs.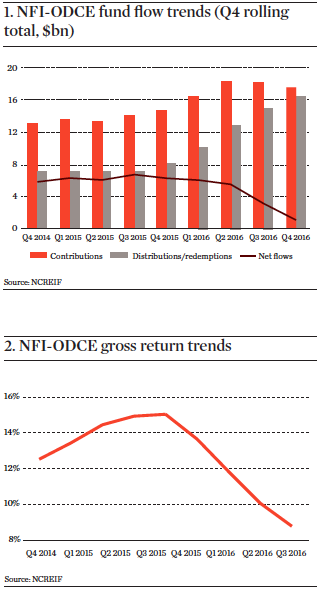 There is little doubt where pension funds are finding the capital to fund new strategies. They are taking distributions of capital – and in some cases requesting redemptions – from open-ended core funds. The trend became apparent in the second quarter of 2016, when the National Council of Real Estate Investment Fiduciaries (NCREIF) reported that funds in its Open End Diversified Core Equity (ODCE) index recorded redemptions and distributions of capital totalling $12.8bn (€12bn), up 26% from the first quarter and 80% from the second quarter of 2015.
Consultants indicate that many open-ended funds no longer have lengthy subscription queues, and some are starting redemption queues to ensure orderly capital withdrawals. The exodus continued in the third quarter 2016, with distributions and redemptions increasing to a new peak of $14.9bn for the trailing year. That sum represented 8.9% of the assets of the 24 funds in the index. Net ODCE fund flows decelerated from the $5-6.5bn annual trend of the prior two years, as third-quarter 2016 net flows totalled just $144m for a trailing year total of $3.2bn.
Net inflows turned negative in the fourth quarter of 2016, as distributions and redemptions ($4.4bn) outgrew contributions ($3.9bn). Latest figures from NCREIF show that net inflows into ODCE funds last year were the lowest annual total since 2009. ODCE funds attracted just $884m of net inflows in 2016.
The tectonic shift reflects not only the moderation in the returns on core US funds, but a growing interest in diversifying globally. As PGIM Real Estate CEO Eric Adler told IPE Real Estate last year: "This idea of global diversification for the long term seems to be much more in the lexicon of the US investor than ever before."
According to Adler, the traditional approach of having all of a pension fund's long-term, core property exposure in the US is being reassessed. Returns from core US property are moderating, following several strong years – making, for example, the pricing of core European property look attractive. US pension funds have routinely invested in closed-ended funds targeting value-added and opportunistic investments in international markets, and a shift to core investing internationally could provide an important new source of capital.
"It's the US money that changes things," said Adler," adding that "the next step in our product architecture in Europe will be some kind of perpetual-life vehicle akin to what we've been doing for decades in the US."
Performance is clearly cooling. ODCE funds last year produced their lowest annualised return since 2009, according to NCREIF, at 8.77%. Quarterly capital growth stagnated at just above 2% throughout 2016; during the previous year, it hovered around 3.5%. Quarterly income returns remained stable during 2015 and 2016, at just above 1%.
"With investors pulling capital from core funds, there is an obvious question: how will redeemed and returned capital – along with capital from increased allocations – be put to work?"
Despite the slowdown, US pension fund allocations to property have been climbing steadily since 2010, from an average of 6% to 7.3% in 2016, according to Preqin. And the 2017 Investment Intentions Survey from PREA, INREV and ANREV indicates that institutional investors across the globe expect to increase their target allocations by one and a half percentage points during 2017 to 11.5%. North American investors – already holding the largest share of their assets in property, with an 11.3% allocation – plan another increase to 12.1% on average.
With investors pulling capital from core funds, there is an obvious question: how will redeemed and returned capital – along with capital from increased allocations – be put to work?
At its December meeting, the investment committee of the Orange County Employees Retirement System (OCERS) discussed upcoming liquidations of real estate funds and how to handle the return of capital to the fund. While it is unclear where returned capital will be allocated, redeployments will be made in accordance with a new framework.
Early in 2017, OCERS adopted an asset allocation developed by Meketa Investment Group that created a new real assets category encompassing real estate, natural resources, and potentially infrastructure. The shift reflects changes that many large investment managers made during 2016. Real assets will account for 22% of OCERS' portfolio, supplanting the current targets of 10% for real estate and 8% for a real return bucket including agriculture, energy and timber strategies, as well as managers running real return multi-strategy portfolios.
Property has been a workhorse for OCERS's portfolio, ranking first or second in performance over the three, five, seven and 10-year time horizons reported by the fund. Real return, in contrast, performed strongly in 2016, but was a laggard over the longer periods. With $13.2bn in assets, OCERS achieved an 8.52% return in 2016, according to the fund's January 2017 investment report. Property accounted for 8.5% of assets at the end of 2016; the allocation posted a return of 9.72% for the year, compared with 8.02% for the fund's total real estate custom benchmark.
Some pension funds are swimming against the tide by jumping into core property while many are getting out. The $14.2bn Public Employees Retirement Association (PERA) of New Mexico earlier this year took the initial step towards investing in core property for the first time.
But it is testing the waters with a vehicle that affords significant control over the investment process and has a focus on a single sector. Instead of subscribing to an open-ended fund, PERA is committing up to $150m to what it describes as an "illiquid real estate fund of one", managed by Sarofim Realty Advisors.
The move by PERA illustrates pension funds' increasing demand for sector-specific property investment strategies, as well as the increasing desire by asset owners to use investment vehicles that accommodate their requirements in a variety of areas such as control over investment decision making or specific return or leverage levels. The vehicle will permit the manager to use up to 50% leverage, and is targeting gross returns of 9% to 10% from a portfolio of five to 10 properties, predominantly core and core-plus retail assets in grocery-anchored shopping centres.
As US pensions move beyond core funds, lowering costs is on the menu, too, and some are taking the ultimate step towards fee reduction by going it alone.
Late last year, the $62bn Massachusetts Pension Reserves Investment Management Board (Mass PRIM) made its first direct property investment, an acquisition of three office buildings on 21 acres of land in Silicon Valley for $112m. Mass PRIM says its Project SAVE programme trimmed investment costs by an annualised $146m over the past five years.
CIO Michael Trotsky expects to save approximately $11m in investment management fees over the next 20 years "by purchasing and owning this land directly rather than through an investment manager".
If the great rotation comes full circle and Trotsky's do-it-yourself approach catches on, will open-ended core fund managers have more to worry about than redemptions?