---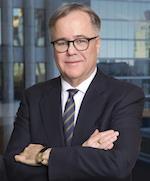 Hugh O'Reilly took the top job at Canadian pension investment manager OPTrust three years ago. He talks about pursuing a member-driven investment strategy for real assets. Interview by Stephanie Schwarz-Driver
OPTrust manages and administers the OPSEU pension plan for the Ontario Public Service Employees Union and the Province of Ontario. The defined benefit plan has 92,000 active members and retirees, and net assets of over C$20bn (€13bn). Spun off from a larger fund in 1995, OPTrust was founded on a governance structure giving the union a greater say in the running of the fund – of its 10 trustees, five are appointed by the government of Ontario and five by the union.
Unlike many Canadian pension funds that have created specialist subsidiaries, OPTrust relies on internal resources for investment management as much as possible – about 70% of the fund is managed internally – not just real estate, infrastructure and private equity, but also bonds, foreign exchange, and public equities.
"We pay less in fees," says Hugh O'Reilly, president and chief executive officer. "But, importantly, we can invest in a way that we can focus on our objectives and our risk-allocation ambitions."
The plan is committed to investing in alternatives and has a significant proportion allocated. Real assets play several fundamental roles in the OPTrust portfolio as a source of diversification, stable income, and inflation protection.
O'Reilly stresses that the investment strategy is "organic, market-based and thoughtful". And this broad-stroke philosophy has been paying off. In 2017, real estate returned 14.7% and infrastructure 11%. Despite these strong results, the real estate portfolio declined overall, falling from 15% of the total portfolio in 2016 to 9.4% in 2017.
O'Reilly explains that the real estate reduction does not represent a strategic repositioning but rather an opportunity to extract the most value from the portfolio. "I believe we have skilled investors across all investment categories. When they believe the time is right to make a sale, they do sell." Managing the portfolio is a "constant process", he says, and gains will be deployed when the time is right.
The real assets investors are bottom-up, but they also have a total fund perspective. There is a "dynamic tension" implicit in this approach that makes it interesting, and successful.

Both perspectives are crucial to the fund's overall management. Real asset investing is at its core a bottom-up process, but the fund's fiduciary responsibility makes a total fund perspective essential.
O'Reilly joined OPTrust in 2015, and since then he has united all asset management under one mission. "The most important metric for us is the funded status of our plan," he says. "We are fully funded and very prudently managed." This approach, termed member-driven investing, is fundamental to OPTrust.
"We see ourselves as risk allocators – we view risk as an asset class," he says, noting that it is essential that the fund is paid for the risk it assumes. The primary goal is not to be an asset manager but to manage assets to ensure the funded status of the pension fund. As a result, stability is a more important objective than the quest for incremental returns.
"Our view of risk is based on the demographics of our members," he says. "We do not want to be in a position that we have to pass a bill on to our active members."
But being cognisant of risk, and dedicated to prudent management, does not mean that the fund's outlook is staid. In fact, O'Reilly is focused on how the fund can move further within the parameters of rigorous risk management and absolute focus on its responsibilities to its members.
"We live in a disrupted world. Our view is that this disruption is here but how it will manifest itself is less clear," O'Reilly says. "We are excited, and we are embracing it."
From a real assets perspective, this leads to a blurring of the lines between asset classes, O'Reilly explains. The distinctions between real estate and infrastructure, for instance, are no longer so cut and dried. Warehouse investment is one example. "In the 'Internet of Things' era, warehouses are now important components of the modern economy and are more high-tech inside than you might imagine," O'Reilly says. "Do they fall into real estate or infrastructure?"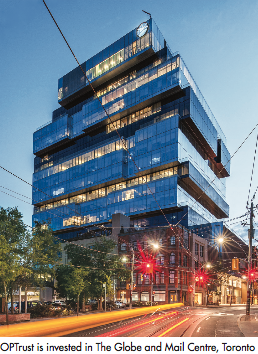 A willingness to look beyond traditional distinctions led OPTrust to EdgeCore Internet Real Estate, announced in February. This is a partnership with the OPTrust infrastructure team, the real estate team at GIC – the Singapore sovereign wealth fund – and Mount Elbert Capital Partners, a Colorado-based investment adviser focused on real assets. The investment vehicle intends to develop, acquire, and operate data centres across North America. It has initially been capitalised with US$800m (€678m) of equity to support over US$2bn in investment and development.
EdgeCore opened by acquiring land in Mesa, Arizona, with plans for further immediate acquisitions in Dallas, Texas, and Reno, Nevada, and shortly after acquisitions in three more markets to be determined. Construction is due to be complete on the first centre later this year.
"Data centres are the factories of the knowledge economy," says O'Reilly. "And the tenants are large, utility-like organisations, so we view the leases from that perspective."
The partnership model of the EdgeCore investment is central to OPTrust's approach. "We rely on internal knowledge, but relationships are fundamental," says O'Reilly. The fund targets investments in the $50-150m range, so they participate in bigger deals through partnerships. "In the knowledge economy, networks are a key differentiator."
And size has not kept the fund from international ambitions. OPTrust has offices in Australia and London, as well as in Toronto. "Understanding geopolitical cross-currents is essential – we are dealing with much more complicated geopolitical circumstances than we were a few years ago," he says.
North American tensions have not led OPTrust to pull back from US investments. "The market is strong from an investment point of view," says O'Reilly. "We value our relationships with US and American partners. The US is a critical market for us – we are neighbours."
Another complex issue OPTrust is willing to engage with is climate change and broader ESG issues. In fact, the fund is known for its willingness to take a stand and speak out on responsible investment and sustainable business practices. "We do not believe in divestment – the process of engagement is what matters," says O'Reilly. While the fund will not invest in companies based on involvement with land mines, cluster bombs, or tobacco – a decision made in late-2017, acknowledging there is no safe form of tobacco use – in other areas it aims to be an active investor.
In terms of real assets, climate change is a priority. "Oil and gas will be important for 30 or 40 more years, but we are active in investing in renewables," said O'Reilly. OPTrust owns one-third of the third-largest wind farm in Australia, for example. Investments are made in both greenfield development and existing operations.
And energy efficiency and environmental responsibility are priorities not just in investment decisions but also in development projects. While the fund has won awards for some of its new development projects, O'Reilly says that a focus on efficiency is becoming standard business practice. "Any developer today is doing that – it is what the tenants demand," he says.
The issue is a little more complex with data centres, which are heavy users of energy. "This takes us back to disruption," O'Reilly says. "In this context, we are very good at valuing tangibles. But what about intangibles?"
But the firm also focuses on well-run companies. "Academic studies have demonstrated that well-governed institutions, and those that invest in their people, are more successful," he says.
Looking ahead, OPTrust is not focused on any particular market. It has an eye out for mid-sized opportunities, says O'Reilly, "and we like to think we are always looking for assets that are less loved but have potential".
"What matters," he says, "is the funded position of our plan. We will remain true to our member-driven investment strategy, keeping our promise to our members to pay our promised rate."