Is the UK's healthcare system going to be transformed by institutional capital over the next decade? Jennifer Bollen talks to the sector's early movers
The UK's publicly funded healthcare system, the National Health Service (NHS), turned 70 this year. As it gets older, it is in urgent need of private investment to fill funding gaps. An increasingly elderly population, a significant shortfall in healthcare facilities, and the longest slowdown in funding in the NHS's history have created a case for consolidation in the system.
Benjamin Davis, chief executive of Octopus Healthcare, says the institutional investment opportunity was all about demographics – a rapid increase in people over the age of 65 and significantly higher demand for care homes among those aged over 85. He predicted the latter would increase by 40% in the next four years.
Piers Sword, a partner at Montreux Capital Management, a boutique investment firm specialising in the UK care market, says more people are living with learning difficulties, mental health issues, and physical injuries. "Within that there is a duty of responsibility, particularly in learning disabilities and mental health, which falls on the government," he says. "It does not have the most appropriate or the most effective infrastructure with which to provide care. This is where the private sector steps in."
A 2018 global healthcare outlook published by accountancy Deloitte highlighted the need for private capital, particularly in England, where it said the demand and financial sustainability problems appeared the most acute. It found that NHS funding growth between 2010 and 2011, and 2015 and 2016 slowed significantly, averaging 1.2% a year in real terms. This is set to average at 1.1% from 2016 to 2017 until 2020 to 2021, compared with a long-term average of almost 4% a year since the NHS was established in 1948.
A report by accountancy PwC in 2016, 'Capture the growth: the opportunities for new entrants in healthcare and wellbeing', laid out the huge growth potential for private investment. It said the NHS accounted for about 85% of UK healthcare spending, with private capital making up the rest.
Octopus Healthcare, part of the broader Octopus Group, whose investments range from venture capital to non-bank lending, manages about £1.6bn (€1.8bn) of funds across three main areas: care homes, retirement living and doctors surgeries.
Octopus sees healthcare as an infrastructure strategy rather than a private-equity play because it forms the fabric of society. It also shares infrastructure investment characteristics – long-term funding requirements and steady, lower income-style returns.
Target Healthcare thinks similarly. Chief executive Kenneth MacKenzie founded the real estate investment trust in 2013 as a long-income fund that would pay 6% income a year on a quarterly basis. As of October, Target's market capitalisation stood at £390m. It has delivered a total net asset value return of 30.9% since its launch.
"We laid out for investors from the beginning that they wouldn't make a lot of money investing in us – that we'd pay a 6% dividend and there would perhaps be a small capital uplift," he says.
"We've been favoured with their investment money throughout that period and the returns have been remarkably stable, around 7% to 9% year-on-year for the last five years. Essentially it's made up of the 6% income return and 2% or 3% capital growth as the asset matures and is valued accordingly."
Care homes in particular provide long-term inflation-linked returns, perfect for liability-driven investors and those seeking greater stability in uncertain markets. Tenants often sign 25-35-year leases – far longer than traditional real estate markets.
There is a small but significant corner of healthcare private capital going beyond the traditional strategy of investing either in the business operations or the real estate. Australian infrastructure manager AMP Capital is among those specifically investing in operating companies and their properties. It believes the biggest returns lie in the underlying business.
In December it agreed to buy The Regard Group, a Surrey-based care provider for adults with learning disabilities and mental health issues, from Montreux Capital Management and Macquarie Principal Finance. Montreux, too, targets operating companies as well as their real estate.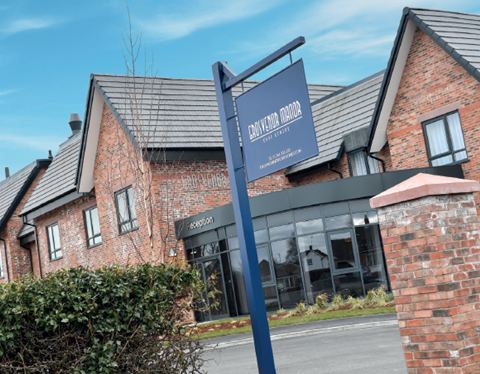 Ruben Bhagobati, a senior principal in AMP's infrastructure equity team, responsible for European healthcare, said: "We don't look to just own the real estate and let someone else operate the business. There are strategic reasons to own real estate. Accommodation in healthcare is a core part of the product and if you own the real estate you have a greater ability to refurbish, improve the accommodation and control your offering."
As an active manager, AMP will use The Regard Group as a platform for acquisitions and property developments. The business was a relatively short investment for Montreux, which acquired it in 2014, before building it into a national company with acquisitions such as Aitch Care Homes and Adelphi Care.
At the point of sale to AMP, The Regard Group operated 161 specialist care facilities across the UK and employed 2,200 staff supporting 1,100 individuals, according to Montreux. Over the course of the investment, Montreux, doubled the group's earnings before interest tax depreciation and amortisation to more than £23m.
Selling the company meant Montreux needed to buy another platform for consolidation. It sourced Active Assistance, which it describes as the UK's biggest single-focus complex care provider.
Montreux, which is far smaller than AMP with £123m of assets under management, has enjoyed impressive returns. The fund has returned more than 115% over the past four years, according to Sword. Most of that figure was boosted by acquiring operating ebitda, bringing it onto the fund's bigger platform and creating synergies.
"The fund can purchase smaller, regional groups at a low ebitda multiple and bring them onto a platform, which due to a scarcity of national providers, can be valued at a significantly higher multiple," Sword says.
Following a similar strategy is UK private equity firm Duke Street, which bought Voyage Care, a care provider for people with learning disabilities, for a reported £375m in 2014. Swiss alternatives firm Partners Group and Souter Investments, the family office of Stagecoach co-founder and chairman, Brian Souter, joined Duke Street in a funding consortium for the deal.
Voyage, which Duke Street had previously owned from 2001 to 2006, has a mostly freehold estate, which the buyout firm says "underpins the acquisition price and provides downside protection". The firm identified three main areas of growth: increasing demand for Voyage's services, a building programme for residential care, and bolt-on acquisitions of businesses specialising in learning disabilities or acquired brain injury services. Voyage acquired Focused Healthcare, which delivers care to children and young people with acute, complex and chronic illnesses, in August 2017.
Based in the US, Revera, an owner-operator of senior housing assets, has more than 500 properties in its home country, Canada and the UK, providing accommodation, independent and assisted-living and long-term care. In June it bought Signature Senior Lifestyle, a UK operator and developer of senior care and nursing homes, whose investors have included US REIT Welltower, which targets retirement housing operators and care providers to back real estate infrastructure.
However, as is typically the case with consolidation, this strategy might only last for a few years. "The opportunity has a limited shelf life," says Sword. "As more institutional buyers enter the market, the rate of consolidation will increase. There are probably another five to seven years in the consolidation play before the strategy will become a yield play."
Although some investors believe the best value is in the operator, others are committed to a more traditional property strategy. Target is carving out a niche with purpose-built care homes, supplying en-suite accommodation in a sector where modern housing is not yet standard.
"We would never develop a home ourselves," MacKenzie says. "Sometimes we have been invited to do so, but we don't want to compete with our natural owner-operator, which may be trying to buy that piece of land to build a home. We see ourselves as a long-term capital provider of lower cost capital to fund pre-lets."
However, Target uses a strict due diligence process to assess its tenants. "We have had several cases where we've turned down operators because we weren't happy with their performance as an operating company," says MacKenzie.
"We have a position where if we're dissatisfied with the quality of what they're doing, economically or societal, we're able to start a conversation which could result in a change of tenant."
Davis agrees. Octopus has almost 60 people dedicated to healthcare. "You don't want to be investing in healthcare unless you really know what you're doing," he says. "You need to be a specialist fund manager and a fund manager that can evaluate the operator, from the head office set-up, the resource support structure and their values [of] how they operate as a business."