In the US, to understand a city's student-housing prospects, investors need to follow university sports programmes. Christopher O'Dea reports
When identifying the right city in which to invest in student housing, institutional investors could scope out university dormitories to see if students are happy with the existing provisions. But it might be a better use of time to scan the horizon for a massive stadium because, when it comes to assessing a university's ability to attract rent-paying students – the primary driver of returns from student housing, nothing gives a better indication of strong enrolment trends than a football field surrounded by 80,000 seats and a deck of skyboxes.
While there is no doubt that success in today's knowledge-based economy requires a high level of educational attainment, the best and brightest are looking for more than just a degree after four years of study. Tempered by reports of how high levels of college debt have hamstrung the generation that graduated in the midst of the financial crisis, today's students are looking for advantages to help launch their careers, and sustain them for years to come.
This heightens the value of the social networks and connections that university attendance can provide, while competition in the knowledge-driven job market is placing a new emphasis on acquiring digital skills and entrepreneurial experience that can help graduates hit the market running – whether they are looking for a job or start-up funding.
Big universities with major athletic programmes are emerging as winners in the increasingly competitive education market, which is giving their campuses and surrounding towns an edge when it comes to student housing property. Often public universities funded by US states, these schools have cracked the code on student recruitment – using the marketing savvy gained from building championship-level athletic programmes to attract a steady flow of students.
In fact, at the most desirable schools there are so many applicants that acceptance rates are declining, even as total college enrolment in the US is declining slightly.
Most students will never set foot on a football field or a basketball court. But the sports-driven brands anchor a network of social connections that extends from campus life to the corporate boardroom. That robust university experience, in turn, attracts funding and facilities from major corporations, venture capitalists and research foundations seeking a pipeline of new graduates and a location that will attract and retain top talent.
Many of the universities that are best-positioned to deliver on that value proposition are the members of the big US athletic conferences, known as the Power Five. The Power Five is an elite group, consisting of universities with major football and basketball programmes – and attendant television broadcast revenue.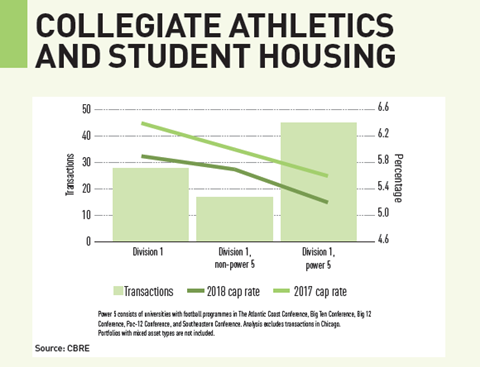 The Power Five is comprised of the Atlantic Coast Conference of public and private schools in the Eastern US, the Big Ten Conference of large public universities in Midwestern states, the Pac-12 Conference in the Pacific Northwest, the Big 12 Conference cutting across several regions, and the heartland of American college football, the Southeastern Conference, or SEC.
Primarily due to football broadcast revenue, the Power Five racked up staggering revenue growth even during the recession. Between 2011 and 2017, football revenue increased from $5.6bn to $8.3bn, at the 108 public schools tracked by USA TODAY Sports and Syracuse University's SI Newhouse School of Public Communications.
The financial markets have recognised the value of the ecosystems built around university towns that meld big-time athletics with big-time academics. Student housing linked to these schools commands a premium price. "The Power Five conferences are where we see the most demand for student housing, so properties near those transact at the lowest cap rates," says Jaclyn Fitts, the Dallas-based head of US student property investment sales for CBRE.
According to CBRE data, the blended cap rate of 5.23% on 45 student housing transactions at Power Five locations during 2018 was 54bps lower than the 5.77% blended cap rate on 17 student housing transactions at NCAA Division I schools that were not Power Five conference members. Division I schools are the largest in the National Collegiate Athletic Association, which governs college sports in the US. The cap rate for Power Five transactions was 73bps lower than the cap rate of 5.96% on 28 student-housing transactions at schools outside Division I.
With thousands of universities in the US, competition for students is fierce. "It's a bit of a case of the haves and the have-nots," says Kevin Kaberna, executive director of investment for Greystar, which owns 55,000 student-housing units in the US, the UK and Spain. The "haves" are big public universities that enjoy strong state financial support, and Ivy League universities and Ivy peers such as Stanford University near Silicon Valley and Massachusetts Institute of Technology in Boston. In addition to a top-flight degree, those institutions deliver a lifelong contact network. "The social experience that you get by going to one of these stronger, larger schools – that just will not go away," he says.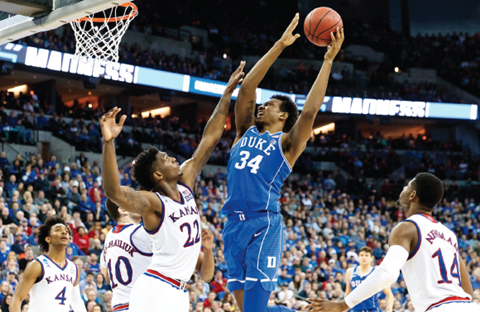 Call it the D-One effect. "Our investment thesis is to make sure we're focusing on the schools that we believe will continue to have enrolment growth," Kaberna says. "We talk a lot about the Power Five, the big conferences and big schools that get the most exposure. We're seeing states supporting and funding a handful of schools in each of their markets, so we really want to focus on those." The proposition is straightforward. "It's the quality of the education, it's the quality of the experience and, believe it or not, a lot of that is related to athletics," Kaberna says.
The professional administrators who run these vast enterprises possess marketing savvy honed in the competitive cauldron of big-time sports. The business model is clear-cut: athletic directors recruit top athletes and coaches who can create institutional pride by winning championships; fundraising experts parlay that pride into gifts from alumni; and admissions officers tap the symbolism and storylines of sports to motivate prospective students to take part in the saga. It is an exercise in generating brand loyalty at the deepest level – graduates receive not only a degree, but lifelong membership in an alumni network, a system of contacts and recommendations that can propel a career for decades, sometimes across generations. "Ultimately, those schools tend to market very well and drive student demand," Kaberna says.
Large state universities are also adept at capturing the long-term benefits available from the flow of students generated by their sports-driven recruitment machines. Rather than bid graduates farewell, large schools are building research and employment ecosystems that help graduates find jobs or start companies in the surrounding area.
One of the university towns in the US displaying the robust growth is actually a cluster of campuses. The Research Triangle in Raleigh-Durham, North Carolina encompasses three major universities – Duke, a private institution, and two public universities, the University of North Carolina at Chapel Hill and North Carolina State. All three are members of the ACC – a Power Five conference – and Duke itself is a perennial contender in the NCAA Final Four basketball tournament.
The Research Triangle is emerging as a new model of the university town, combining academic prowess with scientific innovation and research across several critical 21st century disciplines, located in an area near cultural and outdoor recreational options that attract academic, corporate and financial talent alike. It is anchored by proven undergraduate recruitment programmes.
"In a knowledge-based economy, access to high-quality talent is vitally important to employers," says Tim Wang, managing director and head of research at Clarion Partners. Companies see value in locating headquarters and research facilities near top schools that can supply both new graduates and provide a window into ongoing innovation in a range of sciences and technical disciplines. "They are looking to locate near good universities that are also in places where young people want to live," says Wang.
At NC State, for example, demand for rooms close to campus has sparked conversion of some sports-related space to accommodate students. A parking lot near NC State's Carter-Finley Stadium was recently sold for $12.4m to make way for a new student housing development, The Station, which will comprise 174 homes and 658 beds. Construction is expected to be completed by 2019, by a developer that is working on two other student housing projects on the NC State campus.
The Research Triangle has become a major centre of life science and technology development. As part of a research agreement announced in July with Duke University, Microsoft plans to build an "Innovation Hub" at The Chesterfield, a former cigarette factory located in Durham's Brightleaf District. The 286,00sqft building was redeveloped in 2017 by Wexford Science + Technology. The District features property for the live-work-play lifestyle typically associated with major urban centres, ranging from entertainment and dining to retail and housing.
Duke is committed to occupying 100,000sqft in The Chesterfield. The new hub is part of an effort by Microsoft and Duke to collaborate on improving radiology by using cognitive and data science tools through Microsoft's Azure cloud computing system. Duke says the new lab, expected to be completed this fall, will locate Microsoft data scientists next to researchers from Duke's schools of medicine and engineering and the Duke Clinical Research Institute. Duke students and faculty will also have access to the Azure offerings without having to use the lab.
Student demand for limited spots at the main campuses of big public universities – the locations that boast powerhouse sports teams and top research facilities in vibrant downtown districts – is turning satellite campuses into destinations in their own right, says Fitts. Many of those are secondary campuses in major state university systems in states such as Texas and North Carolina, Fitts says. They have historically served as 'transfer schools' for students who could not qualify for admission to the main campuses in those states, such as Austin in Texas and Chapel Hill in North Carolina. "Now some of those campuses are creating their own identities," Fitts says. "Students want to go and enjoy the campus life, and not transfer to another school in the system."
Developing new identities for satellite campuses might be another result of the marketing skills of big-school administrators, but it creates an opportunity for property investors.
One strategy investors might consider is to acquire student housing serving Division 1 schools not in the Power Five. Housing assets there can benefit from the consistent strong demand generated by students seeking admission to the main campus, while offering higher cap rates. "Investors could look to those schools to get a better yield," Fitts says.
Just as sports teams cannot stay on top forever, the opportunity to acquire student housing at secondary campuses may not last for long. But, for now, investors might want to get hold of the right colour pom-poms to cheer on their teams – and their student housing portfolios.
Student housing: Time for revision
1

2

3

4

Currently reading

Student housing: Watch the game

5