US student housing is getting top marks from investors. Christopher O'Dea looks at a sector about to graduate
The student-housing sector in the US is replete with attributes coveted by today's institutional real estate investors. Many universities are allocating limited capital resources to faculty budgets and deferring investment in new or refurbished housing – at a time when much of the on-campus housing stock built in the 1970s is showing its age.
Demand for rooms, meanwhile, is strong. University enrolment is expected to remain strong, supported by demographics. Enrolment is also supported by the fact that many people – young and old – go into further education when jobs are scarce. For the most part, student-housing contracts are guaranteed by parental credit cards, leading to a better credit profile than typical multi-family buildings and mitigating the risk of damage to student units. The result is a property sector which has attractive yields, reflecting a clear but manageable operational risk – along with a cushion against economic weakness.
This has moved student housing to the top of the list for institutional investors seeking to diversify their property portfolios, and major pension investors are dedicating resources to the sector. "We think it's unique enough and now has enough institutional participation to offer it as a specific strategy," says Michael Schwaab, senior director with TIAA Global Real Estate and lead portfolio manager for its student-housing strategy.
TIAA had invested in multi-family property that happened to be occupied by students, and during 2015 it initiated a strategy to invest in purpose-built student housing. Through its CASA team, which manages multi-family portfolios, TIAA manages separate-account mandates as well as in-house assets in student housing. "We have a wide variety of investors looking at this strategy," Schwaab says.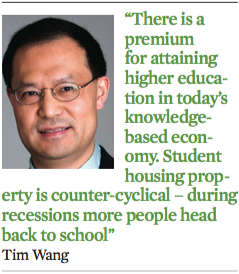 While returns are higher than traditional multi-family assets, the most compelling rationale for investing in student housing is diversification, says Tim Wang, director and head of investment research at Clarion Partners. "There is a premium for attaining higher education in today's knowledge-based economy," says Wang. This keeps enrolments strong in good and bad economic conditions. "Student-housing property is counter-cyclical – during recessions more people head back to school."
When enrolments rise, student-housing rents tend to follow. Nationally, only about 30% of US students live on campus, says Wang. "There's a need for modern student housing," he says. "Much of the housing stock built during the 1960s and 1970s is functionally obsolete," he says, and new or renovated property "tends to be off-campus".
It is important for institutional investors to collaborate with universities to meet the accommodation need, says Schwaab. "We don't want to compete with the schools for housing," he says. "We want to be good neighbours." That means working with strong, professional local operators and keeping rent increases in line with increases in on-campus housing, which are typically just 2% to 3% annually.
Perhaps most helpful is to pick good neighbours as part of the investment process. Using a series of financial, economic and demographic screens, TIAA distills the housing situation at roughly 4,600 universities in the US into a target list of just under 100 universities that meet its criteria. The manager invests in existing properties only, electing not to take on development risk. One of the key filters is to limit investment to property near schools that house no more than 40% of the student body in on-campus residential buildings, Schwaab says. "That provides a deep enough pool of occupiers."
During the past year, concerns increased that new supply might outpace demand as student-housing REITs delivered new projects. These concerns eased somewhat when the latest round of earnings revealed strong occupancy rates, less new supply in the pipeline, and rent growth between 3% and 4% annually.
While those results affirm that a significant number of people are still making their way to college campuses, the prospect of near-term returns from investing in student housing through the REIT channel has dimmed after a year of strong performance.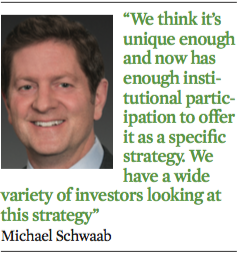 The rise in supply and a year-long rally in the prices of the two major student-housing REITs – American Campus Communities (ACC) and Education Realty Trust (EDR) – were enough to prompt Goldman Sachs to downgrade both REITs from neutral to sell ratings in December.
Goldman has stuck to its previous expectation for "slow but predictable earnings growth for student-housing REITs", but the company said "recent share price performance has changed our views on valuation".
In September 2015, ACC and EDR traded at record multiple discounts of 21.8% and 16.8%, respectively, to multi-family REITs based on 2016 estimated funds from operations. By December 2015, Goldman says, the shares were at 8% multiple premiums.
Still, Goldman's cautious outlook mainly reflects the firm's view that other REIT sectors based on short-term leasing, such as storage property, offer better near-term appreciation potential. High occupancy rates – above 97% for both companies in late-December – mean rent increases could be tempered. But over the longer term, Goldman says the upside for both ACC and EDR is the potential for better-than-expected yields on development pipelines. "The main variable of student-housing earnings growth is external, rather than internal, growth," according to Goldman's December downgrade report.
For TIAA, the primary market for student-housing investment is large publicly-funded universities offering four-year degrees. Such schools are more affordable than top private universities, so high student debt – a growing problem in the US – is not an issue for the students occupying TIAA-financed housing.
At the same time, however, many state budgets are tight, which translates into lower spending by schools on the residential property they own.
"Housing is lower on the list," says Schwaab. "That really creates an opportunity for private capital investment in the sector."
Student Housing: A sleeper emerges
1

2

Currently reading

Student Housing: Top of the class