---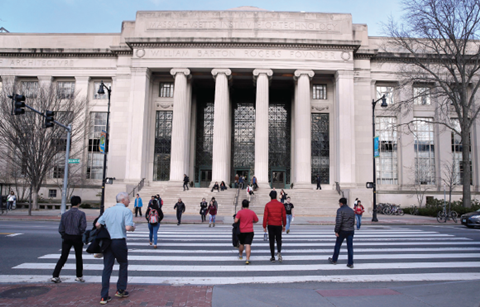 The influx of institutional capital into US student accommodation is helping transform the market for undergraduates and investors alike, finds Christopher O'Dea
September marks an annual ritual at universities across the US as students arrive on campus to take up residence for another school year. The student-housing sector in the US is thriving. Institutional investors are allocating more capital to the market, which has emerged as a distinct sector within residential property. It offers characteristics that are particularly appealing late in the cycle.
Student housing ticks the boxes on some of the key requirements for a sound multi-unit residential investment. Occupancy is high, typically topping 95%, and hitting 100% for on-campus assets that house freshmen required to live in university housing during their first year. The security of the underlying income stream is strong, since parents either guarantee most student housing rental agreements or pay the rent directly.
Perhaps most importantly in the current environment, student housing tends to keep on working for investors during recessions. When the economy softens and job prospects dim, students often opt to stay in school, while employed workers facing tougher competition and fewer opportunities for advancement will often return to school during a slowdown to acquire new skills that can boost their careers when the economy picks up.
"I don't know if I'd say its recession-proof, but it has been relatively resilient during past recessions," says Kevin Kaberna, executive director of investment for Greystar . "Student housing had positive revenue growth and less operational volatility during the GFC [global financial crisis]. One of the reasons for the outperformance historically has been that when the economy slows, people tend to go back to school."
Under way at the moment is a major acquisition transaction that would see Greystar create one of the largest student-housing investment manager/operator in the world. Announced in June, Greystar formed a perpetual-life fund to acquire Education Realty Trust, which has a portfolio of about 45,000 beds serving 47 universities in 26 states. The new fund, Greystar Student Housing Growth and Income Fund, plans to retain the on-campus platform, while spinning off the off-campus assets to a joint venture between affiliates of Blackstone Real Estate Income Trust and Greystar.
US student housing was once a fragmented market consisting of ageing dormitories and a patchwork of apartments owned by mostly small local operators. However, the influx of institutional capital has turned it into a clearly-defined product type in which dedicated operators deliver accommodations tailored to the needs of students, at a consistent standard of quality.
"Student housing used to be a specialty," says Tim Wang, managing director and head of research at Clarion Partners . But like the four-year college degree itself, he adds, "it's going mainstream".
The key long-term driver is the transformation of the economy from hierarchical, industrial organisations designed to produce large quantities of goods to networks designed to create value from the management and sharing of information and knowledge. "We're in a knowledge-based economy," Wang says. "There is a premium in the job market for a good education."
The strong demand for college degrees has turned student housing from an alternative sector into a core market with predictable income. "A university campus offers longevity," says Wang. "A university does not go anywhere, so returns are relatively stable, and student tenants are more credit-worthy than multifamily tenants, in general, due to the parental guarantee of lease payments," Wang says.
"Investors are looking carefully at this late in the cycle," he adds. "There are income growth opportunities in some niche sectors."
Those income characteristics are one of the main reasons why investors view student housing property as an asset resistant to economic slowdowns. "These assets are somewhat recession-resistant," says Jaclyn Fitts, the Dallas-based head of US student property investment sales for CBRE . During the downturn from 2010 to 2012 in US commercial property markets, multifamily asset prices declined by as much as 20% on a nationwide basis, Fitts says. "We did not see a decline in student housing values. In fact, they continued to increase," she adds. "This can diversify risk in an institution's portfolio."
Kaberna also sees diversification potential. "Student housing is increasingly being accepted as a defensive investment that provides portfolio diversification benefits," he says. "Demand for office, retail, and industrial is more highly correlated to economic growth, while demand for student housing is mainly driven by demographics and the increasing importance of education, resulting in higher enrolment rates," he adds.
Student housing assets can also deliver higher yields than multifamily property, Fitts says, although the premium has been narrowing as equity capital has moved into the sector. Over the past few years the cap-rate differential between student housing and multifamily assets has narrowed from 50-100bps to about 25bps this year.
In recent years, student housing has generally traded at prices implying cap rates ranging from 4.5% to 5.5%, says Kaberna. Assets that garnered cap rates at the higher end of that range reflected the perception of some mix of either lower growth expectations or increased risk for owning housing serving lower-quality universities, assets not within walking distance to campus, or of lower overall quality, he says.
Assets near the best universities, typically adjacent to campus, which can most easily be leased at the best rental rates garner the lowest cap rates. Of those, Kaberna adds, "there is very limited supply being brought to market for sale".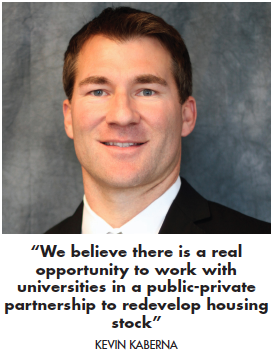 The influx of institutional capital has brought about changes in the basic student housing product, operating and financial practices, and the fundamental organisation of the market. Fitts says that 20 to 30 years ago most off-campus housing was operated by mom-and-pop investors who owned a handful of properties of disparate quality. Institutional owners have standardised rooms and common areas, and are increasingly passing the cost of utilities along to renters, a marked change from the all-bills-paid model that had prevailed for years. "There needed to be some sort of responsibility for the costs," Fitts says.
Institutional owners have also updated stock. "Dark, small dorms do not meet today's expectations," says Wang. Also losing favour are luxury amenities like pools and party rooms, which were popular with students but induced sticker shock in parents footing the bill. The new trend is health and fitness facilities, smaller rooms – as long as the bed-to-bathroom ratio remains 1:1 – and lots of bandwidth to support the research and communication needs of today's IT-enabled students.
"Our investment thesis continues to include the injection of capital to improve interiors and common areas," says Kaberna. "Bandwidth is the number-one amenity on the minds of students and an item we focus on – making sure high-speed service reaches both common areas and the individual units."
For investors considering student housing, the outlook remains solid. Some press coverage in the US predicts the death of higher education, focusing on a report from the National Center for Education Statistics that enrolment in higher education institutions in the US dropped from 19.1m to 17.8m between the spring of 2013 and spring of 2018. But the decline was felt mainly at community colleges and for-profit schools.
Fitts says the number of students at full-time, four-year public and non-profit private universities – which drive demand for student housing property – is expected to increase by 112,000 students each year between 2018 and 2026. New supply is projected to run between 40,000 and 50,000 beds delivered annually over the next few years, after a brief dip to 35,000 beds for the 2019-20 academic year.
The ageing stock of university housing, coupled with a universities' desire to exit the housing business, has created vast opportunity, says Kaberna. Part of the rationale for acquiring Education Realty Trust is that it has experience of creating public-private partnerships with universities, through which the schools outsource construction and operation of on-campus student housing to a private entity under a revenue-sharing arrangement.
"Housing is not their core competency," Kaberna says. "We believe there is a real opportunity to work with universities in a public-private partnership to redevelop housing stock and provide the equity and financing needed so the university can focus on providing the highest quality education."
Cap rate trends in areas anchored by universities demonstrate that a consistent pipeline of new students can boost the value of property assets. The effect is clearly evident in the US student housing sector (see Time for revision), where buildings located in or near schools that are members of America's top five collegiate athletic conferences sell at lower cap rates than large schools that are not members.
Companies in the bio-tech-driven Boston-Cambridge area receive more venture capital than any city other than San Francisco, and MIT has taken the top spot for six years running in a ranking of more than 950 universities by Quacquarelli Symonds.
In a knowledge-based economy, employers value advanced degrees, scientific talent, creativity and innovation over physical prowess. Property values follow suit, reflecting the demand for office space as employers locate operations in or near cities that can deliver the best graduates.
University cities also tend to rank highly as economic powers, according to Richard Florida, a university professor at the University of Toronto's School of Cities and Rotman School of Management. Four of the six cities holding a top-three spot in the 2018 THE university ranking were included on Florida's latest list of the 25 most economically powerful cities in the world, compiled in 2015. Those were London, Paris, Hong Kong and Los Angeles.
Some of the factors that make these cities attractive as university centres are the same that make them attractive to institutional real estate investors. The research team at TH Real Estate , for example, identifies cities that are structurally positioned to grow in value over the long term, based on factors such as quality of life, technology penetration, population growth and age, and discretionary income. Those that score well are deemed to have 'future-proof' characteristics and make it onto a short list in which TH Real Estate's city-focused funds will consider investing.
The world's global university cities offer a range of campus styles, ranging from resort-like coastal settings to humming urban centres. There is nothing like critical mass – the six cities sharing top-three honours between them boast 30 highly rated universities.
University Towns: The class of 2018
Cities with the biggest concentrations of top universities are not only attractive to student-housing investors. As education hubs, they power real estate markets more generally
London and Boston. Paris and Hong Kong. Berlin and Los Angeles. Three pairs of cities seem to have little in common. But they share one feature that will become increasingly important for institutional investors with an eye on the burgeoning global student housing market.
The three pairs hold the top three rungs on the 2018 Times Higher Education (THE) World University Ranking. The gold standard, or summa cum laude, of university scorecards, the THE list has ranked the top 200 universities in the world annually for the past 14 years.
London and Boston-Cambridge
Having settled their revolutionary differences some time ago, London and Boston today share the crown as the cities with the most universities, at six apiece. The THE recently stopped ranking city clusters, but retained Boston-Cambridge since the two are separated only by a bridge. Home to both MIT and Harvard University, Cambridge can claim more than 130 Nobel Laureates, 30 heads of state, and 58 National Medal of Science winners during their time at one of these universities, according to the THE.
While Boston offers a conventional business district, a full-blown urban experience and American historical landmarks like Bunker Hill, Cambridge adds cafés, bars, and bookstores that cater to the thriving student population from around the world. Boston is renowned for arts and culture offering, particularly in contemporary classical music – as well as professional sports teams that inspire loyalties that would impress even the most ardent Premier League fans.
Although it sits in the shadow of the ancient universities of Cambridge and Oxford, London's six top-200 universities anchor one of the world's most diverse university populations. Home to the most universities from any one location to make it onto the THE list, and despite being one of the most expensive places in the UK for students to attend university, London's position as a major world historical capital, home of iconic academic facilities such as the British Library, and epicentre of international finance, give the city an edge in attracting students from around the world.
According to university admissions clearing house, Ucas, a record 32,430 international students from outside the EU had been accepted in the UK this year. More than 20,000 of those opted to attend 'high-tariff' institutions such as the research-intensive University College London. In terms of technology adoption, London has seen the development of the what economist Douglas McWilliams calls the 'flat white economy' of media, tech, and creative employment and property development centred on East London. One question mark for all sectors in the UK remains – the impact of Brexit, in whatever form it takes.
Paris and Hong Kong
Half a world apart, Paris and Hong Kong can count five THE top-200 universities each. Hong Kong, long a crossroads of world cultures, offers some of the most highly-rated educational degrees. Located in the city's residential district, the University of Hong Kong counts 111 professors ranking in the top 1% scientists globally, according to the THE league table, and the university – the highest-ranking of any Chinese university – is ranked best in the world for its dentistry degrees, and seventh for education degrees.
For those seeking a less urban experience, the Hong Kong Institute of Science and Technology beckons. A relative newcomer compared with Oxford, Cambridge or even Harvard, the institute was founded in 1991.
Sited on a seaside peninsula within a national park, the school resembles a resort as much as a campus for engineering studies. Hong Kong faces a long-term question mark regarding its independence from mainland China, but for the moment continues to rank highly, despite stratospheric land and occupancy costs.
Paris consistently scores at or near the top of the QS Best Student Cities ranking, reflecting a high number of international universities and low tuition fees. The potential to grow employment after Brexit – particularly in the financial sector – is bolstering property markets in the City of Light, and the strong score for employer activity in Paris in the QS ranking indicates that companies already see the value of the talent pipeline from the city's universities.
Although French economy minister Bruno Le Maire last summer denied that France is trying to make the most of Brexit by encouraging companies to move jobs from to Paris from London, lobbying group Paris Europlace estimated at the time that as many as 3,500 jobs were likely to be moved, a number that could generate an additional 20,000 indirect jobs in the French capital.
Labour law revisions and other measures taken by President Emmanuel Macron are fuelling the shift, as the former Rothschild investment banker pushes to make France more attractive to foreign investors. After studying Sartre and semiotics at the Sorbonne, students at Parisian universities might find plenty of reasons to stay on.
Berlin and Los Angeles
Berlin and Los Angeles, each with four top universities in the THE ranking, have something else in common. Strong creative sectors – represented by LA's long-standing dominance of movies and television production, and by Berlin's nascent creative-tech culture.
Although it's not an academic hub on the scale of London, Paris or Boston, Berlin might have an edge due to the fact that undergraduate degrees and some postgraduate programmes are free at public universities in Germany, even for international students.
Berlin since reunification has emerged as an arts, creative-tech hub, an amalgam of Germany's deep roots in artistic creativity – think Goethe, Bach and Beethoven – with the tradition of scientific achievement of German scientists such as von Humboldt, Daimler, Siemens, and von Braun. One of the city's top schools, Humboldt University, is a pioneering institution – the THE credits the institution with having shaped the relationship between education and research over the past 200 years.
LA seems to be floating above the negative headlines about California's fiscal woes and the grinding inequality that mars the San Francisco-Bay Area growth story. In fact, LA is enjoying a rebirth of its creative industries thanks to a new generation of digital technology that is changing the way entertainment is produced and distributed.
One cause for concern is that home foreclosures in LA spiked at 20% in July. Coming at the 10-year anniversary of the Lehman Brothers' bankruptcy, which was triggered by the collapse of securities containing failed residential mortgages, the uptick is worrying. The state's unemployment rate in July reached the lowest since records began in 1976, but some economists note that there are too few workers because many have left the state because of high housing costs.
Student housing: Time for revision
1

Currently reading

Student housing: Time for revision

2

3

4

5