The sector is led by the US, UK and Australia. But student housing is fast becoming a global market, writes Florence Chong
The so-called institutionalisation of the global student housing sector, now worth about US$180bn (€165bn), continues apace as operators push new boundaries beyond established markets.
Student housing has arrived in markets such as Japan and China, which traditionally would have been off the beaten track. Continental Europe has also emerged as a hot new destination, with institutional capital lining up for assets and development projects in Germany, the Netherlands, Spain and France.
Within the US, the largest and most established market, some developers and investors are stepping out of traditional university towns to service lesser-known tertiary institutions and community colleges.
A move to offer free tuition to high school graduates to study in community colleges in some US states is potentially significant. Tennessee was the first state to offer free tuition at its community college in 2015. Other states, including Oregon, New York State and Kentucky, have announced plans to do likewise.
Investment and interest in the sector has grown exponentially in the past three years, with student housing becoming the new best real estate investment. Education is unmistakably a growth sector.
"Only 20 years ago, there were less than 1m students travelling overseas to study," says Simon Loveridge, managing director for Asia-Pacific with Global Student Accommodation (GSA). That number is now 6m, and, globally, there are 200m students in universities."
Education is also recession-proof. Sean McKeown, managing director of Arlington Advisers, says: "We saw an uptick in mature students in 2010-11 across all regions in the US, while the number of students in British universities tripled post-GFC. As an investor we did not see a blip in either demand or occupancy during the global downturn."
Hence the appeal of student housing as a long-term investment to large institutional investors like sovereign wealth funds. They like the stable income.
In the past 12 months, a standout trend has been the emergence of private student housing trusts, where clubs of investors pledge capital to acquire student accommodation.
These trusts enable investors to scale up their purchasing power to access bigger and better portfolios. Scale, according to industry experts, is everything. It enables operators to leverage up their service and facilities, differentiating them from smaller operators.
In London, Arlington Advisors, a specialist investor in student accommodation, has established a strategic partnership with the Pension Infrastructure Platform (PiP), targeting value-add opportunities in on-campus student housing.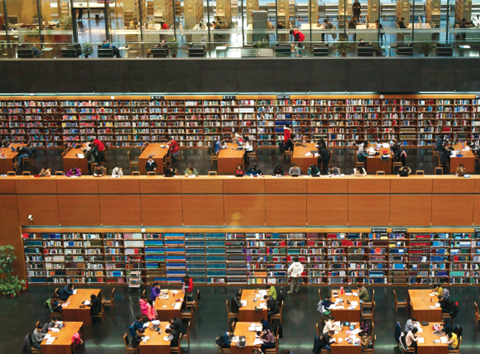 In Germany, the FIZZ Student Housing Fund, a €1bn entity, came into being in January this year with a €600m cornerstone investment from two investors. To set up the fund, the manager, International Campus AG, based in Munich, brought an unnamed European investor, fronted by CBRE Global Investment Partners, together with the global insurer Allianz. The fund aims to have 15,000 student apartments under management by the end of this decade.
The new kid on the block is the US$1.3bn Mapletree Global Student Accommodation Private Trust which, in March, raised US$535m from financial institutions including UBS and DBS Bank of Singapore, investing on behalf of high-net-worth clients.
The US remains the most active student housing market, followed by continental Europe and the UK. Last year, US$9bn worth of transactions took place in the US.
Taylor Gunn, lead analyst on student accommodation at Axiometrics, a research firm specialising in student housing and multifamily, says a number of large portfolio transactions took place in the US last year.
Singapore's sovereign wealth fund GIC, Canada Pension Plan Investment Board (CPPIB) and the Scion Group, invested US$1.3bn in a US portfolio in June last year, with a follow-up investment in March this year of $US1.6bn. Another large transaction was Harrison Street Real Estate Capital's purchase last year of Campus Crest Communities for US$1.9bn.
Marcus Roberts, director of residential capital markets at Savills, says his team handled student accommodation deals worth £750m (€882bn) in Europe in 2016, and a similar amount in the UK. Savills' transactions included CBRE Global Investment Partners' purchase of Solvgade in Copenhagen last August.
Among the more active players in the past 12 months, he says, has been the US-based Hines . Since entering the UK market in April last year, Hines, acting on behalf of a group of German pension funds, has rapidly built up its student accommodation portfolio to 12 developments in the UK and Ireland – with a combined gross value of £500m.
CPPIB continues to grow its portfolio when its UK operation Liberty Living acquired a portfolio of 13 residences in the UK, Germany and Spain, for £460m in December.
The rise of global platforms
Another active investor is the Dubai-based GSA, a company that has done much to internationalise the student housing sector. "We transacted on deals worth US$2bn last year," says Loveridge. "We have a big focus on Australia, Japan, Germany, Ireland and the UK, and we are looking at other markets."
Under its founder, Nick Porter – who pioneered purpose-built student housing in the UK through his first company, the Unite Group – GSA has been forging ahead in new and not-so-new markets, such as Australia.
In March 2017, it formed a joint venture with Star Asia, a boutique investment management group focusing on Japanese real estate opportunities. The JV will build next-generation student housing in Japan.
"We acquired our first project in Tokyo in Bunkyo ward," Loveridge says. "We will build a total of 364 student beds, due for completion in 2018."
Loveridge explains that Japan's attraction is its untapped potential. "Japan has 3m higher education students – 1m in Tokyo alone. The Japanese government has also placed a big emphasis on internationalising higher education."
Japan is investing heavily in attracting more international students to its universities. "Japanese institutions are often the best represented at international education fairs," Loveridge says.
"Last year, among OECD countries, Japanese universities had the largest enrolment growth – of 13%, albeit from a low base. We see Japan as a long-term market with huge opportunities because it does not have providers of international student accommodation.
"Our plan is to build up a portfolio of 20,000 beds eventually. We have committed US$200m for development projects over the next three to five years."
GSA won its first contract to manage its student housing in China last year. It operates student accommodation at Schwarzman College (founded by Blackstone's co-founder, Stephen Schwarzman), part of Tsinghua University in Beijing (pictured).
Meanwhile, the leading US operator, Greystar , is setting up a platform in Asia-Pacific, after bedding down its expansion to the UK and Europe. In October, Greystar, along with Macquarie Capital launched a joint platform aiming to develop residential for rental. This includes student accommodation in selected markets in Asia-Pacific.
Greystar has been shortlisted to buy Campus Living Villages (CLV), which owns and operates 45,000 beds, mainly in the US, but also in Australia, New Zealand and the UK.
The Australia-based global student housing company has attracted strong initial interest from large investors around the world. At up to AUD2bn, industry sources agree that only a handful of buyers can afford the price. Blackstone, a long-time player in the sector, and AMP Capital with Arlington Advisers, are among bidders on the CLV shortlist.
Roberts says two factors are driving interest in the global student accommodation sector. "One is the emergence of more professional operational platforms that developers are creating, coupled with institutional appetite for the asset class, he says. "Diversification of investment is the other."
At another level, says Roberts, investors and operators are seeing student housing as part of the broader residential sector, which includes multifamily and senior living. Eventually, he sees the emergence of broader platforms that embrace all three streams of these businesses. Residential accommodation, whether for students, families or older folk, is increasingly in short supply.
Gunn says: "The sector has matured and become an asset class of its own. This makes it easier for investors." Investors can now better understand the sector because supporting information is available, she says. And there is a snowballing effect – with more information, there is more interest and more demand for the assets.
McKeown says: "We face a lot more competition today. When we entered the market in 2014, we acquired assets from operators who got into difficulty."
Arlington, funded by a group of Middle East investors, first bought the assets of what is known as the Opal portfolio for £245m in 2014. It has since expanded the portfolio.
Similarly, Greystar entered the UK market on the back of buying distressed businesses, giving it the scale to ramp up its European operations. It is now one of the largest and most active operators in the UK market, with plans to expand into continental Europe.
Where next?
Some expect the number of larger-scale portfolios coming to market to decline as some of the biggest and best have already been snapped up. Newer investors are increasingly looking away from well-trodden paths to greener pastures.
In the US, says Gunn, investors have typically targeted tier-one institutions or those universities with a 30,000-plus student population. Today they are taking a different approach, seeking new avenues of opportunity from lower-ranking universities and newer, under-serviced markets. "They are looking to provide accommodation, for example, for community colleges, catching on the trend among US state governments to offer free tuition to high school undergraduates," says Gunn.
Developments in mature markets in the US – usually the top-tier university towns – have slowed due to concerns of oversupply. The industry says there will be plenty of supply coming to market over the next two years.
Investors have been drawn to the US not just for the size of its market but also for the mix of residents in student accommodation. Domestic students account for 95% of residents, compared with 12-15% in the UK and 50-55% in Australia.
The high proportion of domestic students offers a degree of stability, as foreign student intakes can be affected by politics and economic conditions, such as currency fluctuations. Occupancy rates in the US in the past two years, says Gunn, have averaged around 95%.
Investors in the UK are turning to development to lift the number of beds under management. McKeown believes the UK continues to offer companies like his the best prospects for growth. He singles out value-add opportunities with on-campus accommodation.
"The UK has a stock of 300,000 beds on-campus, and we believe about 100,000 are in poor shape," he says. "This is where you can bring in capital to refurbish the accommodation. This is something we would like to do."
McKeown says the UK has some 160 universities, not as many as the 2,500 institutions in the US, but certainly far more than in Australia.
Australia, the third most popular international student destination behind the US and the UK, is seeing heightened operational activities from investors – both in securing sites and in construction.
In 2015 and early 2016, Australia was a hive of activity, with many global players forming joint ventures with local partners to establish a presence. But the number of headline-grabbing transactions has waned recently.
Conal Newland, director of student accommodation at Savills Australia, says the focus across the Australian market at present is the development of new purpose-built student accommodation.
"The next two to three years will see a significant delivery of new accommodation and stabilisation in the occupancy of those assets will be closely watched," he says.
Savills data indicates that 32,468 beds are in the development pipeline in five Australian capital cities, led by Melbourne (12,952 beds) and Brisbane (11,576 beds).
The long pipeline has raised eyebrows in some quarters. Arlington's McKeown describes the Australian market as "not having a lot of depth". Five years from now, he believes, Australia will be "quite full" with off-campus direct let student beds'.
Newland dismisses concerns of oversupply, saying the Australian education sector is underpinned by double-digit growth in international student arrivals. He also compares the number of beds available in Australian cities with those in British cities such as Liverpool, Durham, Cambridge and Oxford – all of which have more than five times the number of beds as Australia, either existing or planned.
Investors share Newland's optimism. Loveridge says GSA has faith in the future of the Australian student housing market because of the national importance placed on the sector. It is the largest export income generator after mining. GSA is on track to achieve its target of 25,000 beds over 10 years in Australia, he says. "In year one, we have secured sites for 2,500 beds."
GSA, which manages properties globally, re-entered Australia last year. It plans more greenfield developments across Sydney, Melbourne and Perth. It was among the first to spot opportunities in Perth.
Loveridge says the West Australian government has a strategy to create an "education city" in Perth. "There is a critical mass now to support operations such as ours."
One inherent risk in relying heavily on foreign students is that political or economic events could have an impact on the number of students coming to study. Unexpected political hiccups may cloud the sector's rosy outlook. Some say talk in the UK of a new visa regime for foreigners, and in the US, where the new Trump Administration has moved to restrict the entry of citizens from certain Arab countries, may have an impact.
But those in the industry believe that, while political rhetoric may have a short-term effect on student arrivals, the long-term fundamentals for international education remains sound. There is no need for concern.
Campus Living Villages poses a AUD2bn question
Expectations of an AUD2bn (€1.42bn) sale price for the Australian-based global student accommodation business, Campus Living Villages (CLV), appear to have dimmed somewhat.
What is currently the largest student housing portfolio available on-market globally, CLV is said to be proving a challenging proposition for some because of the complexity of its business.
IPE Real Estate has been told that a price of at least AUD1.75bn is still expected for the portfolio of 45,000 student beds in Australia, New Zealand, the UK and the US. And it has been pointed out that a new entrant seeking scale in the student housing market could be prepared to offer AUD2bn.
Blackstone, AMP Capital with Arlington Advisers, and Greystar and its partner, Macquarie Capital, are among those still on the shortlist .
An investment banking source says the portfolio attracted strong global interest initially, but confirms that some might have stepped away after the first round of due diligence.
"The bidders have thinned out a bit as the requirement to do more extensive due diligence increases ahead of putting forward the next round of bids," he says. "People have underestimated the complexity of acquiring what are four different businesses. Each country is different, in terms of the market, quality of management and quality of assets.
"It is a really time-consuming and complex transaction to underwrite across all those four markets in one go. There is a real risk the bids are underwhelming to what vendor expectations are. But time will tell."
However, industry sources say that the original expected sale price of AUD2bn is not likely to be a deterrent for those seeking scale to launch themselves into student housing in such markets.
It has been suggested that the eventual buyer could set up different funds for each of the countries in which the assets are located, but if it already runs a global operation, it would be able to deal with the different business models. It is precisely the size of the portfolio, offering scale and scope, that is part of its attraction.
One of the bid finalists, Greystar, always looks for scale when it enters a new market – the approach when it moved into the UK in 2013.
The sale has also brought together AMP Capital and the UK-based Arlington Advisers. Arlington has the most intimate knowledge of CLV, having had a number of joint ventures with the global student housing group (in 2014, Arlington partnered with CLV to buy part of Opal Student Housing in the UK for £245m).
It is believed that if the Arlington-AMP Capital consortium wins the bid, the UK's Pension Infrastructure Platform (PiP) would become an investor. Arlington manages the student housing programme of PiP, itself an investment platform for UK pension funds.
At the time of writing, the remaining bidders were undergoing the second round of due diligence. The four-month sale process to find a buyer is drawing to a close.
A sale will signal payday for a group of Australian superannuation funds with the foresight to buy into the sector 10 years ago.
Five industry superannuation funds – REST, Hostplus, Equipsuper, Catholic Super Victoria and NGS Super – invested in CLV Trust, a wholesale trust set up by the founder of the business, Transfield Holdings, in 2007. Transfield sold its interest in 2014.
A key executive with one of the super funds tells IPE Real Estate that the decision to sell is not a reflection of their view of the asset class. Rather, he says, it makes sense to take advantage of high demand now for this type of asset.
GIC, the pioneer
In the past three years alone, GIC has co-invested in more than 45,000 student housing units. Singapore's sovereign wealth fund first entered the sector in 2005 in a 70/30 joint venture with Unite, the UK's largest and most established operator and developer.
The relationship led in 2012 to the London Student Accommodation Venture, which has first right to acquire Unite's long pipeline of projects in London.
Back in the mid-2000s few, if any, large investors saw the potential in such a niche market. But Singapore's sovereign wealth fund recognised the attractiveness of the defensive cash flows.
GIC regarded education as virtually recession-proof, with demand for student accommodation less leveraged on the economic cycle versus other traditional sectors. That assessment appears to have been vindicated.
Today, GIC has many competitors, but it is still regarded by many as representing the single largest institutional investor in the sector, with an enviable collection of assets in key and growing markets.
It is not possible to calculate the value of its assets, because GIC does not provide such information. They probably run into billions of dollars.
In the US alone, GIC and its joint venture partners Canada Pension Plan Investment Board and Scion Group, one of the largest private student housing operators in the US, have invested US$2.9bn (€2.7bn) in the past year. These transactions gave GIC joint ownership of 32,188 beds in 48 student housing communities in 18 states, serving 36 top-tier universities.
GIC has also partnered with Global Student Accommodation to form a new venture in the UK and another in Germany in the past 12 months. The GIC-GSA partnership acquired 7,150 student beds from Oaktree Capital for £700m (€824m) in last September in the largest single student housing transaction of the year in the UK.
Within weeks, the partners entered Germany's student accommodation market, buying an initial portfolio of 1,000 beds – with plans to build the portfolio eventually to 10,000 beds.
Despite a flurry of recent activity, the appetite for student accommodation is yet to be sated, it seems. In April, GIC and its Australian partner Macquarie Capital acquired student accommodation in central Sydney for around AUD400m (€276m).
The partners previously invested AUD150m in Australian operator, Iglu, which had grown its assets from 900 beds in 2014 to 2,315 beds by the end of 2016. It ranks as the fourth largest owner of off-campus student accommodation in Australia.
While returns, so far, have been positive, a source close to GIC says it is mindful that some factors may derail future investment returns. "Supply is increasing as more investors target the student housing sector," the source says. "Rising student loan defaults affecting enrolment demand for schools with lower quality degrees."
Student Housing: International studies
1

Currently reading

Student Housing: International studies

2

3