With student numbers outpacing supply, student housing continued its record growth last year, writes Samuel Vetrak
As increasing numbers of people around the world attain middle-class status and have more disposable income, we have entered a new era of global mobility. More and more people can afford to travel abroad, be it for leisure, business or education, and students are leaving their countries and cities of origin to obtain better quality or more appropriate education programmes than those available to them at home.
According to the UNESCO Institute for Statistics, the number of tertiary education students has expanded by 5.8% per annum over the past five measured years, with 5.3m students crossing borders to study 2017.
A yearly global student housing report by specialist market-research and advisory firm Bonard has confirmed that demand is driven by the constant growth in mobile and international student numbers – for example, 4.3% pa in continental Europe. The demand is growing faster than in other asset classes and even during economic downturns, making it a counter-cyclical asset class.
Acknowledging the economic and cultural benefits of hosting international students, numerous study destinations across the globe are stimulating the internationalisation of higher education. Countries such as Canada, France, Turkey, Germany, Malaysia, China, Japan, South Korea and Australia have all set out ambitious strategic plans and targets to reach a certain number of international students – and some have met their goals earlier than expected.
As a result of the boom in student mobility, pressure on local housing markets has intensified. Universities and governments are struggling to satisfy the increased demand for student accommodation. According to Bonard, higher yield rates than those in traditional asset classes such as office and residential markets, coupled with resilience in times of economic downturn, have directed the attention of a wide range of investors towards student housing. Commercial providers have now joined universities as major suppliers of purpose-built student accommodation (PBSA). As a result, student housing has transformed itself from an appealing niche to a recognised independent asset class.
In 2019, student housing was on the radar of the top global investors in real estate, resulting in 105 transactions worth over €9bn in Australia, continental Europe and the UK combined1. Average transaction yield rates ranged from 3.7% to 6%2, with takeovers of the Atira, Liberty Living and Urbanest portfolios among the largest deals.
The quality of student accommodation is often one of the criteria students consider when deciding on a specific study destination. In recent decades, the student-housing sector has undergone a significant transformation, from the simple concept of providing a place to sleep, towards the creation of a one-stop universal solution to all aspects of student life. This shift underlines the emergence of a new alternative asset class that has reached different stages of maturity in various places across the globes.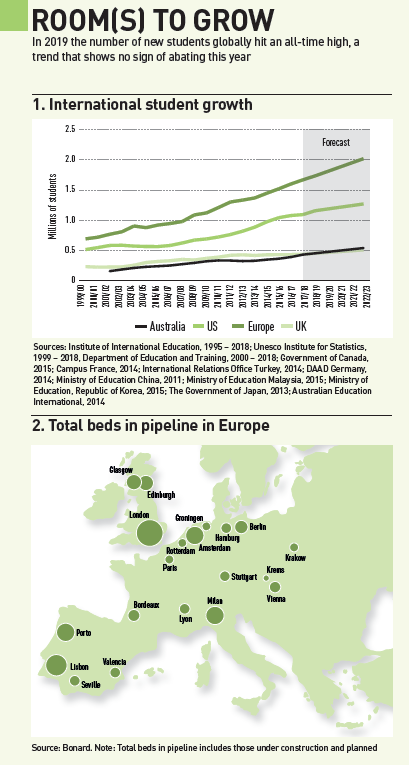 The US paved the way for private student housing, followed by the UK, at increased speed and volume, and with nuances of its own. Investors' interest then spread across continental Europe, which is experiencing considerable growth in its international student population, and Australia. These markets account for most of the global student housing investment. They show signs of consolidation, with a rapid increase in the number of established portfolios, joint ventures and interest shown by global institutional investors.
Recognising the benefits of the recession-proof higher education sector, and the fact it produces higher yields than the traditional residential market, investors are venturing into new emerging markets, such as central and eastern Europe and Latin America. In fact, Bonard has announced Latin American's first student housing study.
About €1bn of capital is now looking at Poland which, as a market for students is considered by many to be the next Italy. Bonard has conducted three times as many research projects and assessments in Poland compared with a year ago, looking at about 20 opportunities.
To date, the entire student housing sector has seen the involvement of over 700 companies, including the largest institutional investors and pension funds listed among the IPE's Top 100 Real Estate Investors. Allianz Real Estate and AXA IM–Real Assets were involved in Australia's market consolidation last year via Scape's Australian Purpose-Built Student Accommodation Fund (APF), which acquired two of the largest portfolios in the country – Atira and Urbanest. Dutch pension fund investor APG has joined the APF as well.
Liberty Living, one of the largest student-housing portfolios in the UK, was acquired by Unite Group for a total of €1.6bn, although the seller, Canada Pension Plan Investment Board, will keep a 20% stake in the Unite Group following completion of the deal.
Among other deals, Nuveen has announced a €600m pan-European student-housing joint venture with Value One, while Singapore state investor Temasek, via its investment unit Mapletree, has been purchasing properties in the UK.
In continental Europe and UK alone, this investment appetite has translated to 142 PBSA projects and 43,655 beds due for completion in 2019. The student housing asset class has been maturing to a stage of transparency, returns and liquidity that offer sufficient security and confidence for many private and institutional investors.
Based on Bonard's research into 130 cities and 5,600 PBSAs globally, as well as data accumulated from thousands of student surveys, product is increasingly determined by student preference. Students prefer amenities such as communal areas and quality of service, over larger and better equipped rooms.
Our data shows that amenities such as laundry rooms, communal kitchens, food-and-beverage services, and terraces are high on students' list of preferences, no matter the destination, with some regional differences in other popular choices such as study rooms, gyms, libraries or games rooms.
However, the product differs in all of today's four major markets. In the US, student housing is typically attached to one university, located on campus, with accommodation paid annually. In the UK, universities tend to be more closely involved in PBSA through nomination agreements, where they agree to nominate a minimum number of students in return for more control on rents and operational matters. In continental Europe, PBSAs are off-campus, offering central locations and state-of-the-art buildings. In Australia, premises are at hotel level, with strong design and upmarket facilities, often in large-scale buildings and high rises.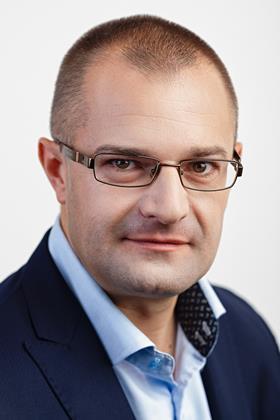 While the UK continues to be the strongest market, continental Europe is booming due to its low provision rates – one million beds are needed to match the current UK market saturation. This gives investors an opportunity to bring new product concepts, such as hybrids or co-living, to undersupplied territories at an earlier stage, providing under-one-roof accommodation for students and young professionals.
Student housing continues to rank high as a sector prospect for both investment (4th) and development (9th)3. A pipeline of new projects in continental Europe and the UK will bring 338 private PBSA projects (with 130,678 beds) to the market in the next two and a half years, while details to additional 320 announced projects (representing 91,636 beds) remain undisclosed.
In 2020, even stronger growth in volume and portfolios is expected: of Europe's current 107 student housing portfolios, 82 have fewer than 5,000 beds. With significant room for consolidation, both mid-sized and bigger portfolios are expected in transactions in 2020.
As reported in December 2019, Goldman Sachs and Welcome Trust are believed to be considering bids received for their IQ Student Accommodation, one of the largest of the UK's student-housing portfolios comprising 67 accommodation sites.
Sources say that some of the largest real estate investors, including Blackstone, Brookfield, Greystar, Mapletree and Patrizia, have been looking at this portfolio. Alternatively, the portfolio is being considered for an IPO in London.
Footnotes:
1 Combined data from BONARD and Savills, 2019-2020 available to date
2 Global Student Housing Investment, Savills, 2019
3 Emerging Trends in Real Estate: Europe 2020, PwC, 2020