As the boundary between student and professional living blurs, Germany's growing sector is ripe for consolidation, says Russell Handy
As IPE Real Estate contemplates whether Europe's growing student housing sector deserves equal positioning as its office, retail and logistics peers, boundaries are already being blurred as sector specialists in Germany bring forward more multi-use projects.
The emergence of less rigidly defined schemes distorts the idea of student housing developments catering solely for those in education.
"We typically see that in Frankfurt, with micro-apartments being leased out to young professionals," notes Konstantin Lüttger, managing director and head of residential investment at CBRE, who believes the two worlds can live side by side.
"A good spot will always be residential, while student housing tends to take the 'second best' location, often acting as a noise blocker for residential tenants."
Deutsche Real Estate Funds Advisor (DREF) chief executive, Felix Bauer, says the firm, which aims to have 5,000 units by early 2018, has catered for both student and graduates.
"There's a lot of demand from young professionals up to their thirties," he says. "But we try to separate the two uses within developments through separate entrances."
Horst Lieder, founder of Munich-based International Campus, is firmly of the belief that education continues beyond graduation day.
That view has seen the firm open its doors to those entering employment for the first time.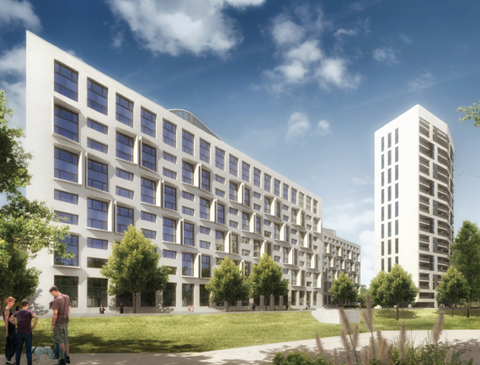 Developments include both small apartments and archetypal student housing units, Lieder recently told IPE Real Estate.
While the approach bodes well in European capitals and Germany's "big seven" conurbations, not all cities offer such ease of passage from student to worker.
Milan, for example, suffers from the loss of young talent – despite boasting top class educational establishments.
At the launch of a Human Capital white paper and index at MIPIM in Cannes earlier this year, LaSalle Investment Management's Mahdi Mokrane noted that the Italian city is "volatile", despite ranking highly as a location to monitor for growth.
Mokrane, head of European research and strategy at LaSalle, says economic growth comes from cities with strong academic research. Oxford and Cambridge are obvious examples of locations capable of retaining young talent.
Accommodating the residential needs of those either side of graduation day means playing by tenants' rules, says Lieder.
"We need to listen to our customers and not be too focused on data," he says. "We encourage dialogue and communication."
In the Netherlands, the product is physically more of a residential product, explains Curlew Alternative Asset Management's Amsterdam-based director Marjon Copier.
"The demand from students is for self-contained studios around 20-25sqm, with their own bathrooms and own kitchens," she explains. "It's closer to a residential micro-apartment."
Copier says the firm also sees demand from young professionals for larger, 30-40sqm flats.
"We allocate a max of 30% of our portfolio to properties focused on professionals."
The name game
Branding is crucial, Lieder says, with the firm's German portfolio operating under THE FIZZ and FIZZ Short Stay brands, with the latter aimed at expats a nd commuters as well as young professionals. The relocation of tenants within the firm's German portfolio is a possibility, Lieder says, something Copier agrees with.
"We are seeing students move from one university to another for a semester," she says.
Curlew Alternative Asset Management has created its 'House Of…' brand, followed by the location city, for its assets, which she says helps when students relocate.
"A recognisable brand name is something we are working towards, it's not so common in the Netherlands right now," says Copier. "It can help when you have a regionally spread portfolio."
Lüttger says that with few established large brands in Germany, the sector offers a "great opportunity" for growth.
Brand and image, says Bauer, is important, but it's not going to "materially change things. What's behind the brand is more important, such as communication and customer care."

Hines this year launched Aparto, a new platform, for its European student housing investments. The brand – wordplay on "a part of" – is the firm's effort to promote independent apartment living in its developments.
Hines managing director Alex Knapp says the firm wants to create a strong sense of community within its schemes.
"We are seeking to provide students with a memorable living experience – it should be much more than just a room," he says. "We are hoping to continue developing strong connections with the universities whose students we are hosting."
Lieder, who has ambitions to take International Campus into new territories, is keeping an open mind on where the firm will go next in Europe, suggesting that entering the Nordic markets could be a possibility in the near to medium term. He expects the company to have 15,000 beds under management by 2021.
As well as Germany, the firm, which last year agreed a €1bn joint venture with Allianz Real Estate, has so far also invested in Austria and The Netherlands.
Essential reading
Across Germany, there is little doubt that demand for a university space is high, with some three million students enrolled on courses. This is in a country where, until recently, churches and the state were the main providers of university accommodation.
Today, more than 12% of students at German universities come from abroad, according to the Federal Ministry of Education and Research, making it the third most popular destination among international students in the world. The German government aims to raise the number of foreign students to 350,000 by 2020.
The attraction of low tuition fees and teaching in English has widened the country's appeal in recent years.
According to a study by the Academic Cooperation Association (ACA) and the Gesellschaft für Empirische Studien (GES), more than 1,000 such courses are available in Germany.
"When other countries struggled after the global financial crisis, people were unable to afford degree education there and came to Germany," explains Lüttger. Another reason for increased enrolment at German universities happened a decade ago, he says.
Completion of compulsory education was moved from the age of 19 to 18, adding an additional 750,000 students almost overnight to Germany's university application pipeline.
The suspension of compulsory military service has also helped. "Germany is seen as a politically stable country offering affordable study," says Bauer. "The cost and quality of university education here is attractive."
GIC last year expanded its global student-housing strategy into Germany. The Singaporean sovereign wealth fund, GIC and student-housing operator GSA are buying and developing assets in major German cities, having bought a portfolio of close to 1,000 student beds in Frankfurt, Darmstadt, Munster and Dresden. The partnership is targeting Berlin, Cologne, Frankfurt, Hamburg and Munich, all major university cities.
"It's maturing now, larger investors are coming in and there are a number of new entrants," says Bauer.
Lüttger says: "There's interest from international investors, but domestic capital is a strong competitor."
The capability to develop large schemes divides international investors from their German counterparts, he says.
"Over the past five years, small German companies came to the market investing in schemes and developing them," he says. "Now we have companies who have a reasonable size, but the market is still quite fragmented."
Heiko Szczodrwski, executive director for asset structuring and portfolio management at Commerz Real, says Germany's student-housing market has started to professionalise. "The first professional operators are starting to appear on a nationwide scale, he says. "They have already established themselves and are expanding quickly."
Szczodrwski, however, says the market is "still abound with many assets of questionable quality". Investors, he says, should examine both the property and the operator very carefully.
Commerz Real's CR Institutional Smart Living Fund is aiming to have a portfolio of about seven to 10 student housing assets. The manager recently invested €20m in a property for the fund in Düsseldorf.
Bauer says many local developers in Germany have changed their plans from larger units for families to student housing to achieve a better price for their product.
Lüttger therefore believes the sector is destined for increased participation of international investors with the capability to deliver larger schemes.
Canada Pension Plan Investment Board-owned sector specialist, Liberty Living, recently extended its business into continental Europe for the first time, buying assets from Blackstone.
Liberty Living paid £460m for 13 student residences in 12 cities in the UK, Germany and Spain. "We will see a lot of movement in the market in the next three to five years, with a few large operators and stronger brands emerging," he says. "That will bring more efficiency."
As the market matures, consolidation of operators and specialists is likely, Lüttger says.
"There a lot of discussions in this market and people are looking to identify opportunities," he says. "However, it's still quite a local, domesticated business."
In the neighbouring Netherlands, Copier says more projects will need to be delivered before portfolios are in a position to be merged and sector specialists aim for scale.
"There's still room in the market to create new products," she says. "Once established, we may see players then consolidating in the future."
Student Housing: International studies
1

2

Currently reading

Student Housing: Graduating to the big league

3