Is continental Europe about to catch up with the UK in turning student housing into an institutional market? Russell Handy takes notes
Increased competition in Europe's traditional 'big three' commercial real estate sectors has brought alternative strategies into the limelight. But on the back of yield compression across the office, retail and logistics markets, the emergence of European student housing as an alternative investment opportunity has been staggered, with the UK best in class.
Despite the hunt for stable cash flow, the UK's established sector has not been matched by its continental European peers; the listing of dedicated firms, for example, has been virtually non-existent.
"Dutch pension schemes, as well as Scandinavian and German investors realise they missed the party in the UK and are now desperately trying to avoid repeating that experience," one observer told IP Real Estate.
Deals such as Round Hill Capital's £600m (€834m) sale this year of a London student housing portfolio to Greystar, or Carlyle's £532m concurrent sale of its Pure Student Living business to LetterOne Treasury Services, are a long way off.
At the heart of the disparity is culture, with students at Continental European universities traditionally less likely to move cities to further their education. At the extreme end of the variance is a tendency to remain in one's hometown, typically the case in southern Europe, where fewer Italian and Spanish students have chosen to uproot.
To a lesser extent, the German student housing sector has also stuttered. "It's still a new asset class for the German real estate market," says DLA Piper real estate lawyer, Martin Haller.
"Historically, the sector was completely publicly-funded, with churches and the state the main providers of university accommodation."
Haller, who estimates that around 90% of the German market is still dominated by public bodies, says there is "huge appetite for the sector".
"Maintenance costs are high and public bodies cannot spend the amounts they once did, so there's need for private investment," he says.
Munich-based International Campus, which has a €300m portfolio of assets, has targeted Germany's major cities and university towns since its inception in 2011. Middle-Eastern investors have backed the firm's investments.
Its chief executive, Horst Lieder, says the sector is still playing catch-up.
"It's an emerging market – when you look at the UK and the US, they are 10 to 15 years ahead of us," says Lieder, who estimates that Germany is home to more than 2.7m students.
"That's more than in the UK, so there is plenty of potential," he says.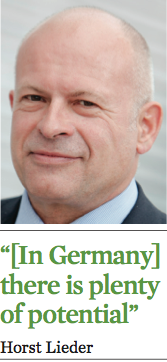 The firm is looking to learn lessons from the UK, having this year recruited James Granger to its executive board from listed London-based Unite, says Lieder. Granger, who spent eight years at Unite Students, is now head of operations at International Campus, which is building more than 3,000 student apartments in German cities and 2,200 in the Netherlands.
Lieder says the company has created a network of international operators, Network Cum Laude, including firms in Spain and The Netherlands, to share knowledge.
"We are all in the same situation; we are looking for tenants," he says. "It would be great if we could create an alliance of providers and have booking systems in place. We would learn more."
Lieder's vision of a system where a UK student housing specialist can assist its tenants to relocate for semesters at, say, a German university, is bold.
Before that, the German sector will need to grow. As well as being a potentially sizeable market, the country certainly has credible fundamentals. Unlike the UK, German students do not pay tuition fees, which can prove prohibitive.
"Students today have more money, they are funded by their parents, they have a bigger budget than say 15 to 20 years ago," says Haller. "It's a stable, but increasing market.
"There was a time when students needed to live at home to be able to afford studies. That's less the case now."
Being able to count on a future flow of students into the sector is one thing. But Germany has traditionally lost out to the UK, with international students keener to add English to their higher education. That, says Lieder, is changing, with more German universities offering bilingual courses. "The doors are open," he says.
Germany also boasts a more relaxed approach to planning permission, with conversion to residential use less of an issue than in the UK. Lieder says the firm already has non-students as residents. "There's a crossover between students nearing the end of their education and first-job workers," he says.
German peer company Youniq, majority-owned by Corestate, entered the sector in 2009. The Frankfurt-based firm, which has around 2,500 units under management or construction, has bought both properties and land in Munich, Greifswald, Karlsruhe, Frankfurt am Main, Mainz, Potsdam, Bayreuth, Lübeck and Leipzig. The firm plans to develop and market 1,500 to 2,500 student housing units a year.
While the German sector, for now, remains small and home to mainly local players, there have been signs of international interest. London-based LJ Group last year committed €100m to Cresco Capital Group's German student housing venture, Cresco Urban Yurt. The commitment coincided with the firm's first purchase, a €60m development in Berlin. The partnership bought the Frankfurter Tor in the German capital for redevelopment into 552 apartments.
More recently, Internos Global Investors and family office Somerston Group entered Germany's student housing sector, taking a 27.5% stake in Deutsche Real Estate Funds Advisor (DREF).
Andrew Thornton, chief executive of Internos, said the firm first considered investing in Germany in 2008.
"We ruled out Germany at the time," Thornton says. "We were deterred by the nature of German education, it was very long-term and it was mostly domestic.
"But there's been a big push from central government to make Germany an information hub."
Rainer Nonnengässer, head of Hamburg asset manager MPC Capital's Micro Living division, says Germany has never been "very fancy for international students".
"It's now the fastest-growing market, with many British students coming to Germany, as well as US students. Cost is their main reason."
The so-called 'brain drain' affecting Mediterranean countries is also a factor in favour of northern European universities.
"As well as the academic offer, Germany also offers stronger employment prospects," says Nonnengässer.
Thornton agrees and sees student housing as a resilient sector. "If you can't get a job, you get an education," he says. "Student housing generally weathered the recession well."
While the outlook is promising in terms of demand; access to German assets is an issue.
Thornton says low rents and high construction costs have made the sector "quite tough to crack".
"It's hard to create a portfolio of scale through new build," he says. "There's been little new development, much of the stock is undermanaged and from the 1970s and 1980s."
Internos, he says, is focused on refurbishing existing stock and improving existing occupier bases. "We'll avoid the typical private equity 'J curve' approach and instead look at phased refurbishments."
MPC Capital, meanwhile, has bought in Bonn and Nurmberg for its STAYTOO brand. Focused on German cities and close to completing a deal on 1,500 beds in Frankfurt at the time of writing, the firm recently entered a €50m joint venture with Denmark-based real estate investor Sparinvest, backed by Danish pension funds for the three projects.
Rather than investing in land or an existing asset, the firm bought a Bonn office building in Bonn's city's Duisdorf district. Conversion will begin this summer, with 160 apartments due for completion in time for the 2016 winter semester.
"Bonn is an important location for us," says Nonnengässer, the erstwhile chief executive of Youniq. MPC Capital, he says, is aiming to have up to 5,000 German beds on its books. However, the firm is not purely focused on student numbers, he says.
"Yes, Bonn has four universities and colleges with over 41,000 students. But it is still home to the headquarters of Deutsche Post and Deutsche Telecom, as well as several UN and government bodies. The city has a high level of commuters."
Nonnengässer says that while MPC Capital is seen as a student housing investor, both students and graduates in their first jobs can use the assets the firm is investing in.
"From a demand perspective, they're looking for the same kind of affordable product," he says. "Unlike in the UK, student housing is considered primarily as a residential product."
Nonnengässer makes a valid point. For despite UK student housing pulling away from its Continental European peers and becoming an established sector niche, often listed players have dominated the market. Conversely, Germany offers more flexibility.
Neighbouring Netherlands offers opportunities for change of use from office to student housing, as the former decreases in popularity as a result of more flexible working patterns. But the Dutch sector is comparatively more rigid in its regulation, with rent levels determined by a national social housing point system.
Points are awarded depending on the size of student rooms and the kitchen counter. Quality, location or services offered were not recognised with points, discouraging new ideas to innovate and smarten up design. While the system may sound off-putting, it inadvertently encouraged Charlie MacGregor in his creation of The Student Hotel, launched in 2005 with backing from The Carlyle Group and more recently by Perella Weinberg.
"We had assets in Holland which we wanted to turn into student accommodation," MacGregor explains. "We knew there were customers out there looking for smartly designed rooms with hotel-style services."
At the time (2009), MacGregor says the smallest room allowed under the Dutch points system was 28sqm. "I spent the best part of two-and-a-half years trying to get around this," he recalls.
A throwaway comment from a colleague over a promotional video MacGregor made pointed the way, he says. "She simply said the video made us look like a hotel – that's when it clicked," he says, with hotels not subject to the points system. "Why can't we create a student hotel?"
MacGregor says study has evolved and changed – but the standard of accommodation on offer is playing catch-up. The firm, he says, is not scared of empty rooms.
"If a student comes to us saying they're moving out, it's not an issue," he says. "More than anything, it's an opportunity."
MacGregor says The Student Hotel uses the summer months to turn "one of the weakest periods into one of the strongest".
"We're not afraid of vacancy as it turns into a massive advantage," he says. The firm offers accommodation to parents and lecturers, as well as tourists.
Despite the lack of an established market in Spain, the firm recently bought in Barcelona, investing in 600 rooms managed by operator, Melon District.
"We're consciously targeting popular cities that have international status," MacGregor says, pointing to Madrid, Edinburgh and Paris.
The French market, says Bouwfonds' European residential fund director, Xavier Jongen, is a "hidden pearl", with a "long tradition and high quality of education".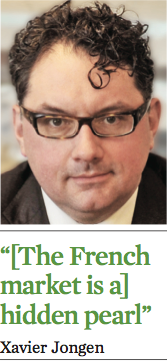 "French institutional investors overlook it – you almost have no institutional competition," he says. "It has strong fundamentals and takes education very seriously."
Jongen says that compared with the German and UK markets, France is slightly more protectionist and barriers of entry are "relatively high".
Launched last year and with €110m raised, Bouwfonds' European student housing fund has so far bought four assets in Grenoble, as well as in Germany, the Netherlands and the UK.
Investing more in French student housing is also on the cards for the fund, Jongen says. As well as Grenoble, in 2010 Bouwfonds also invested in Toulouse, one of France's strongest university cities.
Alongside a growing number of Francophones in the world, France is also competing on an increasingly global stage, offering English language and bilingual courses.
Universities have clearly done their homework. Investors, however, are largely absent from class.