---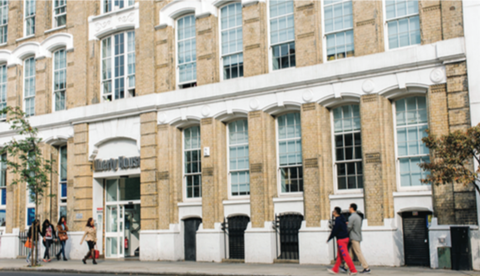 Institutional investors are finally waking up to the full potential of global student housing markets. Florence Chong reports
The sleeper in the investment world – student accommodation – is suddenly wide awake. A record €14.4bn in new capital has gone into the long-overlooked sector in the past 18 months as institutional investors jostle for position.
Transactions in the UK, the most active market, jumped from £2bn (€2.5bn) in 2014 to £5.7bn in 2015, according to JLL. In the US, the world's largest and most mature student-accommodation market, transactions totalled $7.6bn (€6.7bn) from June 2014 to December 2015. A smattering of transactions also took place in emerging student-housing markets in continental Europe and Australia.
The sheer volume of activity is remarkable compared with the size of the total global market. In a Global Student Housing report published in 2012 (the most recent available), JLL put the size of the global student-housing market at $200bn.
Some observers believe transactions in the sector in 2016 are unlikely to reach the highs of 2015, but there has been a flurry of deals in the first quarter of this year in the UK, the US and Australia. At the time of writing, two mega-deals worth a total of $3.3bn were due to close in the US. That figure compares with a US quarterly average deal volume of $1.2bn for the six quarters to December 2015.
In Australia, where deals totalled less than AUD300m (€208m) in 2015, billion-dollar investment plans have already been flagged for this year. The most recent is a partnership between Goldman Sachs and the Australian company Blue Sky Real Estate Partners to develop student accommodation potentially worth AUD1bn.
In March this year, Dubai's Global Student Accommodation (GSA) outlined a long-term strategy to build up a portfolio of some 25,000 beds in key capital cities in Australia. Industry sources said, at about AUD200,000 a bed, GSA is looking at an ultimate investment portfolio of about AUD5bn in Australia – a massive investment for a single asset class.
Industry experts say it is not surprising to see the likes of Canada Pension Plan Investment Board (see CPPIB does its homework), Goldman Sachs and other large global institutions allocating capital to the student accommodation sector. What is surprising, they say, is that it has taken them so long to discover the sector.
In a world where office towers, shopping malls, and even industrial warehouses are becoming increasingly expensive, student housing exhibits all the characteristics of a solid income-producing asset. Statistics make a compelling case for student accommodation. Global tertiary enrolments are expected to rise rapidly to around 263m by 2025 – up from 165m in 2011, according to JLL.
Unlike in the US, there is a chronic lack of student housing in the UK, Australia and Europe.
A major push for tertiary education is coming from Asia's expanding middle class, especially from China and India, for whom children's education, preferably in a prestigious overseas institution, is a priority. Some countries, including Australia, look at education as a key services export earner.
CPPIB does its homework
During the past year, one of the world's largest global pension funds, Canada Pension Plan Investment Board (CPPIB), has invested over €2.4bn in student housing.
CPPIB values economies of scale and, with its recent transactions in the UK and the US, it has a strategic position in the world's two largest student-housing markets. Canada's largest pension fund has a combined portfolio of 34,000 wholly-owned and jointly-owned student beds in the US and UK.
"The student-housing sector, whether in the US or the UK, is an attractive sector with strong fundamentals," says Graeme Eadie, CPPIB's global head of real estate investments. "The fundamentals behind student housing are very much in line with our real estate portfolio, and we see it as key to our strategy. We are building a diversified portfolio of high-quality student-housing properties that deliver stable and growing cash flows over the long term."
In March 2015, CPPIB acquired Liberty Living in the UK for £1.1bn (€1.75bn) and, in August, followed up with the purchase of Student Castle for £330m. The two acquisitions gave CPPIB a combined portfolio of approximately 19,000 beds in 18 UK cities.
In January, it partnered Singapore's sovereign wealth fund, GIC, to acquire the US-entity University House Communities (UHC), which owns 13,000 beds and a development pipeline, from the Scion Group for US$1.4bn (€1.24bn).
CPPIB and GIC have equal stakes of 47.5% in Scion Student Communities, a new joint venture set up to hold the UHC assets. Scion Group, one of the US's largest and longest-established student housing operators, holds the remaining 5%.

"A strongly aligned management team is critical to success in the student-housing market, and we believe we have this in both our investments," says Eadie.
CPPIB has entered the UK and the US student-housing markets at a time when they are shedding the image of a fragmented, privately-owned sector. Student housing has now morphed into an institutionalised real-estate investment class.
Eadie says the US student-housing sector benefits from strong demand bolstered by demographic trends. He expects demand for purpose-built student housing to remain favourable, underpinned by continuing growth in enrolments.
But supply of good-quality, well-run on-campus student housing is being restricted by capital constraints.
Eadie says the ability of small, local, independent owners, private developers and universities –which have traditionally supplied student accommodation – to supply student housing is becoming more limited.
"To date, public [student housing] REITs have not been able to grow in comparison to traditional multi-family REITs, and there have been few dedicated institutional capital sources," says Eadie.
However, this is changing as investors begin to compete in this sector. "We believe there will be further consolidation of ownership in the sector in response to institutional interest – plus the operating efficiencies that can be achieved with scale."
CPPIB sees the UK gaining market share of the overseas student population. This will increase demand for student housing. "There is a meaningful supply-demand imbalance for the most desirable, high-quality student housing in the UK," he says. "The recent removal of caps on student numbers in the UK is expected to support growth in both domestic and international student numbers."
As in the US, Eadie says the UK market has been consolidating over recent years. "The market has evolved from one funded by developers and private equity with shorter-term investment horizons to one that is now substantially funded by stable, institutional capital with a long-term investment horizon and commitment to the sector. The returns are attractive relative to other current real estate opportunities in the US and UK on a risk-adjusted basis."
Student accommodation has been one of the best-performing sub-sectors of UK real estate since the global economic downturn.
In the US, Eadie notes: "The student-housing sector has consistently outperformed all major real estate sectors other than multifamily in total returns over the past five years."
With an average annual rental growth rate of 2.7%, student housing performance metrics are impressive, Eadie says. During the past 18 years, there was only one year in which rental growth was negative.
Countries compete intensely to attract an increasingly discerning international student market. They need to offer more than quality education; they must also have modern, purpose-built student accommodation. It is only in the past decade that developers have begun building purpose-built accommodation. Lack of investable, modern student housing explains why transactions in the sector may slow this year.
Newcomers, are developing their own portfolios. Marcus Roberts, Savills' head of student investment and development in London, says that global, regional and domestic institutions are teaming up with developers to establish student housing platforms across Europe.
In the US, the student-accommodation market is different to other countries – consolidation is starting to take place in what is otherwise a fragmented market. Even so, institutional investors are finding it difficult to buy good-quality portfolios.
Some, like the Chicago-based Harrison Street Real Estate Capital, have decided to acquire companies instead. Harrison Street paid US$1.9bn for the listed REIT, Campus Crest Communities, which it plans to delist.
Jaclyn Fitts, director of student housing for CBRE capital markets, says new players are entering the industry. Last year, Fitts brokered the sale of one of two student-housing portfolios to Starwood, marking its entry into the sector. Starwood is believed to have paid between US$250m and US$275m for the two portfolios.
Other new players include Canada Pension Plan Investment Board and the TIAA (which has already concluded transactions worth US$50m in Texas). "We see an opportunity to invest $200m to $250m and we are in the process of transacting several deals," John Panagakis, TIAA's head of global private distribution, tells IPE Real Estate.
Tim Noonan, JLL head of capital markets in the US, says: "The Scion Group and Starwood transactions are the start of what we anticipate will be a robust market for new purpose-built student housing."
Noonan says that transactions in student housing between June 2014 and December 2015 totalled $7.64bn, of which about $3.4bn was sold to institutional investors. Of the $3bn sold to private investors, he says, a significant portion was backed by institutional equity in joint ventures, although the amount cannot be specifically quantified.
Noonan says true institutional investment is much higher as a proportion of overall sales in the US.
CPPIB has teamed with Singapore's sovereign wealth fund, GIC, to buy the Scion Group, which owns University House Communities Group, for US$1.4bn.
Despite the large deals in recent months, Noonan says: "The outlook is for sales to remain on pace with the previous six quarters (about $4.8bn a year) as new developments reach stabilisation over the next two to three years."
Based on Real Capital Analytics data for 2013-15, median cap rates for student housing sales have declined by 60bps to 6.2% over that period, he says.
Fitts says: "Student housing delivers stable cash flow, and the yield can be 50bps higher than, say, multi-family investment." The US market is still absorbing a strong pipeline of development, but Fitts says: "The supply is starting to trend down for the 2016-17 academic year."
Greystar to go global
With limited development opportunity at home in the US, Greystar, owner, developer and operator of student accommodation, has turned its focus to offshore markets. Greystar manages a total of 410,000 rental housing units and has an ownership stake in over 65,000 units, valued at a total of US$12bn.
Greystar has an ownership interest in 28,500 student beds in the UK. It has committed to almost £3bn-worth of co-investments in the UK since 2013. Its biggest commitment is the Vero Group, a £2bn joint venture with Goldman Sachs and Wellcome Trust, established this year.
Wes Fuller, Greystar's executive managing director, who runs its investment management and European businesses from London, says the firm's offshore expansion programme has been driven by strong fundamentals for student housing and the emergence of a multi-family sector in the UK and European markets.
After 2017, the development of new accommodation in London will not match the expected growth in student enrolments, he says. "There is a disparity between demand and supply over the next five years."

Fuller says: "Other factors are the prospect of an acquisition-led opportunity – which would allow us to reach scale quickly – and the support of our existing investors to expand to the UK."
Greystar intends to continue building its UK portfolio to meet the shortage of student housing.
Greystar has also established a presence in the Netherlands. Last October, the US group purchased the 939-bed Campus Diemen in Amsterdam, reportedly for about €80m. Fuller says the group has formed a €250m separate account in the Netherlands to enable it to build a student and multi-family portfolio and operating platform. Eventually, Greystar plans to expand into other countries across continental Europe, Mexico and Australia.
Savills research suggests the number of full-time university students in the Netherlands will grow to 695,000 by 2025. Roberts says it is interesting that a small country like the Netherlands has six universities listed in the world's top 200 tertiary institutions.
Being part of the world-ranking tables is important for universities if they want to attract international students, who invariably refer to such lists as a reference for quality.
Roberts says other European countries are looking to expand their share of university education by offering undergraduate and master degrees in English.
GIC – the first mover
Among institutional investors, GIC has the most experience in student accommodation. In 2005 it formed a 70-30 joint venture named Unite Capital Cities, with Unite, the UK's largest developer and manager.
The venture was extended in 2013 to run to 2020, with a further investment of £330m to build more student housing in London. In 2006, GIC set up a US$1.1bn joint venture with Campus Apartments, the oldest student housing company in US.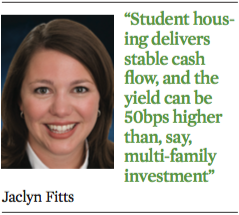 As in the UK, GIC was one of the first institutional investors to take a stake in Australia's emerging student-accommodation market. In 2014, it formed a AUD150m joint venture with Macquarie Group to back the Australian student housing operator, Iglu.
Today, GIC has an investment spread in student accommodation across three continents. GIC declines to disclose the value of its student-housing assets, but published information shows its commitment to the sector since 2005 totalling at least €2.6bn.
Its latest venture is a partnership with CPPIB and Scion Group. "There is a lot of potential in the US because the industry is highly fragmented," says a GIC source. "We are looking at the tier-one university market. Our focus is on the top-ranked US universities.
This joint venture will continue to pursue opportunities to acquire high-quality student housing assets."
A GIC spokesperson says: "We are attracted to the student-housing sector due to its positive fundamentals and potential." Asked whether student housing has been a rewarding investment for GIC, she says: "We do not disclose information on returns. It is worth noting, though, that we are in this sector in a few markets. We expect our student-housing investments in these markets to generate steady cash flows for us moving forward."
Australian market heats up
For investors searching for new opportunities in student housing, Australia appears to be the market of the moment. Until 2015, there were few investment-grade deals, but the tempo has picked up since the start of 2016. Industry sources say there is a long line of investors seeking to enter Australian.
In addition to GSA and Goldman Sachs, South Africa's Redefine Properties and leading homegrown Australian groups like Meriton are looking for sites on which to build student housing.
The UK-based Scape Student Living has signed up the Dutch pension fund, APG, in an AUD220m joint venture to expand its student housing operations in Australia. Along with APG, Scape has also signed with ICBC International Holdings, the real estate financing arm of ICBC, the large Chinese bank that has committed AUD$110m to the Australian market.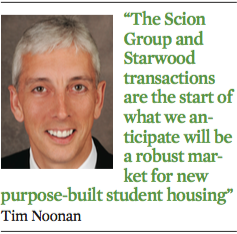 "The catalyst for activity in this market is the general perception of a significant under-supply by international standards of student housing in Australia," says Conal Newman, who until recently was director of student accommodation at JLL.
One investor speaking to IPE Real Estate on terms of anonymity says: "There are about 70,000 student beds in Australia, which has a population of more than 250,000 higher-education students." This investor says not all of those beds are of a high standard. Some 2,000 beds are being developed.
Another source says Australia has just one purpose-built bed for every 10 students, compared with 2.5 beds for every 10 students in the UK. "Foreign students make up 25% of the population of university students in Australia. This compares with 16-17% in the UK and 4-5% in the US."
Across Australia, the shortfall for purpose-built beds is more than 100,000, with Melbourne alone having a gap of 70,000. Some 12,000 beds are being developed and more are in the pipeline. This shortage makes Australia a destination offering the best returns internationally, with the added promise of cap-rate compression in coming years.
Newman says: "Typically, on an ungeared basis the return is 10-11%. That is made up of a yield of around 7-7.5% and a rental growth rate of 3-3.5% per annum. This compares more than favourably with a yield of less than 5% in the UK."
But the unnamed investor warns that, regardless of whether the commitment is to Australia, the UK or elsewhere, institutional investors should back companies that have vertically integrated operations – so that they have the ability to access sites and develop and operate assets. "That is the key to a successful investment in student housing," he says.
Student Housing: A sleeper emerges
1

Currently reading

Student Housing: A sleeper emerges

2