The serviced apartment is a fairly new concept. But, writes Russell Kett, investors should recognise that the model has longevity
In 2013, at the time of the inaugural Serviced Apartment Summit in London, HVS published a report outlining how serviced apartments were emerging as a growth sector across Europe. Straddling the traditional hotel market and residential lettings, serviced apartments were a relatively new concept in Europe, despite the presence of international operators such as Accor and Marriott.
The sector has since gained considerable momentum as new openings, branding activity and a number of significant transactions have raised awareness among users and developers.
And while planning restrictions and minimum length-of-stay regulations remain an issue, as the market grows and operators continue to expand, lenders and investors are also showing increasingly more interest in serviced apartments on account of their lower operational-cost structures and larger profit margins.
As a result, this fast-growing market is moving towards the mainstream. Its rapid and continued growth, as well as operators' creativity, means the offer is still very much evolving.
The advantages of serviced apartments, particularly for corporate guests, long stays, families and groups of people travelling together, are multifarious. Serviced apartments give a more home-from-home feel, offering guests the room to work, cook, relax and sleep, and, according to the Association of Serviced Apartment Providers (ASAP), guests can enjoy 30% more space than the equivalent standard of hotel – a typical one-bedroom service apartment is about twice the size of an average hotel room.
Furthermore, serviced apartment providers are typically 20% cheaper than hotel rates of a similar standard, and there are no hidden extras such as mini-bars, room service, gyms or leisure clubs to be paid for. For extended stays, VAT reduces to 4% after 28 nights, offering further savings for those relocating or corporate guests working on a longer-term contract. Many providers also accommodate bookings for long-term guests on a Monday to Friday basis, offering even greater savings.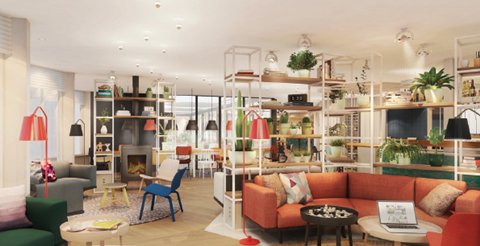 Serviced apartments give guests a freedom that hotel rooms can not. There are no hotel meal times or dress codes to abide by, check-in and check-out times are often more flexible. Housekeeping services are offered, but they are less frequently used, so there are no housekeeping staff looking to clean the apartment while it is occupied. Apartments offer kitchen facilities enabling guests to prepare their own food and drink, while larger apartments enable guests to share, offering further cost savings.
In HVS's 2014 report on the sector, it was noted that demand for serviced apartments was growing faster than new supply in many European markets due to an increasingly mobile work force boosting business travel and relocation activity. In addition, leisure travellers were seeking the additional space and amenity that service apartments offered compared with conventional hotels. At that time, HVS called for a much-needed classification system to give the sector a higher degree of regulation. This has since been adopted by many of the leading operators.
Looking to the future, we are likely to see continued changes in the offer and differences emerging between leading brands. The next generation of serviced apartments is likely to focus on using technology, more efficient use of space and a tendency towards smaller units. We have already seen this with Zoku, the new brand from HotelsAhead, which claims to be a home-office hybrid targeting so-called 'bleisure' travellers.
The combination of serviced apartments and offices in one building is another way serviced apartment operators are expanding their business. With operators such as Zoku in Amsterdam teaming up with shared office-space concept WeWork, and Vision in Switzerland launching its first shared offices in Zurich, the concept of mixed-use development appears to be gathering pace.
Mixed-use developments are by no means a new phenomena in real estate, but the combination of serviced apartments and serviced offices in one building seems a natural fit. The serviced apartment sector is expanding rapidly and exploring new areas in an imaginative way. While some are teaming with high-end hotels, others are looking at the work-leisure combination. This concept works particularly where the apartments target corporate clients.
Another variation is the offering of two hotels in one, whereby guests staying with a particular hotel group are offered a choice of two brands on one site, one of which could be a serviced apartment along the lines of IHG's Holiday Inn/Staybridge Suites in Stratford, London. The advantage to operators is that they can appeal to a broader share of the market by offering something for everyone. Operational benefits are that both brands can share back-of-house space and staff, and there is also the flexibility in booking if one hotel is overbooked, as well as enhanced marketing opportunities.
Efficiency of space means serviced apartments are becoming smaller, enabling operators to appeal to travellers with smaller budgets and fit more apartments into a single building. Many new properties now offer slightly smaller rooms, or studios, allowing pricing to come down.
The HVS report says this urge to downsize is just beginning and could be taken a stage further with the move towards micro apartments, which can provide economy and budget-friendly living in about 20sqm. Despite their small size, designers have managed to create an illusion of spaciousness by creating triple functionality space, whereby one room can function as a dining room, living room and bedroom.
As the serviced apartment/aparthotel sector has grown, new brands have emerged, such as The Prem Group's Premier Suites and Premier Suites Plus, and Ascott's The Crest Collection of luxury residences. In addition, BridgeStreet has added aparthotel brand Mode to its repertoire and Apple Apartments has introduced the Exclusive brand.
The majority of the UK's serviced apartments are in London and the cities of Birmingham, Manchester, Edinburgh and most York, with brands such as Citadines, BridgeStreet, SACO Apartments, Staycity, Go Native, Marlin Apartments, Think Apartments and Premier Apartments all increasing their presence.
Across Europe growth has been led by the UK, Germany and France. About 45% of new supply is based in the UK, with 30% in Germany. Dublin-based Staycity Aparthotels is currently one of the most active in terms of new openings, along with Marriott's Residence Inn, Adina, Smartments, SACO and Vision Apartments.
It remains to be seen how this dynamic sector will develop but as customers become more familiar with the concept, it is likely to become a key player in the overnight-stay sector.
Russell Kett is chairman of HVS London