---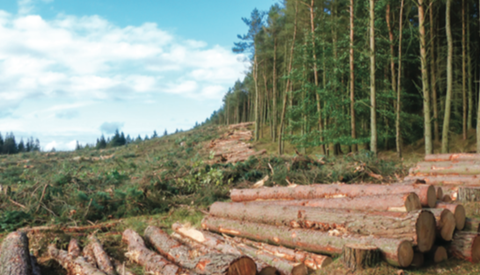 It is an attractive asset class but timber returns are not what they once were. Investors will have to work harder to find opportunities, says Maha Khan Phillips
Last year, TIAA Global Asset Management announced the close of Global Timber Resources, a $667m (€594m) global timber company, run in partnership with GreenWood Resources, a firm in which TIAA has a majority stake. The company has commitments from several high-profile institutional investors, including the TIAA General Account, Caisse de dépôt et placement du Québec, AP2, and the Greater Manchester Pension Fund.
The amount of money raised is indicative of the fact that, in an environment where investors need yield and diversification, real return assets such as timber are attractive, says Justin Ourso, managing director and portfolio manager at TIAA.
"When we look at timberland or agriculture, we are really focused on the long-term investment potential of these asset classes, and some of their positive features, such as the fact that they tend to be negatively correlated to traditional securities like stocks and bonds," he says. "So there's a diversification impact. Then there's the inflation-hedging capabilities of these assets, which is important for a long-term-driven investor."
Timber is also attractive because there are no storage costs involved, and no loss of value if a forest is not used (in fact, the opposite is true; the value of forests increase over time). Timber can also be harvested at any time, which makes it different to the cyclical nature of agriculture.
However, the asset class has become more correlated to become mildly positive to other asset classes. "From the mid-1990s through today, we have seen the pattern of a bull market coinciding with and driven by a housing boom, while the subsequent bust brought correlations across seemingly every major asset class," says TIAA in its 2012 report, Investing in Timberland.
TIAA, which has over $8bn in assets under management in timber and agriculture, does not publish its actual performance, but targets annual returns of between 8% and 12%, roughly in line with the NCREIF indices.
But broadly, performance in timber is slowing. In the quarter century to 2011, timber outperformed all other major asset classes, with an average annual return of 13.5%. But in the second quarter of 2015, the NCREIF Timberland index returned 0.51%, trailing both the 1.75% total return the previous quarter and 1.08% in the second quarter 2014. The appreciation return was negative 0.05%, and the EBITDA return was 0.56%, which was the lowest quarterly income performance since third-quarter 2012.
"Overall, timberland returns were relatively flat this quarter," says Ryan Reddish, chair of the Timberland Committee and acquisitions analyst for Forest Investment Associates in the US. "Seasonal downward movement in product prices led to reduced harvest activity."
That slowdown is one of the reasons that investors are re-thinking the asset class. "We are probably having as many conversations with people looking to sell their timber exposure as with those looking to buy it," says Karen Dolenec, global head of real assets at Willis Towers Watson.
Another reason is the need to diversify geographically. A 2009 study by the International Timberland Company (IWC) revealed there are 165m hectares of investible timberland available to institutional investors. That forestland has been estimated to be worth approximately $467bn. Today, the firm puts the value of timberland assets managed by investors globally close to $100bn, compared with $20bn in 2000, according to IWC. That leaves plenty of capacity in the market, but those opportunities are more globally diverse than they were two decades ago.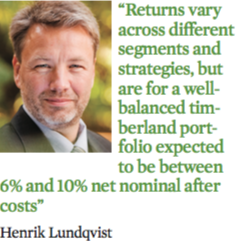 Timberland allocations began primarily in the US, where the institutional market developed rapidly in the 1980s because of ERISA rules, which required pension plans to diversify their investments. Now, however, industry participants say that market is saturated. Due to the geographical distribution of investible forestland, it is expected that, in future, 80% to 90% of investments will be made out side the traditional countries such as the US, New
Zealand, Australia, Chile, and Uruguay, says Aquila Capital, the alternative manager, in its 2015 report, Real Assets: investing in timberland.
Aquila Capital has been investing in the asset class since 2007, and earlier this year acquired 3,100 hectares in three locations in Scotland for institutional investors, its first foray into the Scottish timber market. Consultants say managers are going further afield because there are fewer opportunities in traditional regions.
"US managers have been going abroad, initially to Australia and New Zealand, and now to South America, where there is still a process of divestments happening, which means that the returns that were previously achievable in the US are now more likely to be achievable in South America," says Dolenec.
She points out that it means that investors need to understand who they are allocating with. "Capacity is an issue in the US market," she says. "You have to look at the managers going abroad. Are they doing that because they can't invest in the US anymore and are the right amount of resources being put into an expansion strategy?"
It is an issue that institutional investors say they have to grapple with across all real assets. "We're in a timber fund that has a 40-year life," says Robert 'Vince' Smith, chief investment officer and deputy state investment officer at the New Mexico State Investment Council, which has a long-term allocation target of 12% to real assets, including timber. "It's a very long-term asset. We have made commitments across the mix of assets that we intended, but it is tough investing in the space, at present. Our managers are struggling to find good value, with the exception of the energy sector."
But others believe there is still everything to play for in the sector. Henrik Lundqvist, chief investment officer at IWC, says: "Returns vary across different segments and strategies, but are for a well-balanced timberland portfolio expected to be between 6% and 10% net nominal after costs going forward. That should certainly be achievable, and compare to other asset classes is fairly attractive."
But there are many challenges for asset allocators. "Lack of public information on the market is a challenge for institutional investors," Lundvist says. "When they are presented with an investment model, they need to be able to evaluate whether the assumptions made in such a model are reasonable, and that's a big barrier for many investors."
Brooks Mendell, president of Forisk Consulting, says that, although investors need to recalibrate their return expectations slightly, it is important to recognise that timber is not an absolute-return game. "It's a relative-return game," he says. "Timber as an asset class is doing what it is supposed to be doing. There may be people who are leaving the sector, but in aggregate the total allocated to the sector has been steadily growing. The biggest challenge, by far, is finding investable properties at the right price. There's more demand than there is supply for large-scale investments."
Mendell believes that investors need to be invested across three different types of timber properties to be properly diversified. That means markets with different species of trees, at different maturity levels. "The major natural disaster doesn't care if you are growing for the housing market or the pulp market. You can make investments in the same region or country, but they cannot be affected by the same things."
Investors could choose to make several allocations to specialist regional managers instead of a global player. Gresham House Asset Management, which has about £225m in assets and 30,000 hectares of commercial property in the UK, says the market is attractive because there will be a declining supply of domestic timber after 2030, largely due to the collapse of new planting since 1990.
"There is no indication that the fiscal position associated with forestry is going to change," says Rupert Robinson, managing director. "One of the reasons behind that is that there is generally a shortage of forestry coverage in the UK, and if you look at the governments in Scotland and Wales, or England, they are actively encouraging more investment into forestry."
There is, of course, also the option of investing in an exchange-traded timber fund or a listed security, rather than directly in a plantation. But Robinson says that provides very little value. "What you typically end up getting access to is a company or a group of companies that have activities that are involved in timber. This could range from owning the trees themselves, to the harvesting, processing businesses. It could involve paper or packaging business as well, so you are not getting the pure exposure that you would do by owning the forest directly."
Investors may have to adjust their return expectations, but the long-term outlook for the asset class is still positive, believes Oldrik Verloop, managing director at Aquila Capital. "An investment horizon of less than 10 years does not make sense for timber," he says. "A typical horizon would be 10 to 15 years."
In that time, compared to other low-yielding assets and volatile markets, timber provides consistent value. "For me, timberland is doing exactly what it is supposed to do," says Mendell. "It is a stabilising asset with a steady cash flow. It doesn't have a lot of swings and variations, and that's very attractive to investors."
Real Assets: Agriculture - Growth in seed capital
1

2

Currently reading

Real Assets: Timber - Returns begin to wilt