---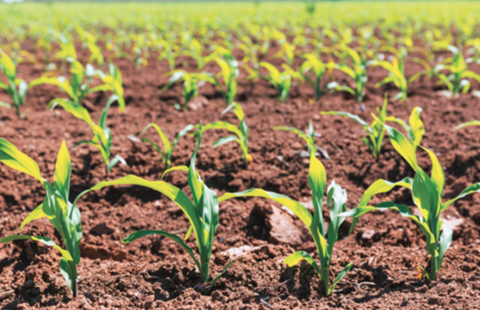 Consumer trends and demographic shifts are making agriculture appealing to investors. But there are limited opportunities and reputational risk, reports Maha Khan Phillips
The world's population is growing at a rate of 25 million people per year, according to the United Nations. By 2030, there will be eight billion people on the planet, and feeding them will require a 25% boost in agricultural productivity. These changing demographics, combined with the current low-yield market environment, and the real need for diversification, means that agriculture has become an attractive investment proposition.
"This is an area perfectly suited for long-term institutional investors," says Marek van Genderen, an equity analyst within the long-term equity strategy team at PGGM Investments, a team that allocates exclusively to companies that contribute to food security, via publically traded equities.
"There will be 9.6bn people in the world by 2050. That will require more than 70% more crops than we have today, and five times the grain per kilo of production. We are running out of arable land. This is something that will play out over several years."
PGGM also gains exposure to food security projects in other portfolios, notably through its private equity allocations, where it has invested in food processing, production, and agricultural land across the globe.
Several other large pension providers have also made allocations to farmland in the past year. TIAA Global Asset Management, the financial services provider, closed its TIAA-CREF Global Agriculture II fund in 2015. The fund was oversubscribed, with $3bn (€2.7bn) in commitments, exceeding its initial target by half a billion dollars. High profile investors included the Greater Manchester Pension Fund, Environment Agency Pension Fund, AP2, Cummins UK Pension Plan Trustee, New Mexico State Investment Council, and the TIAA general account.
TIAA has over $8bn in assets under management in timber and agriculture and, with more than 400 properties totalling 600,000 acres in major grain producing regions, is a veteran in the field, investing via Westchester Group Investment Management, in which it has a majority stake. But it has come under heavy scrutiny in the past year, facing media reports that it is in business with a shadowy Brazilian land grabber accused of using violence to displace indigenous people. It is an allegation that TIAA categorically refutes.
"The reports are inaccurate," insists Justin Ourso, managing director and portfolio manager, TIAA Global Asset Management. "We meet all government requirements for the protection of farmland. We ensure that we are buying assets that we can own. I can say that we have a robust due diligence process and oversight procedures and go back decades to understand the nature of the investments we are making."
He points out that TIAA is an original signatory, and helped draft the UN Principles for Responsible Investment in Farmland, and says the firm has to work 'within the existing civil and legal structures' in countries like Brazil, when it conducts title searches. "We also use technology to go back over satellite images, looking at when a farm was converted prior to our ownership to ensure that they had the appropriate licence to convert into farmland."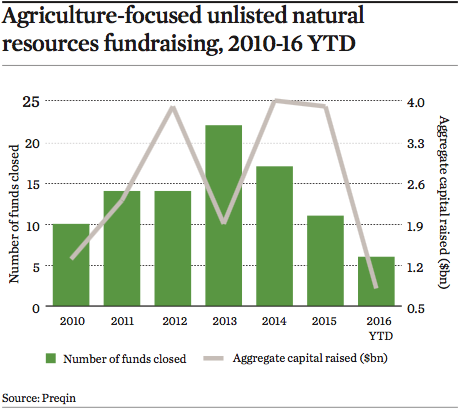 But critics point out that title searches are not always reliable, and that reputational risk in agriculture is a big concern, particularly for investors who have not had any exposure to the asset class in the past, and do not know how to navigate some of the multi-layered governance. Investors really need to know what they are getting into, before they decide where and how, and with whom, to make an allocation.
"There's a reputational angle which, from our perspective, is why we need to be very clear about the managers that we work with. Institutional investors don't want that kind of reputational risk," says Karen Dolenec, global head of real assets at Willis Towers Watson.
Dolenec points out, however, that the scrutiny TIAA faced from the media and from non-governmental organisations is a good thing. "My personal feeling is that investment managers are very positive for the sector. They bring an institutional level of governance which isn't always there with the mom-and-pop farmers."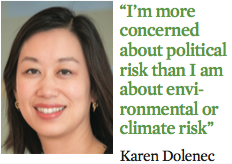 However, she says it is the politicised nature of industrial farming in many parts of the world that is the biggest challenge to investors – they have to reassure local communities that they are taking sustainability seriously and not driving food prices up. "I'm more concerned about political risk than I am about environmental or climate risk," says Dolenec.
Investors that do invest in the asset class are benefitting from the diversification and inflation protection thatagriculture offers. Real assets such as agriculture have the potential to provide bond-like current income, from leasing land and selling commodities, and from the long-term capital appreciation of the land, to help meet future liabilities, points out TIAA, in its 2016 report, Private Real Assets: improving portfolio diversification. Real assets also provide a strong hedge against inflation because long-term returns have far outpaced the inflation rate, and many commodities, such as foodstuffs and raw materials, are components of inflation measures such as consumer price index (CPI).
Agriculture has a low performance correlation to both stock and bond indices as well, which is one reason why the New Mexico Investment Council has chosen to make allocations.
"We calculate that the median performing public fund has 74% of its assets invested in stocks and bonds. We target 59%, making these assets part of our broader efforts at diversification," explains Robert 'Vince' Smith, chief investment officer and deputy state investment officer.
There are also consistently strong returns, particularly important in the current low-return market environment. Agricultural land, as measured by the US-only NCREIF Farmland Index, has outperformed both stocks and bonds on an annualised basis over the 22 years to 2013, according to TIAA's 2013 report, Investing in Agriculture. Farmland continued to post stronger returns in 2014, with a total return of 12.63%. Nine of the 10 years between 2004 and 2014 saw returns over 14% on a total farmland basis, according to NCREIF. The annual total farmland return was 9.68% for the year ending second quarter 2016, down from 11.65% over the year ending in the second quarter 2015. The trailing year return was comprised of a 5.26% income return and 4.27% appreciation.
Oldrik Verloop, managing director at Aquila Capital, which has invested €314m in agriculture, primarily through the dairy farming sector in Australia, says investors can expect returns of 6% to 10%, depending on the risk that they take.
"Our returns do not come from land appreciation only," he says. "They come from an increase in production and yields, and are driven by improved operations. Often there are very capable people who don't have the cash to buy the land themselves, and with banks retreating, this is a way for a young farmer to get to make operational improvements and be a co-owner or part owners, and have a performance-related income based on how well the farm is doing."
Only 1% of farmland is estimated to be held by institutional investors. "Agricultural land everywhere is predominately held by farmers, and in most agricultural geographies, there's a question around succession. Farmers are much older than most of the population, and there's an issue about whether their children will take over the farm," explains Dolenec.
Another issue is lack of expertise in the marketplace, she says. "One of the challenges for investors is that there are still not a lot of managers around who can demonstrate the skill-set needed to execute whatever their chosen strategy is. A sensible strategy on paper can be quite difficult to execute.
"I don't think investors are always aware of the fact that this is a political area. I feel there should be some jurisdictional diversity in a portfolio to deal with this, and that's challenging to achieve, because you need managers with skills across multiple countries or you need to invest with multiple managers."
Tim McGavin, chief executive officer of Laguna Bay, the Australian manager, suggests that another challenge is the lack of resources available to investors. "Agriculture is harder because there is no information, and very few people who have the track record of making investment-grade returns on a large scale."
He agrees that diversification within the sector is important. "Climate change is a huge issue for all of us and a diversified portfolio across sectors and geographies is the only way I can think of managing it. My chances of predicting winners and losers are low, so we play it safe."
Dolenec also points out that the market is still very small – too small to provide capacity for many investors. "Last year, $3.9bn was raised. But it's an area where we are seeing increased investor interest, and hopefully that means appropriate implementable options will also increase."
For its part, TIAA believes the scarcity of farmland has important implications for investors. Rising institutional interest will probably produce return compression in the future, it suggests. In the near term, demand is likely to exceed available investment capacity, which means investors will not find it easy to make large-scale commitments to agriculture, no matter how optimistic they are about the sector.
Real Assets: Agriculture - Growth in seed capital
1

Currently reading

Real Assets: Agriculture - Growth in seed capital

2