The UK leisure sector has performed strongly as a result of changing cultural behaviour and improving fundamentals, writes Maha Khan Phillips
The UK leisure real estate sector posted a 10.4% total return last year, outperforming most retail sectors, with the exception of those in central London, according to figures released by MSCI. Retail, on average, returned 9%, while supermarkets returned a minimal 2%. Industry participants say that leisure's comparative performance is just another indication that the sector is coming into its own.
"Leisure has taken quite a turn over the last six to eight years," says Andrew Ferguson, fund manager of Legal & General Investment Management's Leisure Fund. "At the beginning of the recession it was seen as a risky asset class and a poor relation to the retail sector. But in 2009 and 2010, when the economy was not in a good place, people didn't stop going out or having that bit of fun. The knock-on effect was that while they stopped spending money in shops, they didn't stop going on a good night out. The fund, which manages close to £500m (€642m), focuses on out-of-town and edge-of-town real estate across the UK, with assets secured by leases of 16 years on average."
The industry generates a £176bn annual turnover, according to a 2015 report by M&G Real Estate. One in 10 UK workers is employed in the sector, which includes restaurants, cinemas, casinos, bowling alleys, sports centres, spas, golf courses and even, in some cases, hotels.
According to the report, the sector has provided the third-highest average annual excess return over the past 25 years, at 4.3%, compared with other property sectors and equities, while annual volatility was one of the lowest, with a standard deviation of 8.9%. On a risk-adjusted basis, the leisure sector ranked second against all asset classes. "In other words, after residential, the leisure sector has compensated the investor more per unit of risk," says M&G.

Part of the reason is that consumer behaviour has changed. "Every year, there is a rising amount of people eating out and spending money on leisure," says Ashley Blake, CEO of Otium Real Estate, a specialist in the sector that has raised £200m.
Last year, Otium completed six deals, including the purchase of the Nuffield Health & Fitness in Cannock, the Westgate Leisure Park in Wakefield, and the Newport Leisure Park.
Blake believes the outlook for the market will continue to be positive, with millennials searching for experiences – rather than ownership of goods – with their disposable income. The millennial generation has grown up with the internet, which has affected the way they make purchases, he says. "A lot of retailers don't need shops anymore, but leisure has been resilient against the internet."
Developers have been catering to the changing demographics. "Leisure has changed a lot," says Mark Smith, director of JLL for out-of-town retail and leisure. "If you go back to 2009, a number of schemes, and particularly in-town schemes, had large nightclubs which were wet-led, or bars. Basically, they were drinking establishments.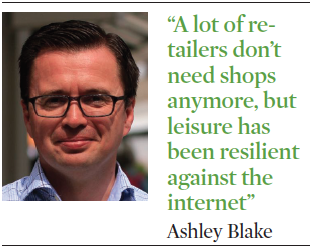 "There's been a big turnaround since, and a big focus on taking out the nightclub operators and bringing new entrants to the market, whether it is trampoline operators or adventure golf, ten-pin bowling or kids' play. Many of the developments taking on the big spaces are much more family-orientated, with strong covenants and long leases."
Jessica Berney, head of retail at Schroder Investment Management, points to the firm's own lettings at the Galaxy Luton leisure centre as an example of the change. Jump Arena, a trampoline park company, has let a 35,500sqft unit on a 20-year lease, while Kidd 'n' Play, a children's soft play operator, has taken on a 4,860sqft unit on a seven-year lease.
"Jump Arena are taking long leases and paying good rent. Their start-up costs are low because they are leasing their equipment," she says. Berney believes the outlook for the leisure sector will continue to be positive.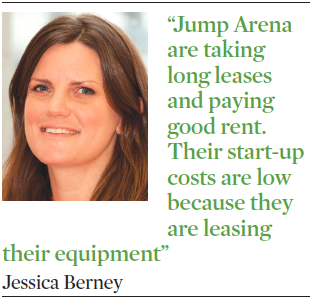 "The market can take all these concepts forward, and the cultural change is definitely here to stay."
One of the biggest beneficiaries of the changes has been the restaurant industry, although Berney points out that the lines between retail and leisure are blurring, as more restaurants open in shopping malls.
In contrast to many consumer-facing sectors, spending in cafes and restaurants actually rose during the recession, according to a 2015 report from Aviva Investors , entitled Success on a Plate. Eating out now accounts for 40% of all leisure spending in the country, driven by rising female participation in the workforce, an increase in the number of single-person households, and growth in the 'cash-rich but time-poor' demographic classes, according to the firm.
But Ferguson says there will not be room for everybody. "You've seen many cinema operators come to the market, a lot of restaurant operators and health clubs as well," he says. "There is only going to be so much that you're going to need in one town or city. That's why I keep a close eye on my cost base and on my tenants."
Another issue is capacity constraints. Lot sizes are small, tending to be under £50m, and the market is a specialist one. It means there are limited options for institutional investors wanting to make big allocations.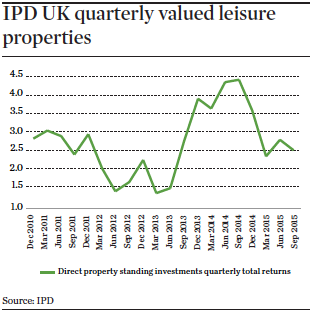 JLL's Smith says it means investors are looking farther afield. "People wanting to buy into the leisure sector who haven't been able to get a hold of more traditional schemes have now taken on slightly riskier single-let assets," he explains. Those might include casinos or pubs, for example.
Overall, though, industry participants are positive about the future. "The economic drivers have changed. If you look at the macro trends at the moment, there is a lower unemployment rate, and rising consumer confidence. People are spending their disposable income, and there is structural change, driven by cultural factors," says Ellie Jukes, property strategist at LGIM.