Its customers come and go, but the hotel industry is attracting a new kind of long-term owner. Maha Khan Phillips checks into a growing institutional sector
In April, Denmark's largest pension scheme ATP entered into a joint venture with AXA insurance companies to purchase a hotel development in Amsterdam. The transaction followed a similar deal the year before, when ATP and AXA co-invested in two London hotels. The pension scheme also bought the Copenhagen Marriott Hotel with PensionDanmark in January 2017.
ATP and Pension Danmark are among an increasing number of institutional investors making inroads into the hotel sector. In March, Invesco Real Estate purchased the Sheraton Grand Hotel in central Krakow for €70m, on behalf of a UK pension fund.
Research from Engel & Völkers Hotel Consulting (EVHC) reveals that institutional investors accounted for 17% of the €19bn in European transaction volumes in 2016. Real estate investment trusts (REITs) made up an additional 27%, while private equity firms accounted for 11%. The remaining transactions were conducted by hotel owner-operators (11%), hotel investment companies (28%) and undisclosed investors (7%).
"Hotels had always been seen, until recently, as a really operationally risky specialist asset class that you shouldn't touch," says Marc Socker, managing director of hotel fund management at Invesco Real Estate. "But they are becoming more and more mainstream, because of the increased availability of data. The data is very compelling, and shows that hotels are far less volatile than other asset classes, and that they outperform other property sectors."
As Invesco points out in its 2017 report, Time to Check In, there are many reasons why the sector is attractive. Underlying assets are cash-flow generative, and daily pricing of the underlying rooms can provide inflation protection. There is transparent trading data for the occupier of the asset, and rent affordability, and very rarely are hotels empty or non-income-producing. European hotel real estate is also a good diversifier – at the height of the financial crisis in 2008, hotel returns remained positive, while commercial real estate posted a negative return.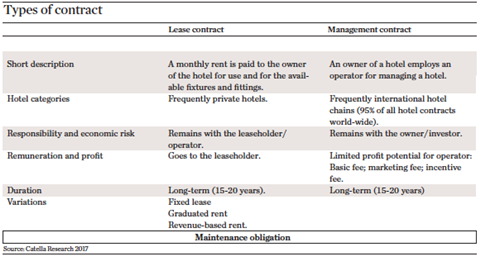 "There are still attractive yields in the hotel sector, compared to other asset classes like residential and office," says Andreas Ewald, managing partner of EVHC. "If you have a good contractual agreement, a strong operator and a good location, it can deliver a yield premium of 75-125bps, compared to the office sector."
Michael Nielsen, chief executive of ATP's real estate division, says the pension fund is focused on finding assets in good quality locations, and on working with strong brands and operators. "Performance is a good supplement to the overall real estate return we have, and normally we deliver a return in real estate of between 5% and 7%," he says.
Nielsen believes that investors need to do their due diligence, and that it is important to have strong contracts in place with reliable operators. "As an investor, we can discuss whether we want fixed contracts or contracts with minimum rent, or management contracts. We would still rather have stable income based on long contracts. We prefer contracts with a low risk profile."
There are typically two types of different contracts in hotel management. A management contract occurs when an owner employs an operator to manage a hotel. A lease contract pays regular rent to the owner for use of the hotel. The majority of institutional investors prefer lease contracts, although the vast majority of agreements globally are still management contracts, according to research from property investment firm Catella.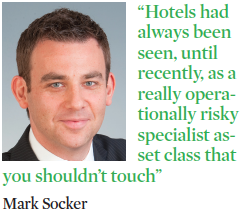 Germany is the one exception. Perhaps that is why the market, which posted the largest amount of transactions last year, is dominated by institutional investors, who make up 70% of total investors, according to EVHC.
AXA Investment Managers–Real Assets manages a €2.6bn portfolio of 87 hotels across eight countries, 60% on lease and 40% on management contracts. "With management contracts, you are able to extract, in comparison to a lease, a slightly higher profit, but of course you are much more involved," says Karl Badstuber, senior hotel specialist at the company. "On a lease contract you have a fixed lease but you need to make sure that the tenant or operator is generating enough profit in order to pay you the rent."
AXA IM–RA has made several acquisitions this year. In addition to managing the AXA joint ventures with ATP, it has also purchased the Abba Hotel in Germany and Room Mate Hotels in Madrid.
Badstuber believes the European sector will continue to thrive, partly because of geopolitical events. "Terrorism concerns are driving tourism to certain regions which are perceived to be safer," he says. "If you look at occupancy figures for the German Baltic Sea, they were probably 20% lower four years ago. Six years ago Spain was in severe economic distress, and now tourism is one of their most solid income streams."
Sleeping patterns
There were 2.9bn tourist nights logged in Europe in 2016, up 2% on the year before. Some 140,000 additional rooms are under construction, according to EVHC. The industry is evolving as it grows – and bifurcating as well. Budget hotels, long regarded as a niche product, are becoming more attractive, particularly for business travellers, a market which investors primarily want to reach. They are cost-efficient and tend to have high occupancy rates, according to Catella. Luxury hotels have also experienced a strong upturn in recent years.
"You have new segments of sub-segments coming up all the time," says Socker. "One is hostels. Another is extended-stay or lifestyle hotels, those that are trying to create a destination of special environment within their buildings."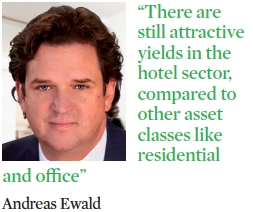 In March, Invesco and Patron Capital sold their Generator Hostels business to private equity firm Queensgate Investments for €450m. Camil Yazbeck, partner and investment director of hospitality at Patron, says the firm extended the business from two hostels to 14, focusing on high-quality, design-led experiences for modern guests. "Having built Generator into an internationally recognised brand, and grown the business to a scale more suited to a traditional private equity manager, we chose to sell, following significant interest from potential purchasers."
But like any industry in evolution, hotels are experiencing growing pains. Although new buildings are coming up on both greenfield and brownfield sites, location is key for luxury hotels, meaning there is strong competition for high-quality assets. "There are a lot of opportunities, but we also say no thanks to many of them, simply because the fundamentals are not in place," says Nielsen. "We are not under any pressure to find new hotel investments."
There is also the looming threat of disrupters such as online travel agencies (OTA) and Airbnb. Three booking portals are now an established part of the hotel industry, according to Catella: the Priceline Group, the HRS Group, and Expedia. Between them, they control 92% of the entire European OTA market. They could be a source of huge support for hotels in terms of tapping into new markets and target groups, says Catella. But hotels could also become highly dependent on them, particularly if they are smaller family-run hotels with low sales.
"Intermediaries like Booking.com and Expedia can be both a blessing and a challenge for hotel chains," says Ewald. "They took away market share, but hotels are trying very hard to bring the client back through their own distribution channels. Sometimes that's successful, and sometimes less so."
But industry participants agree that Europe will offer the best opportunities in the global hotel market. Charles Human, chairman of consultancy HVS, points out that there is less liquidity in other markets around the world. "In the Middle East and Asia there's less churn, and more a mentality of building and holding, whereas in Europe there's liquidity and market activity," he says. "So there's deal flow, and it's a great time to be borrowing because of low interest rates. It's a very attractive sector."
Hotels Europe: Short-stay assets, long-term capital
1

Currently reading

Hotels Europe: Short-stay assets, long-term capital

2