The growth of the hotel industry in Asia-Pacific is vulnerable to short-term shocks, but its long-term outlook is attracting investors. Florence Chong reports
In 2015, Hong Kong-based Gaw Capital Partners surprised many in the hospitality business by paying US$938m (€854m) for a Hong Kong hotel. Gaw Capital led a consortium, which included sovereign wealth fund Korea Investment Corporation, to secure the InterContinental Hotel in Hong Kong's renowned tourist enclave Tsim Shat Sui.
At US$1.86m per room key, the price paid set a new record. It is more than the US$1.4m per room that China's Anbang Group paid for the 1,413-room Waldorf Astoria in New York in a US$1.95bn deal a year earlier.
Kenneth Gaw, founder and president of Gaw Capital Partners, says it is misleading to quote the headline key number because, to do so overlooks the fact that some 60% of the hotel's revenue comes from food and beverage outlets and conferences.
Gaw describes the InterContinental as an invaluable asset in an irreplaceable location on the edge of Hong Kong harbour. But built some 30 years ago, it has seen better days, and the new owners are investing in substantial renovations.
Gaw, whose firm now has hotel assets valued at more than US$2bn, says final cost of the investment will be "well over US$1bn". But he believes it will be money well spent when the asset is fully capitalised on its prized waterfront position and refreshed to the luxury standards expected by today's travellers.
It is an accepted fact in the hospitality industry that Asian institutions and high-net-worth individuals have a particular affinity with hotels. For Asia's super rich, as well as being a "generational asset" to be handed down to future generations, a top hotel has the highest "bragging value" of all asset classes.
Many of Australia's four and five-star properties, for example, were either built or bought by Asian investors. A Singaporean tycoon, the late Khoo Teck Puat, established Australia's landmark hotel deal back in March 1988 when he paid AUD540m (€359m) for Southern Pacific Hotels Corporation, owner of 44 properties in Australia and New Zealand.
With few exceptions, global institutional buyers have remained daunted by the complexity of hotel management rights and the vagaries of the travel industry. But some institutions are starting to take their cue from one of the world's most savvy real estate investors, GIC.
The Singaporean sovereign wealth fund's latest annual report points out that hospitality assets now account for 13% of its overall real estate portfolio. For more than two decades, GIC has been buying – and sometimes selling – hotels around the world.
More recently, it added four properties previously owned by ANA Hotels in Japan to its collection. These were acquired from a Morgan Stanley Fund in a debt-equity swap deal.
Another active player in the Asia-Pacific hotel market is the Abu Dhabi Investment Authority (ADIA), which invested HKD18.5bn (€2.16bn) to acquire a 50% stake in three Hong Kong hotels from New World Group in 2015.
ADIA made waves in Australia in 2013 when it bought 31 hotels for AUD800m from Tourism Asset Hotels (TAHL). Last December, ADIA restructured the TAHL business and sold AUD200m worth of the assets to Accor.
M&G Real Estate Asia Fund acquired two Art Series hotels in Melbourne for AUD146m in 2015 on the strength of the lease-back arrangement with operators.
Global private equity investor Warburg Pincus recently formed a hotel platform, Lodgis Hospitality Holding, with VinaCapital, a specialist in Vietnam's property market. The platform has a start-up capital of US$300m to invest mainly in hotels in Vietnam and neighbouring Indo-Chinese countries, says David Blackhall, VinaCapital's managing director.
Blackhall says VinaCapital has been building and running hotels in Vietnam since 2005. At its peak, says Blackhall, VinaCapital was the biggest foreign hotel owner in Vietnam, with a US$400m portfolio.
Although hotel transactions within Asia Pacific accounted for just over US$8bn of a global total of US$60bn last year, Asian capital accounted for US$14.4bn of all hotel deals closed in 2016, according to JLL Hotels & Hospitality. China was the main driver, responsible for US$9.8bn, with the rest of Asia making up the balance of US$4.6bn, says JLL.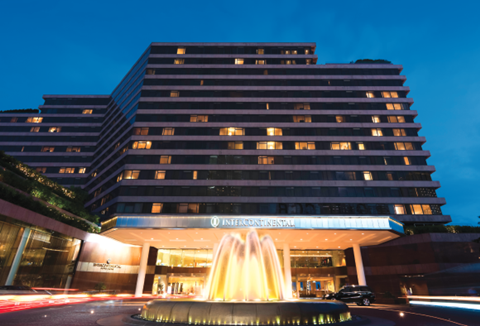 So far this year, just under US$2bn of transactions have taken place across Asia-Pacific, says Frank Sorgiovanni, head of research Asia Pacific at JLL Hotels and Hospitality group. "Globally, we expect transactions to reach US$60bn in 2017, similar to last year's total," he says.
Scott Hetherington, chief executive for Asia at the JLL Hotels & Hospitality Group, says there is a huge weight of capital in Asia wanting to enter markets such as Australia, Singapore and Japan. Japan recorded the largest volume of hotel transactions, at US$3bn, last year, he says. Australia was next with US$2bn.
Japan will host the Rugby World Cup in 2019, to be followed by the 2020 Olympics in Tokyo. Both are huge events for the hotel industry. Last December, Japan's Parliament passed the Japan Integrated Resort Act, seen by some as giving a further boost to tourism in Japan.
But supply is challenging in these markets, especially in Australia and Japan. Sorgiovanni says few hotels come to market in Asia-Pacific. "We see hundreds of office and retail transactions each year, but just 137 hotels were sold in Asia-Pacific last year," he says.
Hetherington says the good news is the emergence of exciting new hotel brands in Japan and Singapore. Developers of many of these new hotels are large Asian family companies and funds.
He sees growing investor interest in Indian Ocean hotel markets such as the Maldives, Seychelles, Mauritius and other resort destinations in Asia, such as Thailand and Vietnam.
New supply is also coming in Melbourne, says Hetherington. But the Sydney market remains tight.
Sorgiovanni says that, encouraged by a government policy to develop domestic and foreign tourism, the supply boom in China was huge for many years. But Chinese planning authorities have recently reviewed their policy on mixed-development land use, allowing projects to be built according to the "highest and best use" rather than just including a hotel component.
"Unlike in the past, if a hotel in that location is not viable, it won't be built in most cases," says Sorgiovanni.
In the current environment, Hetherington suggests investors need to be opportunistic and to access assets on their individual merits.
Gaw Capital is a classic opportunistic investor. Gaw says his company bought the Sofitel Silom (since rebranded Pullman Hotel G) at the height of the 'yellow shirt' political protests in Bangkok in 2011. "We bought a hotel in Pattaya, Thailand, in the middle of SARS [in 2003]." The highly infectious severe acute respiratory syndrome (SARS) shut down Asia's tourism industry that year. The hotel was a distressed sale.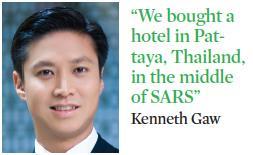 Gaw says the industry has become more resilient to shocks, mentioning in particular Thailand, a popular destination for tourists the world over. The Thai tourism sector has been repeatedly hit by calamities, political unrest, coups and terrorism, he says. "But it comes back every time." He marvels that the recovery time seems to be getting "shorter and shorter".
Gaw says South Korea is a market of emerging opportunities because geopolitical uncertainty on the Korean peninsula is starting to hit the industry. "Korea went from being a very hot tourism market to very cold very quickly," he explains, adding that combined with some leverage stress among large Korean companies, more hotels could be coming to market soon. "We could be seeing some good hotel deals in Korea."
Gaw's faith in Asia-Pacific's hotel sector is shared by the tourism industry at large. The consensus is that, hiccups aside, the long-term outlook for travel and tourism in Asia Pacific is positive.
According to the World Travel and Tourism Council (WTTC), the sector's total direct contribution to global GDP was US$2.3trn in 2016, a figure forecast to grow to US$2.4trn this year. In its latest outlook report, WTTC forecasts 5.7% annual growth from now until 2027, contributing US$4.2trn a year to the global economy.
The underlying driver is the rising affluence of Asia, led by China and India. It is having a dramatic impact on tourism in Asia-Pacific and beyond. Given this kind of long-term trajectory, it is not hard to understand why investors see clear blue skies ahead.
Hotels Europe: Short-stay assets, long-term capital
1

2

Currently reading

Hotels Asia-Pacific: Investors book in advance