Sam Berry says demand for physical primary-care property will not decline despite the increasing use of digital technology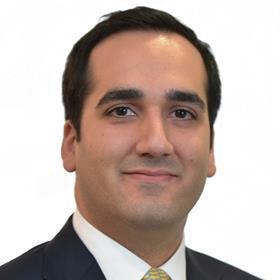 The COVID-19 pandemic has accelerated the trend of using digital technology for primary care services in the UK.
Some, if not most of us, have been there: we feel unwell and instead of physically visiting our local doctor, we use a helpful app for a quick consultation, with the aim of getting some advice on remedies or receiving a referral to see a specialist. Quick, easy and, most importantly, all from the comfort of our own home and without having to spend time in the patient waiting room.
This begs the question: does physical primary healthcare property still have a place in our lives and should such assets form part of institutional real estate portfolios?
As the UK's National Health Service outlines its ambition to provide every patient with primary care services by 2024, there is no denying that the digital healthcare trend will continue and accelerate.
However, we believe demand for fit-for-purpose primary healthcare property will remain strong, and indeed strengthen, for several compelling reasons:
• A complement rather than a substitute: The pandemic has been a significant driver of digital transformation and adaptation of digital technology, although it has not managed to eradicate the need for in-person visits.
The role of primary healthcare has been vital in the UK's national vaccination programme, with the vast majority of respondent practices having been involved in the programme (according to the Royal College of General Practitioners). As in-person visits recover from historic lows brought about by the pandemic, it is evident that remote consulting and other digital ways are complementary to in-person visits. In its paper 'Future of remote consulting and patient triage', the College notes: "Face-to-face appointments will always remain a major element of general practice, and remote consultations will continue to be delivered where appropriate and useful. The mode of consultation should be determined through shared decision-making between a patient and practice staff." The use of technology will evolve the use of primary healthcare centres and make doctor workloads more efficient.
• Demand for fit-for-purpose property: Having surveyed more than 1,000 practices, asking doctors and practice managers to detail their experiences of property ownership, management and leasing, the British Medical Association found that only a half of doctors' practices are fit for purpose.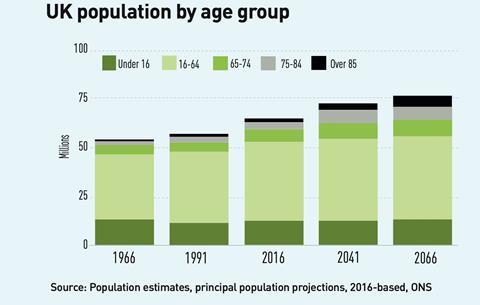 A report by Savills notes the number of surgeries declining "as larger, specialist surgeries replace smaller, older ones", while the number of patients continues to grow. The number of patients registered at large surgeries (of more than 15,000 patients) doubled between 2015 and 2021.
This is in line with the government's push for more integrated care, with doctors forming primary care networks serving larger communities of around 50,000 patients. Practices are accommodated by modern centres offering a range of healthcare professionals and facilities that allow more procedures to be undertaken in a primary health setting, thereby alleviating pressure on hospitals.
We are likely to see a divergence in returns, with larger more modern facilities performing well and smaller, legacy assets less attractive.
• An ageing population in need of more primary healthcare: The Office of National Statistics points to an ageing UK population, projecting that, within half a century, there are likely to be an additional 8.6m people aged 65 and over (see UK population by age group).
The changing and ageing structure of the population is driven by improvements in life expectancy. As life expectancy increases, so does the amount of time spent in poor health, which translates to more demand for primary healthcare.
• Rental growth and strong covenant: As inflation in the economy picks up, income streams with fixed, index-linked uplifts (albeit these are usually capped or collared) and open market rent reviews, which are market standard for primary healthcare property, will prove attractive compared with many of the standard lease agreements found in other sectors. While this allows exposure to the upside risk, the downside is protected by long leases with exceptional covenant strength, as leases are government or quasi-government backed.
• Increased interest from ESG-conscious investors: As large institutions are under pressure to improve their ESG credentials, there is likely to be more interest from institutional investors in the healthcare sector. The growing interest is likely to stem from socially conscious investors, looking for environmentally sustainable assets that deliver tangible community benefits.
• Opportunity for growth and consolidation: Ownership of doctors' surgeries is fragmented in the UK; the largest and most dominant owners in this market are believed to be public real estate investment trusts (REITs), namely Assura and PHP, which own 8% and 6% of surgeries, respectively. Combined they serve about 17% of patients. Given the trend of surgeries declining, with smaller and less-efficient facilities giving way to larger more-efficient facilities, Panmore Gordon estimates that more than 230 new fit-for-purpose facilities will be needed by 2031.
Despite rapid digital advancement in this sector, there remains favourable dynamics for investors in fit-for-purpose primary healthcare property. We believe indirect investing (via both listed and unlisted property funds) is an attractive path to get immediate and inexpensive exposure to sought-after portfolios.
Dominant REITs, such as Assura and PHP, are likely to emerge as winners in this space, as they own the best-in-class assets.
Sam Berry is a senior investment analyst and indirect portfolio manager at DTZ Investors