The healthcare sector is fragmented and tightly regulated, but it has not put off investors, say Johann Rumetsch and Raffaele Mazza
The investment market for healthcare real estate in Germany is booming. In 2016 there was a record number of sales, and purchase prices were higher than ever before. CBRE raised its transaction volume prognosis for the sector in 2016 to more than €3bn, more than double the previous record high of €1.2bn in 2006.
With an estimated overall volume of €2.4bn in the first three quarters of 2016, healthcare real estate transactions accounted for 7% of the overall commercial real estate transaction volume in Germany. However, industry insiders expect the high investment volume to remain an exception, as it was directly linked to a high number of large portfolio sales. Although investment in healthcare is predicted to increase steadily in the short term, the annual transaction volume is expected to stabilise at about €1bn due to a lower number of large portfolio transactions.
Real estate investment companies form the largest group of investors, followed by insurance companies, open-ended property funds and special funds. In the first half of 2016, approximately half of the investment capital came from domestic investors, whereas in the second half there was a significant increase in inbound investments from neighbouring European countries. With investments valued at over €1bn, Belgian and French investors were the most active, accounting for more than half of the overall transaction volume.
Facing low interest rates and volatile stock markets, investors long to find new opportunities. As the high demand for traditional commercial and office assets cannot be satisfied, investors are looking at niche markets to increase returns and reduce competition. Hence, the growing interest in healthcare and social properties which, in addition to a low vulnerability to economic trends, offer numerous advantages and are therefore slowly being recognised as an established asset class.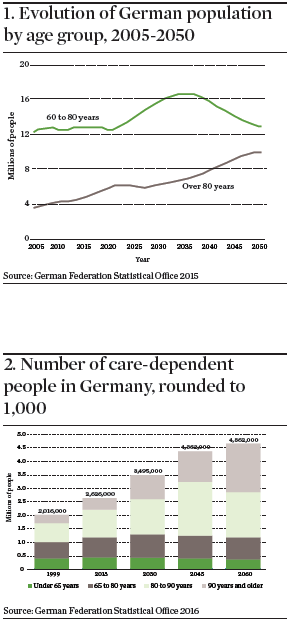 One of the most obvious reasons for an investment in nursing and retirement homes is demographic change in Germany, with life expectancy constantly rising. Today, about 5% of the German population is over 80 years old, but they could make up 15% by 2050, according to the German Federal Office of Statistics (figure 1).
In 2013, the number of care-dependent people – or those entitled to payments under the German nursing care insurance (Pflegeversicherung) – amounted to almost 2.7m. The number is expected to rise to about 3.5m by 2030 and exceed 4.6m by 2060 (figure 2). Although most care-dependent people are currently being cared for at home, close to 30% (and rising) already live in nursing homes. Estimates therefore foresee a shortage of up to 350,000 nursing places by 2030.
In addition to a promising growth, healthcare real estate offers attractive risk-adjusted yields compared with traditional asset classes. Currently, top yields for modern facilities are between 5.75% and 6%, which exceeds top yields for prime office and commercial real estate, which are suffering from a constant yield compression. Furthermore, investors also appreciate the long-term leases concluded with operators, which are partly co-financed by the state and therefore significantly limit the risk of default.
Nevertheless, investments in healthcare real estate often come with risks that have to be considered prior to any purchase. A major risk is insolvency of the operator. According to the Institute for Economic Research RWI, approximately 7% of the nursing homes had a "high insolvency risk", while about 21% were considered at risk.
Despite the generally assumed supply deficit, a decrease in occupancy rates is expected in some regions due to skills shortages and possible preference shifts of the care-dependent population. According to official statistics, eight of the 16 federal states had occupancy rates below the national average of 88.6%, whereas experts believe that nursing homes require occupancy rates of no less than 95% to remain profitable.
Additionally, operators fear that profitability might further decline with the implementation of the second Care Act (Pflegestärkungsgesetz II), which came in to effect on the first day of 2017. It is estimated that up to 1,300 nursing homes could become insolvent by 2025, as a result of the reform. In the case of insolvency, a new operator needs to be found, a time-consuming task during which the property does not generate any revenue.
In addition to the solvency of the operator, the quality of location and the managerial competence of the operator constitute the most important requirements for a successful investment. But investors should be aware that the acquisition of healthcare real estate is a long-term investment that does not typically generate short or medium-term returns; they should manage their expectations accordingly.
It should also be considered that the market is tightly regulated and frequently subject to reforms. These often trigger adverse effects on the long-term contractual relations in place. Many operators are aware that their nursing homes do not fully comply with statutory legal requirements, but speculate that they would be granted exemptions by local authorities turning a blind eye in view of the scarcity of available nursing places.
Compared with other countries, for example, France, the UK or the Benelux states, the German healthcare real estate market is highly fragmented. In foreign markets, large operators are capable of applying their development strategies widely while simultaneously operating a large number of nursing homes. They use standardised processes and often rely on the same partners when building or operating nursing homes.
The harmonised regulatory frameworks in their domestic markets allow for an increase in efficiency, whereas investors and operators in Germany usually have to cope with a very complex and heterogeneous regulatory framework, which hinders the desperately needed expansion of nursing capacities. In fact, almost every German federal state has implemented its own legislation relating to nursing homes, which significantly complicates the planning and development of new facilities and leads to higher investment costs.
It is therefore not surprising that the current number of new developments stays far below expectations. To meet the rising demand for nursing places, approximately 150 additional homes would need to be built each year; about one-third of these is being realised, according to industry experts.
Regardless of the mentioned difficulties, an increasing amount of foreign operators and investors look at the German market and recognise the potential of its underdeveloped industry. French insurance companies expressed a strong interest and are eager to invest. This also applies to investors from Belgium and Luxembourg who are looking to diversify their real estate portfolios, since nursing and retirement homes are already considered a well-established asset class in their home countries. Investors from the UK and Scandinavia have also been quick to identify the potential of the German market and have already been quite active.
In the medium term, a maturation and consolidation of the German healthcare real estate market is to be expected. This trend might be accelerated by large-volume acquisitions, such as the recent acquisition of 68 nursing homes by Paris-based Primonial Real Estate Investment Management for €994m from Even Capital, or the acquisition of Berlinovo's Pegasus portfolio by Deutsche Wohnen for €420m.
Although such large-volume transactions should remain the exception, they illustrate the rapid pace of change the German healthcare real estate industry is undergoing – a change that should lead to a noticeable professionalisation of both investors and operators.
Potential acquirers also increasingly include operators that seek to own the properties they operate, such as the French firms Korian or Orpea, which are now two of the largest operators in Germany.
Despite the recent record-breaking transaction volumes, healthcare real estate remains a niche market. This will probably not change in the nearer future due to the existing complex and non-transparent regulatory framework.
In the medium term, a consolidation of the market, as witnessed in some neighbouring countries to Germany, can be expected, a trend which will help stabilise the value of healthcare assets. All in all, an investment-friendly regulatory framework, as well as a shift in politics, would help promote further development.
Johann Rumetsch is counsel and Raffaele Mazza is an Associate at Herbert Smith Freehills Germany
Healthcare UK: Pay due care
1

2

Currently reading

Healthcare Germany: A challenge worth taking

3

4