Demand for bandwidth is only going to increase, especially with the emergence of Internet of Things. The data centre market is only going to get bigger, write Tom Duncan and Bob Thompson
When the Lefdal Mine data centre opened in May 2017 in Norway it became Europe's largest, with nearly 1.3m sqft of space. Also in May, Facebook started to build a data centre on its Altoona site in central Iowa. When complete the Facebook campus will be more than 2.5m sqft. Range International's data centre in Langfang in China, is 6.3m sqft – the same size as Microsoft's portfolio of centres – and is the world's largest. Two conclusions can be drawn: these are large investments by any standard and the data-centre market is global.
Traditionally, the location of a data centre has been determined by the availability of bandwidth and reliable power. There is a good reason that the Facebook European data centre in Sweden is astride some of the best bandwidth infrastructure in the world and multiple sources of hydroelectric power that ensures stability and unparalleled reliability.
What factors are important when choosing a data-centre location? Clearly, availability, redundancy and cost with respect to bandwidth and power remain important, but growth in the market is adding other issues.
Over the past decade data centres have moved away from major urban areas towards remoter locations. In the 1990s, around two thirds of all telecommunications traffic between Europe and North America passed through data centres in London's Docklands. An IRA truck bomb at Canary Wharf in 1996 brought about the realisation that this made the system vulnerable to attack, and the general dispersion began.
As well as the need for network security and reliability, this dispersal is reinforced by the rapid growth in demand for distributed, or 'edge' computing. To understand the rationale for edge computing we need to think about latency, which is the time interval between data being sent and received and which is affected by anything that creates a bottleneck, preventing data from passing through a network connection. The further data must go, the higher the latency, due to its speed of travel.
Edge computing is based on the principle that smaller data centres close to the end-user can improve speed and performance. It is no longer necessary to have huge amounts of data carried upstream into the network to a data centre that is located far away and then bring it back to the user. These local data centres reduce latency and improve response times to offer a better experience.
For financial organisations small latency discrepancies of milliseconds can be the difference between making or losing large amounts of money – improved latency of 20% can make a significant difference.
Cue the Internet of Things (IoT). The potential disruption of the IoT is on the same scale as the internet and smartphones. IoT technology is in its infancy and is projected to reach close to 30bn connected autonomous devices by 2020.
The ability to connect multiple devices together and analyse the data they produce in real time, data must be processed, stored and analysed closer to the end user. To accomplish this, organisations need to bring this power to the 'edge' of the network.
So what does this mean for the physical real estate? Data centres have been a specialist area for real estate investors. The advent of localised data centres makes the sector look more like traditional product. Clearly, some of the parameters are different but essentially data centres are physical economic infrastructure driven by local demand, just like office blocks, warehouses or shopping centres.
The deployment of IoT in buildings might stimulate demand for more data-centre space as the real estate industry moves into real time.
This article is part of a series in collaboration with the Society of Property Researchers
In vogue but not invulnerable
Big box industrial units in the UK have grown in line with e-commerce, but the market faces some near-term risks – principally Brexit. Hemant Kotak reports
For a long time the industrial property sector had been low, if not off, investors' radar. Sheds just do not have the appeal of trophy office or retail assets, and data to understand underlying demand and supply pipelines were difficult to come by. Building specialist knowledge in the sector and the having the patience to assemble and manage scale-efficient portfolios were beyond most investors.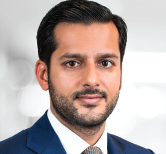 That has now changed with the prevalence of big-box industrial units over 100,000sqft. Their prominence rose thanks, firstly, to expanding global trade (that is, outpacing GDP growth) in recent decades. But the main cause has been the surge in e-commerce in western economies, which now accounts for a meaningful amount of total sales (low to mid-teens in the US, UK and Germany). Both have been powerful drivers of demand as bulging trade lengthened supply chains, and online retailers' warehouse usage intensified – with increasing complexity and automation – at the expense of retail shop space.
While the sea-change in investor perceptions has been quick, it is also likely to be long-lasting. Data from CBRE suggests prime industrial yield premiums are below 100bps when compared with offices and all shops – remarkable given that 30 years ago it was nearly 300bps and 500bps respectively. Real estate investment trust (REIT) market pricing is another useful gauge of investor sentiment across property sectors; implied gross asset value discounts for London office and UK retail portfolios are about 20% and 10% respectively, while for industrials it is a 5% premium – demonstrating that investors in publicly quoted companies believe industrial property offers attractive returns despite convergence in yields.
The new-found attraction to the sector is based on healthy demand and increasingly tight supply, both at the market level and REIT portfolios – Segro's vacancy fell from 12% to about 5% in the past few years, while others such as Tritax Big Box and LondonMetric have 0%. But what are the risks and have investors moved from under-appreciating the industrial sector to now pricing for perfection?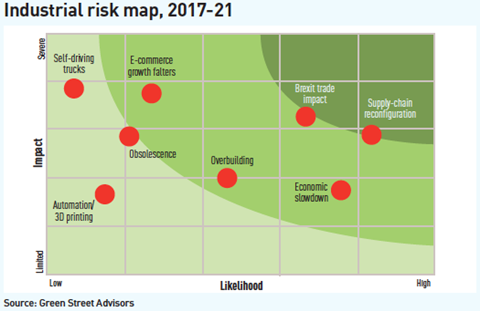 Risks emanating from technological advances such as 3D printing, self-driving cars, and drones are 'disrupters'; these topics get ample publicity but are unlikely to be the main concern for industrial market over the next few years. A bigger concern is if the supply response is not measured and speculative schemes become prevalent again. We view this as a medium-level risk as there has been prudent restraint from developers so far into the cycle.
Near-term, the greatest risk is likely to stem from Brexit and its impact on trade between the UK and the EU. The protectionism under way in much of the world is gaining momentum and is a sharp contrast to liberalist trade policies of the past, which led to swelling supply chains. That growth era may not only have passed its peak, but certain regions may experience a decline.
Brexit poses one such risk for the UK if its leaders are not able to negotiate a workable transitional period and a free-trade agreement (FTA) with the EU. Even when a deal is reached, the administrative burden and financial cost for businesses will rise and many may not wish to wait around for the five-plus years that it typically takes to agree such trade deals. If an FTA is not possible and trade terms default to World Trade Organisation rules, the repercussions would be worse still. We remain upbeat about the look-forward prospects for the UK industrial sector, but traditional and emerging risks on the horizon argue against complacency.
Hemant Kotak is managing director at Green Street Advisors