After a series of new fund launches, aircraft leasing is clearly attracting a growing number of investors. Jennifer Bollen checks in to the asset class

Real estate with wings is how some investors describe aviation investment. Thanks to growing familiarity among investors and the perpetual search for yield, it is gaining altitude.
The asset class, which shares real estate and infrastructure-style returns for liability-driven investors, has attracted greater appetite from funds and the capital markets in recent years. This comes as Boeing predicts the commercial aviation industry will double the size of its fleet in the next 20 years on the back of growing passenger demand.
"[There are] approximately $6trn (€5.3trn) of aircraft assets that need to be financed in the next 20 years – replacement of old, existing fleet but also totally new aircraft," says Cian Dooley, a partner at Airborne Capital, a specialist aircraft leasing and asset management business based in London and Dublin.
"That scale of growth is very significant. The capital required is going to be far in excess of anything we see available today.… It creates a whole new platform for new players to come into the space."
Data from Boeing Capital Corporation (BCC)shows the proportion of aircraft delivery finance across the industry provided by capital markets is forecast at 30% in 2019. That is up from 28% in 2018 and 14% in 2010 – the earliest year in Boeing's data.
The opportunity is substantial. Total revenue for delivery finance – spanning all sources – is expected to reach $143bn in 2019, compared with $126bn in 2018 and more than double the $62bn garnered in 2010, according to BCC.
Meanwhile, the number of unlisted funds targeting the sector is inching up. Global figures from data provider Preqin show three aviation funds closed in 2018 with a combined $1.7bn of capital. However, in 2017, six funds closed with an aggregate $3.1bn. This was up from two funds in 2016 that raised $700m between them, and in stark contrast to no such fundraising in 2008.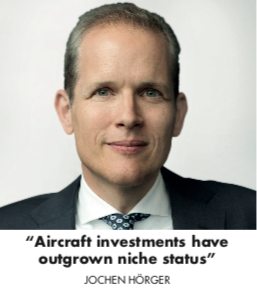 Jochen Hörger, managing director of aviation at Germany-based KGAL Investment Management, says the strategy is "established and growing" in Europe, with many investors looking to allocate capital.
Alok Wadhawan, head of aviation finance at investment bank and asset manager Investec, says appetite among UK and European investors for aviation funds is growing, partly due to increasing understanding of aviation among investors.
"In Europe, the investor base is far more conservative," he says. "Part of the reason is that the European investors haven't been exposed to aviation in the same way as US investors, because of a lack of capital markets here."
Investec Aviation Finance launched its fourth aircraft-leasing fund last year. Wadhawan says that for most of the fund's European investors, it was "their investment in a portfolio or a fund format out of Europe". He says: "Some UK investors have participated in funds in regional aircraft leasing, as well as in some of the US mid-life transactions."
Mark Rogers, managing director of the aviation team at asset manager Floreat Group, says the diversification opportunities within aviation are a big draws for investors. "There is diversification in terms of both the lessee of the aircraft, and the type of aircraft being leased, and the age of the asset, and that allows investors to tailor the type of exposure they want to match their risk-return profile," he says.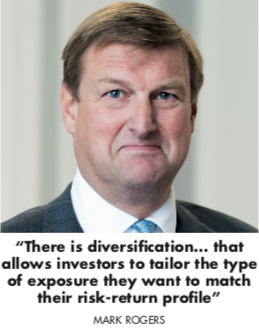 "The global investor base has expanded as these benefits have become clearer in recent years, whilst those working in this investment area have also spent a lot of time educating investors about all these benefits to make them more comfortable with it as an asset class."
Congestion on the runway
Investec's latest fund plans to acquire up to $2bn of assets – namely, the latest generation of Airbus and Boeing narrow and wide-body planes – which it will lease to international airlines.
Meanwhile, Germany's KGAL Real Investments, a 40-year veteran of the aircraft leasing market, is raising €400m for its latest core vehicle, KGAL Aviation Portfolio Fund 3.
C-QUADRAT Asset Management has set a €300m target for a value-added fund, C-QUADRAT Airport Opportunities I.
KGAL says new entrants in the market are creating greater competition with cheap sources of capital. Hörger says firms can continue to generate strong returns by being selective in three main value drivers – aircraft type, lessee quality and security package.
These criteria may become even more pertinent. "Given the size of the aircraft market and the intrinsic quality of aircraft investments through our funds, we expect more and more investors to access this segment," he says. "Aircraft investments have outgrown niche status."
Airborne is among the new players, having launched in November 2017 to address a particular niche in aviation finance. It describes itself as an aircraft lease and asset manager. It set out to create a full-service platform to provide all the technical services typical of an asset manager and source finance across the entire capital structure.
"We're seeing regulatory constraints such as Basel IV, capital adequacy," says Dooley. "There are pressures on traditional lending institutions, which may lead to a reconfiguration of where debt sources come from."
It combined this offering with a specialist team headed by chief executive Ramki Sundaram, who previously worked as head of aviation finance at Investec and as global head of aviation at Natixis.
In January 2018, the French investment bank bought a minority stake in Airborne for an undisclosed sum. Airborne said in a statement at the time that the deal would give it access to a global asset management platform and help accelerate plans to increase its business to aircraft assets under management of more than $5bn within the first five years of operation. Natixis, meanwhile, would get further exposure to real assets.
In September, Airborne launched AltitudeOne Aviation, a joint venture with LetterOne Treasury Services, which manages the investments of investor LetterOne. Airborne and LetterOne Treasury Services have committed about $250m of equity to AltitudeOne, which will buy a portfolio of leased in-production narrow body and wide body commercial aircraft.
Like Airborne, Investec aims to make itself distinct in this burgeoning corner of the market. "There aren't that many asset managers who do the same thing we do," says Wadhawan.
"We have the benefit of working in a FTSE 250 bank. There are other cases where we can provide other products as well to our airline clients, which others may not be able to provide. An airline may want financing of an unencumbered aircraft with a sale and leaseback. Or a pre-delivery finance loan; any new aircraft will have pre-delivery financing for a Boeing or Airbus."
Cross Ocean Partners is another newcomer. The global asset manager raised $438m for its first aviation fund in October. The Cross Ocean Aviation Fund will invest in late-life commercial aircraft and engines globally.
Ascending in the east
It is not just in Europe where managers predict significant growth. Asia, particularly China, is emerging as a hotspot for aviation investment.
The developing aviation funds market in Europe follows de-regulation in the region 20 years ago. New rules enabled any qualified air carrier in the EU to operate in any other EU country. It came 20 years after similar de-regulation across the Atlantic.
"Clearly, now all airlines in the EU can fly wherever they want without a base or local employees," says Airborne's Dooley. "Asia is the next market we hope for that to happen. It hasn't de-regulated yet to the extent it has in Europe."
Boeing said that in 2018 its highest proportion of lessor-funded deliveries went to China – 42% as lessor direct purchases and 41% as sale and leasebacks. In the same period, North American lessor director purchases accounted for 1% of the total, while sale and leasebacks accounted for 12%. Purchases by lessors in Europe made up 15% of the total, with sale and leasebacks accounting for 12%.
In September, The International Air Transport Association published its latest annual figures on aircraft performance. It said that for the first time, global annual air passenger numbers exceeded 4bn, bolstered by cheaper average airfares and a broad improvement in global economic conditions.
Its breakdown of passenger numbers is based on citizenship rather than country of residence. However, its findings are notable: US passengers accounted for 632m, or 18.6% of all passengers. In second place, passengers from China accounted for 555m, or 16.3%. Ranking third, passengers from India accounted for 162m, or 4.7%.
Those preparing for a surge of business in Asia include Aergo Capital, an Ireland-based aircraft leasing company, which a year ago opened a Hong Kong office. Aergo provides aircraft leasing, aircraft financing, sale and leaseback financing and aircraft trading.
The opening came after the Hong Kong government introduced a tax regime in July 2017 for aircraft lessors and aircraft leasing managers operating in the special administrative region. It would reduce the corporate tax rate for lessors by half, to 8.25%.
In March 2018, ICBC Finance Leasing, a leasing company in mainland China, said it had opened a wholly-owned subsidiary, ICBC Aviation Leasing, in Hong Kong as a result.
In October, 2018, law firm Clyde & Co appointed aviation specialist Peter Coles as a partner in Hong Kong as it cited rapid growth in the transport sector in the Asia Pacific region.
Significant Chinese capital flowing into the aircraft leasing market is putting pressure on lower lease-rate factors, says Rogers. "Some aircraft leasing companies or asset managers may struggle to compete with this wall of Chinese capital when looking to purchase aircraft either for their own portfolios or as collateral for investment portfolios," he says.
"Many protagonists in this asset class talk of a bull run coming to an end, however, with the Chinese and other institutional capital driving down [lease rate factors], this is hard to see during 2019."
Possible turbulence
The market's growth may not be an easy journey, despite the compelling fundamentals driving activity.
Will the European aviation funds market catch up with the US any time soon? It has the potential to do so, says Dooley. However, systemic changes would need to take place first. These include the currency in which the sector operates – aircraft deals are typically transacted in US dollars, which excludes many funds.
The US's use of enhanced equipment trust certificates – a further form of aviation finance – could be translated to Europe but take-up would need to follow an increase in aircraft deal activity.
Meanwhile, an increase in the listed European aviation funds market would open the opportunity to more investors.