The nascent UK sector leads the way in Europe, with listed companies including Big Yellow performing well, writes Russell Handy
An increasing acceptance of so-called niche property types is changing the investment landscape.
As investors venture beyond the traditional 'big three' real estate sectors, the general consensus has been that the residential and student housing sectors are the 'best of the rest'.
Intrinsically linked to those two sectors is the nascent self-storage business.
The UK is the largest European market, with nearly 40% of all self-storage facilities, according to JLL and the Federation of European Self Storage Associations (FEDESSA). The UK market has about 16.5 stores per million people.
The Self Storage Association of the UK (SSAUK) estimates that there are 1,077 facilities in the UK, almost three times the amount in France. In its annual survey of the sector last year, the association said occupancy growth indicates that demand is growing faster than supply of new facilities.
Ownership of self-storage facilities is slightly less concentrated in Europe than in the UK, with 27% of all facilities owned by the 10 largest operators, compared with a corresponding figure of 33% in the UK.
UK listed self-storage companies represent 21% of the entire sector, with Safestore, Big Yellow and Lok'nStore continuing to consolidate and expand in what JLL describes as a "fragmented market". All three dominate the south-east and London markets and have new stores planned.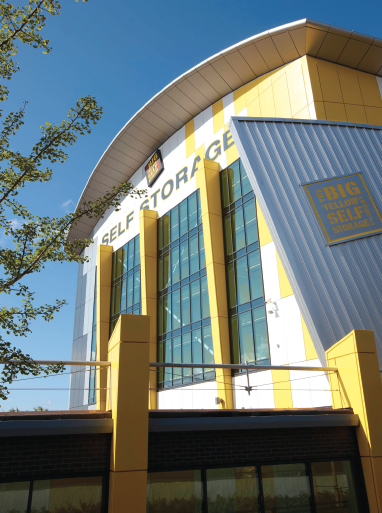 "Growth will be mainly driven by fitting out existing stores and mergers and acquisitions activity," JLL said, with competition strong for development sites in key markets. Higher rates and growing occupancy have increased revenue for UK-based firms, the firm said.
"Rising property values and the disposal of old stores for alternative uses are combining to help boost profits," JLL's report notes, with economic fundamentals such as lower unemployment and higher disposable income underpinning robust growth across the sector.
SSAUK says self-storage has "significant exposure to vacancy", caused by maturity and size of facilities, local competition and supply, as well as local economic factors.
"Historically, the level of property transactions has been a major influence; if more people are moving then demand for storage has increased," the association says.
General economic conditions and the level of disposable income also influence the market, as do factors such as housing density and sizing.
"The lease-up of a newly built storage centre can take several years, depending upon how large the centre is," SSAUK says. It estimates that it can take more than three years to fully lease a 35,000-40,000sqft centre.
Rate of rent-up is also determined by the maturity of the store, with the first 50% of the store achievable in the first 18-24 months of trading. The movement from 50% to 65% might take another 18-24 months. Achieving the final growth to 80% may take a similar time – or much longer.
The advantage self-storage has over other property investments is that when it reaches maturity, a well-managed site has a fairly stable occupancy. "The business model is designed around a normal churn of customers in and out and it is extremely unlikely that a large amount of customers would all leave at the same time," SSAUK says.
Small seasonal variations in occupancy rates and enquiry levels are also worth considering, it says. The largest single investment in the UK self-storage sector was completed last October when US operator StorageMart purchased 15 Big Box stores for over £100m (€118m), making its UK entrance.
The portfolio, across the south-east of England, totalled nearly 700,000sqft. Cris Burnam, president of StorageMart, said the firm plans to use the platform to grow within the UK.
Ollie Saunders, lead director, alternatives at JLL, said there was strong interest in the portfolio from "a variety of investors" who were attracted to the sector's predictable cash flow and rapidly increasing consumer awareness.
"Strong user demand and increasing urbanisation are key factors driving the boom in the self-storage market and opening up opportunities for old and new investors alike," Saunders said.
The deal came a few months after Safestore acquired the 12-store Space Maker portfolio for £44.4m.
Big Yellow, which is trading at about a 32% premium to NAV, according to property analysts at JP Morgan, acquired the Lock & Leave portfolio of four stores for £21m last April.
The UK, according to Green Street Advisors, offers "some of the best return prospects" in its coverage of both the real estate and public markets. UK self-storage has among the highest estimated returns in Green Street's North American and pan-European coverage universe.
"US fundamentals have slowed sharply – the UK may slow too, but medium-term growth prospects are robust given occupancy upside," the firm said.
Confidence in UK self-storage did wobble in 2016, despite some respectable operating results. New supply, off low levels, is manageable at about 2% a year.
Green Street says Big Yellow, backed by PGGM, Norges Bank and BlackRock among others, has a "broad appeal", with a best-in-class brand recognition, portfolio, management team and balance sheet.
The REIT, which opened its first store in 1999 and listed on the UK's alternative investment market in 2000, owns more than 70 stores across the UK and employs over 300 staff.
"The self-storage industry in the UK has shown exceptional resilience during the recent recession and tough economic climate," says SSAUK. "The industry has continued to grow, prices have increased and many operators have also improved profits."
However, the association warns that the industry is "not without risk and remains heavily influenced by local conditions".
According to JLL, Brexit will have no impact on rental growth or occupancy rates, operators told the advisory firm.
Over 80% of the participants were confident that there would either be no Brexit impact, or a slight increase in rents and fill rates. Only two operators felt that the current political uncertainty might require rents to be reduced for a short period to maintain fill rates, with pricing reverting.
Alternatives: Leisure - Going out in town
1

2

Currently reading

Alternatives Self-Storage: Opportunity locks