An influx of institutional capital has driven down yields on healthcare property. But investors still see opportunity in this growing market, writes Maha Khan Phillips
Investment yields have hardened in the healthcare real estate sector, but this has not stopped institutional investors from making allocations. According to data from Savills, care homes are producing yields of around 4.75% to 5.5% in the UK. This is in sharp contrast to those produced only 18 months ago, according to consultants.
"For several years, the initial yields from care homes for long lease were in the region of 6% to 7%, but now we've recently seen them in the 5% range," says Paul Jayasingha, global head of real estate manager research at Towers Watson. "Obviously, yields will range for each individual care home and tenant, so you need to be selective but, in general, they've gone down because this is one of the areas of the market that has been quite attractive, and there's been a big appetite."
Although the return outlook looks less favourable than in the past, demographics are still in the sector's favour. According to a November 2015 report from JLL, 'Retirement Living: where's the opportunity?', 20% of the UK population will be over 65 in 2025. That is approximately 14.3m people. Currently, only 0.6% of retirees live in housing with care, which is 10 times less than in more mature retirement housing markets, such as the US or Australia, where the figure is 5%.
And these demographics exist throughout Europe. "In the Nordic countries, the elderly care business is government-funded," says Michael Schonach, CEO of Northern Horizon Capital, the Helsinki-based Northern European real estate manager. "The government pays the cost of elderly care for people who are too frail to live at home. In the past, the actual provision of service was a public-sector business as well. But in Sweden that changed 20 years ago, and in Finland it changed 10 years ago. Now in Norway and Denmark, the public is taking a view to let the private-sector operate facilities, and own facilities."
The firm runs two residential care home funds in Finland, and a separate account mandate in Denmark. It has a forward-purchase funding development strategy, with 45 assets in existence, and a further 15 which are in various stages of construction, where leases have been signed and assets are opening up, according to Schonach.
"When we started in 2007, there was no competition. But it's a good business, and competition has started entering the space, which is why we have started developing properties ourselves, rather than buying property that somebody else developed," he says. "We have entered into these forward-funding contracts where we have a fixed price with a contractor. That is how we get access to a product before the property is actually built."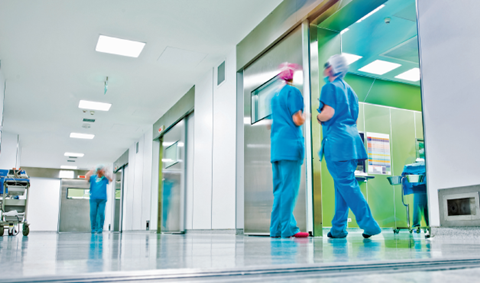 He says the firm's EPI Healthcare 1 fund, which was set up in 2007 and is exiting in 2016, is on track to deliver 9% IRR, based almost entirely on income, as the firm has been paying 8-10% dividends on initial invested capital throughout the post-investment period.
Increasing competition
But unlike the Nordics, southern Europe has seen US REITs flocking to the market. High-profile deals include Health Care REIT's purchase of Gracewell Healthcare for £153m (€199m) from Patron Capital, alongside Sunrise Senior Living, and Griffin-American Healthcare REIT III's purchase of Crown Senior Care Portfolio from the Caring Homes Group for just under £300m. Estimates vary, ranging from approximately 35% to 80% of healthcare transactions last year in the UK undertaken by overseas purchasers.
But Ellie Jukes, property strategist at Legal & General, says this might change. "US REITs were huge players up until their third-quarter investment activities, when they started to slow down to a point where it's non-existent," she says. "Some of the reasons for that are monetary policy coming sooner in the US, which might be weighing on their minds. The cost of financing has increased, and there's probably been a recognition that the demographic drivers have been priced into valuation. It will be interesting to see how this plays out over the next year, and few years."
Jukes divides the UK healthcare property market into three sectors. Primary care includes doctors' surgeries, dentists, and pharmacies. Secondary care includes care homes, private hospitals, mental health and specialist care. Then there is specialist housing to support older people who wish to maintain their independence. She believes that the future of the elderly care market will probably be around lifestyle care, housing with care, and dementia care, with more public/private partnerships.
"We are moving from a prescriptive model, where you go into a care home, and then to a hospice, to something that is more consumer-orientated," she explains.
It is a trend that Kenneth MacKenzie, managing partner at Target Advisers, which runs the UK's only healthcare REIT and specialises in investing in modern, purpose-built care homes, says he wants to take advantage of. In November, the firm raised an additional £31.1m in a discounted share placing and a sale of shares held in treasury.
"US REITs have been more active, particularly in the private pay end of the market, and more in the large portfolios, but we continue to buy modern purpose-built care homes across the UK," he says. "We are really following the strategy we had 18 months ago, and we are £180m two-and-a-half years in. We are not driven by growth, but we are opportunistic."
MacKenzie says the market in the UK has undergone some big changes, however. For one, the government's plan to introduce a lifetime cap on care costs in England is being deferred by four years until 2020. "This has introduced an element of governmental risk, which some of the American-type investors are probably more concerned about. The second thing is the announcement of the national living wage. This has increased costs for care homes, typically by 4% or 5%, and unless these costs are recovered by additional fees, it will have an impact on the sector."
But judging by demand, and the lack of available opportunities at present, such challenges are not going to faze investors. Not yet, anyway.